Irish Water has said that staff working at its headquarters in Dublin were unable to enter or leave their workplace for four hours on the day of an anti-water charge protest last year.
It follows an RTÉ News report that Irish Water Managing Director John Tierney issued a warning to staff at the utility's head offices in Dublin not to engage with, and not to look out the windows at, water charge protesters .
In response, an Irish Water spokesperson said it was legitimate for Mr Tierney to provide advice to staff on how to ensure their own personal safety.
"At the time this memo issued and throughout the previous year Irish Water staff were regularly subjected to ongoing threats, intimidation, verbal abuse and in some cases serious physical assault causing injury while attempting to carry out their work."
The statement continued: "On the day of that protest staff were unable to enter or leave their place of work for four hours.
"Our staff are entitled to a safe work environment. It is never acceptable for staff to be threatened in any way for any reason."
A series of internal Irish Water staff memos released to RTÉ under Freedom of Information show how staff were warned not to wear any Irish Water branded clothing and not to display their staff badges in public.
On 1 April last year, a few hundred demonstrators marched from the Garden of Remembrance in Dublin to the Irish Water offices on Talbot Street. The protest coincided with the week Irish Water issued its first bills.
On the morning of the protest, Mr Tierney sent an email to all staff to say that Irish Water's headquarters at Colville House would be locked down for the afternoon.
He said security at the premises would be constantly reviewed throughout the day.
Among the staff controls listed in Mr Tierney's memo was a warning that "staff must not engage with the demonstrators" and "do not display your ID in public - ensure that you remember to take it off outside the building".
Workers were told that security staff would be working with senior management and gardaí to best handle the situation.
Mr Tierney asked staff to remain in the office for the day and "refrain from looking at the demonstrators from within the office. Keep away from the windows".
The memo also asked Irish Water Staff to "please be aware that after the protest there may be protesters hanging on in the vicinity of the offices - do not engage with protesters and please ensure that you are not wearing any branding clothing and are not displaying your badge in public."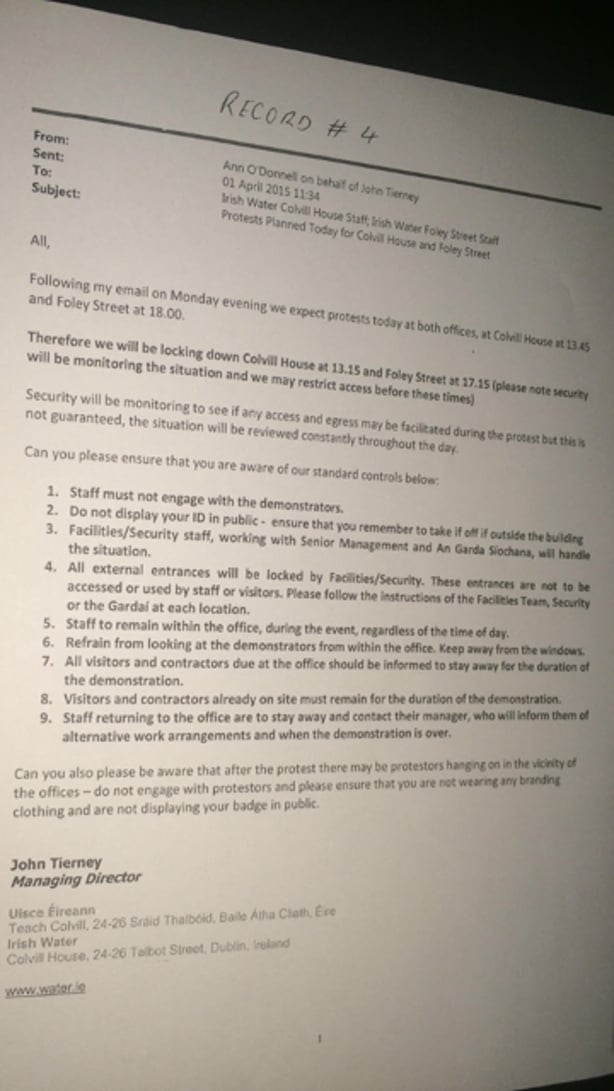 A small number of protesters did gain access to the Irish Water offices on that day for a time.
Water still 'massive' election issue
Asked whether water charges will be an election issue or not, Socialist TD Paul Murphy said he believes it is still "a massive issue" and claims that there are still a large proportion of people who have not paid their water bills.
He said that a large water charge protest is being planned for Dublin's city centre on the last Saturday before polling day.
If the election does take place one month from today on 26 February, the protest will most likely be on Saturday 20 February.