French Interior Minister Bernard Cazeneuve vowed today to maintain "order" in northern Calais, a day after dozens of migrants boarded a ferry triggering the temporary closure of the key port.
"The government is completely determined to ensure public order is maintained in Calais," Mr Cazeneuve said.
A day earlier, some 30 to 40 migrants briefly boarded the moored 'Spirit of Britain' ferry in the French port in an attempt to reach Britain, before police removed them from the ship.
The boarding - a rare occurrence in the heavily guarded port - came after around 2,000 people protested nearby over living conditions in the notoriously squalid camp known as "the Jungle".
Four migrants and two protesters face court tomorrow over the incident.
Though it was brief, the boarding of the ferry and the temporary closure of the port heightened tensions in Calais, with protesters taking to the streets in the city today to demand tougher government controls.
"What happened yesterday is a failure of the government," said Calais mayor Natacha Bouchart, who led the protest.
The conservative official meanwhile demanded that President Francois Hollande "come to Calais to solve the problems related to the camp", which is located at the outskirts of the city.
For two hours people marched through the city, with locals peering out of their windows and applauding the demonstrators.
"My port is nice, my city is beautiful - support our city, our port, our businesses and our jobs," read the banner held up by the leaders of the march.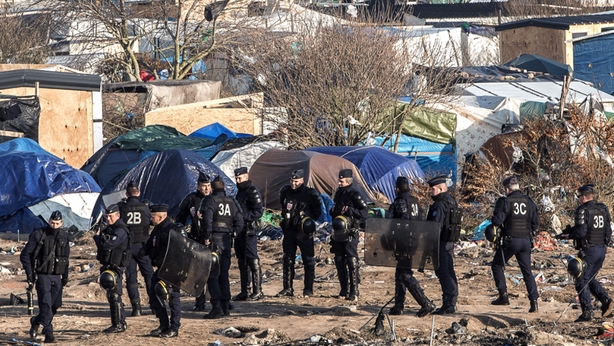 While migrants have for years sought to cross over to Britain from Calais, the numbers have shot up since the refugee crisis went into overdrive last year.
More than 7,000 people are sleeping rough amid mud, wet and cold at the camp in Calais, known as The Jungle.