New York lifted a travel ban and mass transit started getting back to normal today after a record-setting blizzard in the US Northeast.
However, Washington remained at a standstill following storms that killed at least 19 people across the country.
The blizzard was the second-biggest snowstorm in New York City history, with 68 cm (26.8 inches) of snow in Central Park by midnight yesterday, just shy of the record 68.3 cm (26.9 inches) set in 2006, the National Weather Service said.
Nobody's driving anywhere in DC today I suspect. #blizzard2016 #stormjonas #Snowzilla @rtenews pic.twitter.com/pOPOuYye1T

— Caitriona Perry (@CaitrionaPerry) January 24, 2016
13 people were killed in weather-related car crashes in Arkansas, North Carolina, Kentucky, Ohio, Tennessee, and Virginia.
One person died in Maryland and three in New York City while shovelling snow.
A further two people died of hypothermia in Virginia, officials said.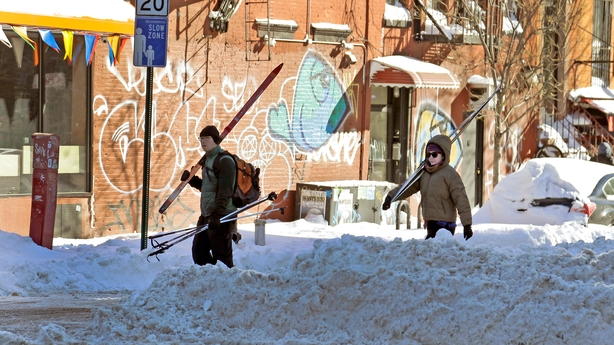 New York Mayor Bill de Blasio said today would be a major clean-up day. He urged residents to stay off streets so city crews could clear the roads.
"The snow pile is going to be with us for a while, but I think we'll be in good shape in the next 24 hours," he said.
After the storm moved out into the Atlantic Ocean, much of the north-east was expected to see a mix of sun and clouds today with temperatures just above freezing.
PHOTO: @Jetblue airplanes buried in the snow at JFK airport. #blizzard2016 pic.twitter.com/owqSOHQlVq

— Joel Franco (@OfficialJoelF) January 24, 2016
New York state Governor Andrew Cuomo lifted a travel ban on New York City-area roads and on Long Island this afternoon. A state of emergency declared by Mr Cuomo was still in place.
A spokeswoman for the New York Stock Exchange said the market planned to open as usual tomorrow. City schools were also set to open in the morning.
The New York Sanitation Department had plowed all streets at least once, and was focusing today on secondary and side streets, the mayor's office said in a statement.
The city was deploying more than 2,300 pieces of snow-clearing equipment and keeping sanitation workers on 12-hour shifts, it said.
Brooklyn, Saturday night. pic.twitter.com/r6yZkhZWoi

— The New York Times (@nytimes) January 24, 2016
The National Weather Service said 45.2 cm (17.8 inches) fell in Washington, and Baltimore-Washington International Airport notched a record 74.2 cm (29.2 inches). The deepest regional total was 106.7 cm (42 inches) at Glengarry, West Virginia.
View our latest gallery of images on the snow storm that brought US cities to a standstill https://t.co/6oA5dYZRiH pic.twitter.com/wVvnYnPsuI

— RTÉ News (@rtenews) January 24, 2016
Washington was a dazzling white under a bright sun, and walkers, sledders, some cars and the occasional cross-country skier were out today.
Mayor Muriel Bowser issued a call for 4,000 people to help dig the city out, above the 2,000 volunteers already signed up.
The House of Representatives canceled its voting until 1 February.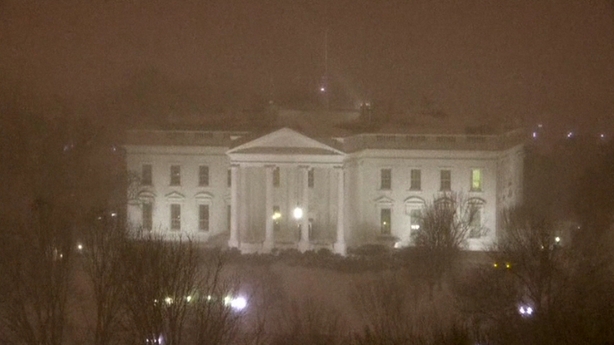 About 3,500 flights were cancelled today, and 700 were called off for tomorrow, according to aviation website FlightAware.com.
Among New York-area airports, John F. Kennedy International, Newark Liberty and LaGuardia were open, with limited flight activity expected, the Port Authority of New York and New Jersey said.
About 150,000 customers in North Carolina and 90,000 in New Jersey lost electricity during the storm.
Moderate coastal flooding was still a concern in the Jersey Shore's Atlantic County, said Linda Gilmore, a county public information officer.
The storm developed along the Gulf Coast when warm, moist air from the Atlantic Ocean collided with cold air to form the massive winter system, meteorologists said.