Taoiseach Enda Kenny has promised 10,000 additional gardaí, teachers, doctors, nurses and other front line staff by 2021 if Fine Gael is returned to government.
In his address to the Fine Gael Ard Fheis tonight, there was a strong emphasis on the economy and keeping the recovery going.
"If we are re-elected by the people, just as we said goodbye to the Troika, we will say goodbye to the USC.
Over the next five years, the USC will be abolished - with measures to limit the benefits for high earners.
"This will cut the maximum tax rate for middle income families to 44%, from the 52% rate introduced by Fianna Fáil, giving a working family earning €45,000 per year a boost in income of over €1,750 per year," Mr Kenny told the packed conference room.
Mr Kenny also referenced the recovery and focused on maintaining economic stability.
"And what do you want? Do you want the recovery, the recovery you have worked for, suffered for, and made so much personal sacrifice for, to continue? Or do you want to put it at risk? That's the only question you will be asked. That's the only question you will answer," he said.
Mr Kenny admitted that Fine Gael didn't get everything right but he said they had made progress. Looking to the future he said part of their three-step plan was to invest in public services.
"This year we will invest an extra €800m on health, delivering more doctors, more nurses and more medical professionals.
"We are committed to further increases to meet the needs of an ageing population and to reduce waiting lists.
"We are determined to ensure that as many people as possible, particularly elderly people, are supported in their own homes and communities.
"That is why we will increase home help hours and fund local GPs to work in all urban and rural areas and treat minor injuries and common chronic illnesses.
"Together, our plan will provide the resources to hire an additional 10,000 gardaí, teachers, doctors, nurses and other front-line staff by 2021.
"And everyone watching tonight knows, we cannot live in an economy alone," added Mr Kenny.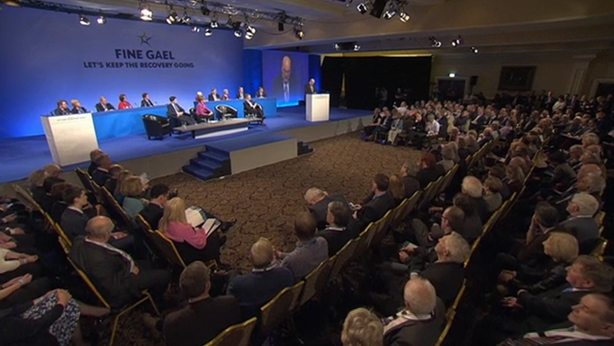 However, Mr Kenny's speech was criticised by Sinn Féin's Gerry Adams.
"In Government, Fine Gael has presided over an unprecedented housing and homeless crisis, chaos in our hospitals, the closure of garda stations and abandonment of rural communities.
"Mr Kenny seeks to continue a two-tier 'recovery' for high income earners, bankers and property developers," said Mr Adams.
This morning members discussed health, with calls for continued work to tackle hospital overcrowding.
Eight motions on health were passed by the delegates. Minister for Health Leo Varadkar also addressed the conference earlier.
A motion to review the procedures for selection conventions has also been passed.
The economy and crime are also expected to be hot button topics across the day.
Meanwhile, Westmeath-Longford TD James Bannon said there would be a risk of a government collapsing within six months if too many independents were needed to support a Fine Gael/Labour government.
Last night, Minister for Finance Michael Noonan told the gathering he was fully confident the issue of a potential coalition with Fianna Fáil would not arise after the election.
Fianna Fáil rubbished claims put forward by Mr Noonan last night when he said Fine Gael are the "initiators of the recovery".
The party's Finance Spokesman Michael McGrath said the largest deficit reductions occurred under the lifetime of the previous government.