Thousands of people have taken part in 30 demonstrations nationwide organised by the Right2Water group.
In Dublin, organisers said 20,000 people took part in the demonstrations while other estimates put the figure at 5,000.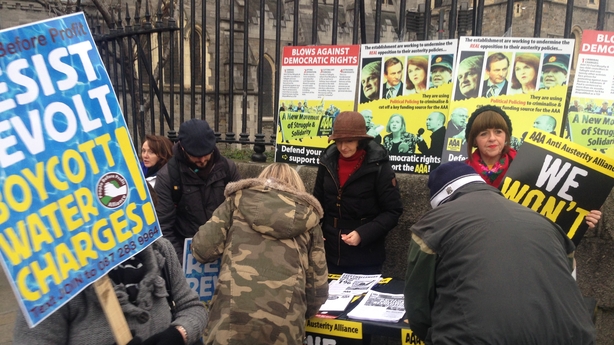 Up to 1,500 people took part in a similar protest in Cork according to gardaí.
Anti water charge protestors marching through #Cork city centre this lunchtime RTÉ News https://t.co/3IPVATnqeD

— Jennie O'Sullivan (@OSullivanJennie) January 23, 2016
Around 300 people also participated in a protest in Galway city, where demonstrators gathered on Eyre Square before marching to the Spanish Arch, where the protest finished with speeches.
Speaking on behalf of the Right2Water campaign, which is made up of community groups, political groupings and trade unions, Mandate General Secretary John Douglas said "we promised over a year and a half ago that we would make water charges the number one issue" for the upcoming election.
Echoing this, Brendan Ogle of the Unite trade union said the demonstrations are the first step in a significant pre-election campaign by Right2Water.
He added that "while today is about water" it is also about a number of other issues facing Irish society.
"It's about inequality, unfairness, cronyism and corruption. It's about soaring poverty levels and mass emigration. It's about deprivation and homelessness.
"Water has been a catalyst in the fight against austerity but people are crying out for a change in how our country is run and that will be visible on the streets of Dublin, Cork, Limerick, Galway and Donegal, among other counties today."
Sinn Féin Deputy Leader, Mary Lou McDonald re-stated the determination of Sinn Féin to abolish water charges as she addressed the Right2Water rally outside the GPO.
"We stand here today with the message to government, that if they think that they have gotten away with their water charges and their family home tax and their cutbacks, they are wrong," she said.
Right2water say it will hold 'the biggest demonstration in the history of the state' on the Saturday before the GE pic.twitter.com/MNv6BPMwHV

— Conor Hunt (@conorfhunt) January 20, 2016
Earlier this week, the group said they will hold the "biggest demonstration in the history of the State" on the weekend before the forthcoming general election.
In a statement this afternoon, the Department of the Environment said three out of four people are now paying water bills.
This figure includes those on private schemes as well as those paying through Irish Water.
The Department said it did not think it prudent to advise people to get into debt by not paying their bills and urged them to engage with Irish Water.
Meanwhile, the Department of Social Protection has paid out almost €89 million in Water Conservation Grants and there are still some payments outstanding.
In a reply to a written question from Fianna Fáil's Niall Collins, Tánaiste Joan Burton said a total of 887,127 householders have been paid the €100 2015 Water Conservation Grant to date.
"These payments amount to €88,712,700. A small number of residual applications from householders who meet the 2015 eligibility criteria continue to be processed."