More than 100 Travellers protested outside Louth County Council following the evictions of 23 Traveller families from a halting site at Woodland Park in Dundalk.
The families were joined in the protest by Travellers from across the country, with Travellers coming from Navan, Tipperary, Sligo and Naas.
Spokesperson Rebecca Quinn said the families have been traumatised by the last week.
She said the council cannot hide behind doors and must present them with what she called acceptable solutions.
The council said the eviction was carried out due to health and safety concerns at the site and it is continuing to find short and long-term accommodation for those displaced.
Following the eviction, 15 families moved to a make-shift site off the N52 in Dundalk, however, they have been told by gardaí they will have to vacate the area as it is private property.
Five more families with very young children, whose caravans were impounded during the eviction, were put up in B&Bs at the council's expense this week.
Their stay was due to expire at noon today, however, it has been extended until next Friday.
In a statement issued to RTÉ News, Louth County Council said that a Traveller accommodation plan was developed for 2014 until 2018.
The council said it is continuing to find short and long term accommodation for the families.
The council said as some of those evicted wish to secure accommodation outside of the plan, it has agreed with Traveller representatives to review the plan as a matter of priority.
"Louth County Council is actively working to deliver on all elements of the agreement [with the Travellers]," Louth County Council said in a statement this afternoon.
Separately, a homeless clinic due to take place at the offices of Louth County Council was cancelled today.
A sign was placed on the front door of the local authority. The building was also closed this afternoon.
Local Fine Gael TD and former Minister of State at the Department of the Environment Fergus O'Dowd has said that proper facilities should be made available for Travellers and that it is their right to live in a halting site.
He said he expects an answer on Tuesday from Minister for the Enviornment, Alan Kelly, on whether the money can be made available immediately.
He said that Louth County Council's safety concerns are well founded and that electricity and proper water facilities should be provided for through refurbishment.
Louth TD and Sinn Féin President Gerry Adams addressed the protest, saying he hoped to meet with the CEO of the council later today to discuss the situation.
Eviction notice extended at Galway site
Elsewhere, an eviction notice has been extended for Travellers in Carrowbrowne, Co Galway.
The Barna Waste recycling company has extended the notice until next Wednesday.
Eleven families with 15 caravans have been illegally encamped at the entrance to the company site for several months.
Children ranging from 11 weeks to eight years of age have been living there, including four with special needs.
Families said conditions were intolerable and have called on local authorities to provide emergency accommodation as a matter of urgency.
Irish Traveller Movement spokesperson Bridget Kelly said many of the families have been on housing lists for years and called on Galway City Council to resolve the situation.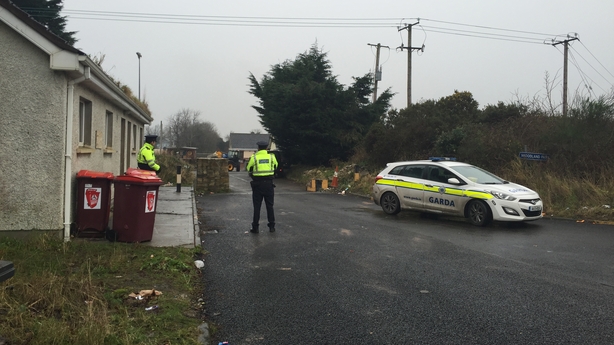 The head of the Irish Human Rights and Equality Commission has said that local authorities should be reminded that they are legally obliged to provide culturally appropriate accommodation for Travellers.
Chief Commissioner Emily Logan said that under legislation enacted in 2014, local authorities and public bodies must work towards eliminating discrimination, promoting equality and protecting human rights.
Speaking on RTÉ's Morning Ireland, Ms Logan said that to suggest that the Traveller families evicted from the Dundalk halting site should be moved to private rented accommodation - illustrated a lack of cultural sensitivity on the part of local authorities.
She said that housing legislation introduced in 2002 made it illegal for people to move onto land "with objects" including caravans, "effectively criminalising a nomadic way of life".
She also said that local authorities should review and reconsider how they provide services to people in a way that focuses on equality of treatment, that is culturally sensitive, and that respects human rights.
Margaret O'Riada, the project co-ordinator of the Galway Traveller Movement, has said that she would like Galway County County Council to consider looking at their possible housing stock to accommodate the Traveller families.
She said the situation with the Traveller families in Galway is part of a national problem whereby there is no plan for Traveller accommodation.
She said there needs to be Government leadership and that there is a lack of recognition and protection for travellers as an ethnic group.