Compensation claims for property damaged during the 1916 Rising can be viewed on a new online exhibition launched by the Royal Irish Academy and the Digital Repository of Ireland.
The claims include those by artists Jack B Yeats and Harry Clarke and also of a chambermaid who lost all her possessions when the Metropole Hotel beside the GPO was destroyed.
The letter was sent from Lizzie Walsh to the Property Losses Committee.
She had no involvement in the Rising, but her belongings and livelihood were lost when the hotel was destroyed.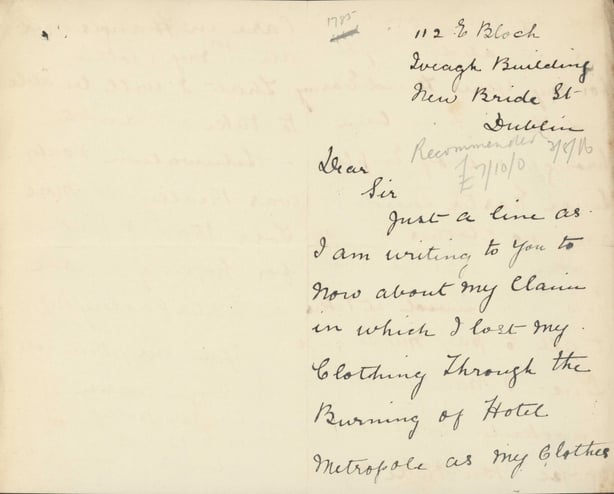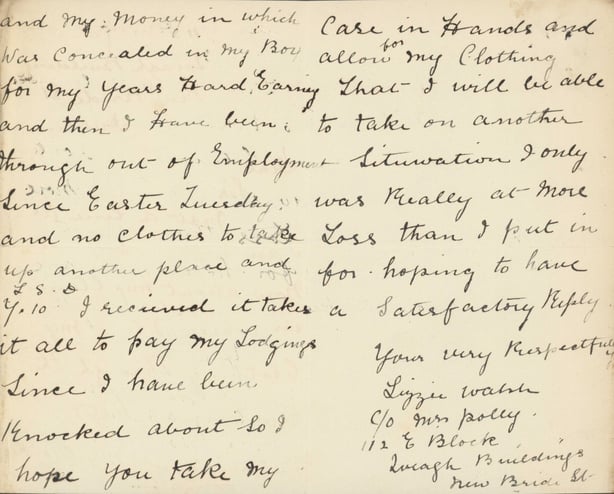 Previously unseen witness testimonies of British soldiers sent to quell the fighting in Dublin can also be viewed on Inspiring Ireland 1916.
It is part of an ongoing project within the 2016 Centenary programme.
It uses digitised photographs, diaries, posters, and recordings to tell the stories that surrounded the Rising and paint a picture of everyday lives in 1916.
The project also combines narrative with objects from the National Archives of Ireland, the National Library of Ireland, the National Museum of Ireland and RTÉ Archives alongside "found" objects from private collections.
The exhibition opens with stories of 'Women and the Rising' which, Dr Natalie Harrower, the Digital Repository of Ireland's Director, said shows a side of the Rising that is not well documented.