Tributes have been paid to former government press secretary PJ Mara, who died today aged 73.
Taoiseach Enda Kenny described Mr Mara as someone who "moved colourfully through the world of politics".
Speaking in Castlebar this evening, Mr Kenny said Mr Mara had always been loyal to Fianna Fáil leaders and could always be relied upon for a joke or a quip.
Mr Kenny said Mr Mara was not afraid to make decisions or make recommendations, when called upon.
Former Taoiseach Bertie Ahern, who appointed Mr Mara Fianna Fáil director of elections for three successful elections between 1997 and 2007, said he was a "wonderful and hugely smart person" and a "very loyal" friend.
Mr Mara passed away in hospital in Dublin at 1am this morning, following a long illness.
He came to prominence as half of one of the best known duos in Irish politics, working with Charlie Haughey from the 1970s.
Mr Haughey appointed him to the Seanad twice in the early 1980s.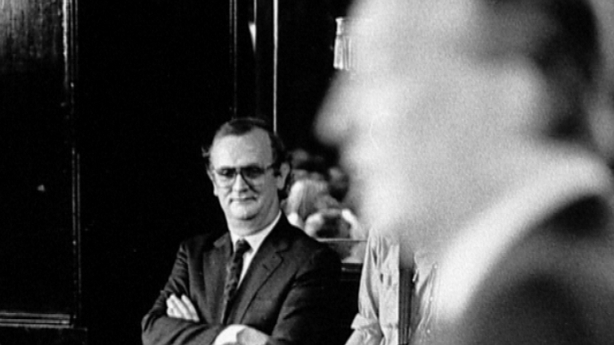 Mr Mara was Fianna Fáil press officer from 1983 until 1987, when he became the government press officer.
He was a colourful character in what was a turbulent time.
His role was satirised by Scrap Saturday on RTÉ Radio, which made him a household name, though those who knew him said the sketches did not capture the real man.
Mr Haughey resigned in 1992 and Mr Mara went into the private sector shortly afterwards, where his skills were in demand and clients included Tony O'Reilly, Tony Ryan and Denis O'Brien.
A look back at the career of former government press secretary PJ Mara, who passed away earlier today https://t.co/4VlkNEL0e3

— RTÉ News (@rtenews) January 15, 2016
However, his heart was with Fianna Fáil and he returned to politics as the party's director of elections in 1997, 2002 and 2007.
Fianna Fáil was returned to government in all three elections.
Mr Mara himself faced controversy in 2002 when the Flood Tribunal found he had failed to cooperate as he had not disclosed an offshore account he had held in the Isle of Man.
In recent years he was a director of Mr O'Brien's Digicel company.
"PJ Mara was an amazing friend, colleague and intellect who made an indelible impression on everybody he worked with," Mr O'Brien said in a statement.
"He was an astute adviser and a tremendous and insightful ambassador."
Mr Mara said he did not mind the portrayal of him in the recent RTÉ drama 'Charlie', saying like Scrap Saturday it kept the middle classes happy.
He is survived by his partner and his two children.
Broadcaster Eamon Dunphy also paid tribute to his former childhood neighbour in Dublin.
Mr Dunphy said: "While we were hanging around street corners, PJ had something about him, he was always going somewhere - but he'd always stop and have a few words for 'the lads'..."
Mr Mara was described on the programme as "a legendary figure in Irish politics" with "friends across all parties".
Academic and Journalist John Bowman described Mr Mara as a lightning rod for Mr Haughey.
Speaking on the RTÉ News At One Mr Bowman said he was a likeable, witty man and a good listener - always loyal to Mr Haughey.
As a political strategist, he described Mr Mara as an absolute genius.
PJ Mara 'a true original' - Micheál Martin
Fianna Fáil leader Micheál Martin has paid tribute to Mr Mara, saying he brought "a new energy and professionalism" as government press secretary which was "recognised throughout Europe during the 1990 Presidency of the European Council".
He said Mr Mara was "always available to encourage and support" adding "PJ was a true original who it was an honour and a pleasure to know and to work with".
Minister for Health and Fine Gael TD Leo Varadkar said that while Mr Mara was on other side of political divide, he was "very much a political genius".
Fiona Hynes of Special Olympics Ireland, the board of which Mr Mara was a member of when Ireland hosted the 2003 Special Olympics, said: "PJ Mara used his considerable experience and insight of media relations to advise on how the media could assist in stirring the imagination and generating the enthusiasm among cities, towns and communities across the island to embrace the thousands of athletes from around the world and their families during their stay in Ireland.
"He also knew how government 'works' and used his knowledge and contacts to ensure that the goodwill of all government departments and politicians was harnessed for the success of the Games."