The chief executives of five of the main insurance companies have met the Taoiseach and a number of ministers to discuss the provision of insurance cover for those affected by flooding.
The companies involved are Aviva, Alliance, Axa, Zurich, FBD, AIG, and RSA.
Minister for Agriculture, Food and the Marine Simon Coveney, Minister for the Environment Alan Kelly and Minister of State at the Department of Finance Simon Harris all attended the meeting.
Minister Harris said it is very important citizens can be assured of the availability of flood insurance as the Government begins to spend €500m on flood defences over the next five years.
The minister said his department currently spends considerable resources giving information to insurance companies about flood defences completed by the State, so they can make commercial decisions, and if the industry wants it to continue, they need to reflect on providing flood insurance more widely.
Insurance ind CEOs arrive for meeting with Taoiseach re flood insurance #rtenews pic.twitter.com/GGUrpa8S9Z

— Joe Mag Raollaigh (@joemagraollaigh) January 12, 2016
He said he is particularly concerned the industry is not giving a decent level of insurance where "demountable" defences are installed.
These defences are designed to be put in place ahead of flooding episodes.
However, the insurance industry has criticised planning decisions and is strongly opposed to the introduction of a levy on policyholders.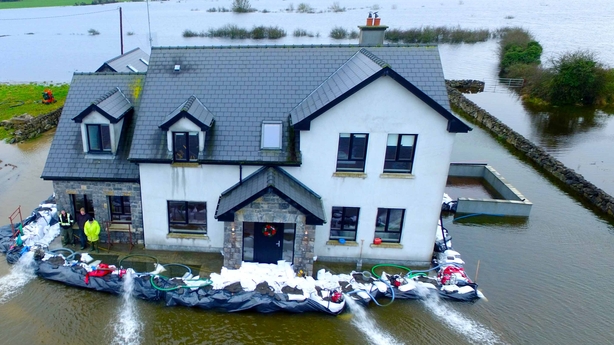 The meeting was the first of many engagements which will feed into a Government report on the flooding issue, due in spring.
The report is being carried out by an inter-departmental group chaired by the Office of Public Works.
Speaking following the meeting, Chief Executive of Insurance Ireland Kevin Thompson described the talks as constructive.
He said that the Taoiseach had asked the insurance companies to consider the issue of demountable or temporary flood defences and report back next week.
He added that the insurance companies fully appreciated that the last 40 days had been emotionally and physically draining for families. He said the industry wanted to help them in a constructive way.
Mr Thompson also said 86% cover was in place where there are fixed defences. He said the level of cover was 67% where there were demountable defences in place.
Meanwhile, the Chairman of the Oireachtas Environment Committee has said there is evidence that people cannot get flood insurance or they are being quoted rates they cannot afford.