Arlene Foster has become the first woman to lead Northern Ireland's powersharing Executive after her election as First Minister this afternoon.
The 45-year-old from Co Fermanagh has already replaced Peter Robinson as leader of the Democratic Unionists.
She succeeds the retiring Mr Robinson as Stormont First Minister who officially resigned at the first plenary session of the year at Stormont in Belfast today.
Ms Foster said she took great pride in being the first woman to hold the office, and also its youngest incumbent.
"I can think of no greater honour than to have the opportunity to serve my country and the people of Northern Ireland as their First Minister," Ms Foster said.
"I am truly humbled by the trust and confidence which has been placed in me and grateful for all those who have kept me in their prayers in recent days."
Mr Robinson, 67, announced his intention to retire from front-line politics last November, days after signing a political deal with Sinn Féin and the Irish and British governments to stabilise the coalition administration.
In his final speech from the Assembly's Front Bench, Mr Robinson said he is leaving the job confident that devolution has been secured for generations to come.
"When we take a step back and with the perspective of history we can see just how far we have come," he said.
"Though we don't always fully appreciate it, devolution underpins the level of peace and stability we enjoy today.
"After 35 years of stop-go government, devolution, with local people taking the decisions, is once again the norm."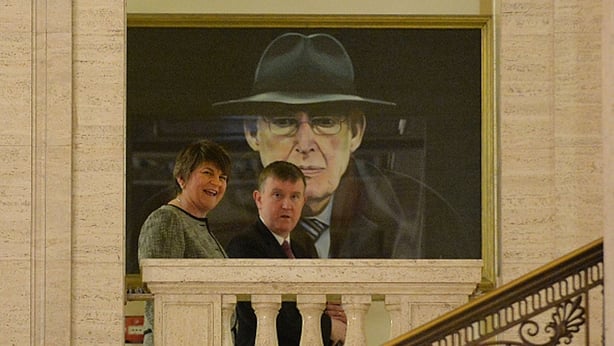 Ms Foster said Mr Robinson leaves enormous political shoes to fill.
"Three minutes cannot do justice to the career of the person who has been the most astute unionist political leader of this, or for that matter, any era in Northern Ireland's history," Ms Foster said.
"But when the history of this time comes to be written, his leadership will define this period."
The transition of power has been smooth, with Ms Foster facing no challengers within the DUP.
The Fermanagh and South Tyrone Assembly member, a married mother-of-three who defected to the DUP from the Ulster Unionists in 2004, will assume office alongside long-serving Sinn Féin Deputy First Minister Martin McGuinness.
Ms Foster has extensive experience serving in the Stormont Executive, having held three ministerial portfolios and twice having filled in as temporary First Minister.
Challenges ahead for DUP
The new leader's first electoral test will come in May with the Assembly election.
The challenge for the DUP will be to retain its position as Northern Ireland's largest party and thus its right to hold the post of First Minister.
If the DUP were to lose enough seats to unionist rivals, there is the chance a strong performance from Sinn Féin could see them top the poll.
While the posts of First Minister and Deputy First Minister are co-equal and hold the same authority, Ms Foster will nevertheless be determined to avoid the symbolism of swapping job titles with Mr McGuinness.
She spent her early years growing up on the family farm in Roslea, Co Fermanagh and her father was a part-time member of the RUC as well as a farmer.
The family moved from the countryside to a house in the centre of Lisnaskea in 1978 after the IRA tried to kill her father.
When she was a teenager in 1988, a bomb exploded under her school bus.
She is a qualified solicitor and a member of the Church of Ireland.
PM: Congratulations to Arlene Foster, NI's 1st female First Minister. I look forward to working with her on a positive future for NI.

— UK Prime Minister (@Number10gov) January 11, 2016
A spokesman for the Taoiseach said Mr Kenny wished the "highly effective" Ms Foster "every success in her new role".
"He looked forward to continuing to work with her to meet challenges and develop opportunities to benefit all communities across the island of Ireland," the spokesman added.
"The Taoiseach also paid tribute to Ms Foster's predecessor Peter Robinson, thanking him for his very significant contribution to the Northern Ireland peace process and wishing him many happy years of retirement with his family as he stepped down as First Minister."