Egypt's Tourism Minister Hisham Zaazou said that the government will announce additional security measures to safeguard tourists after an attack in the Red Sea resort of Hurghada left three injured yesterday.
Tourism is critical to the Egyptian economy but has been ravaged by years of political turmoil since the revolution that ousted veteran president Hosni Mubarak in 2011.
"The welfare of the tourists visiting Egypt is of the greatest importance to us and will continue to be so. No stone will be left unturned to ensure their security," Mr Zaazou said.
"Over the coming days we will announce even greater security measures to safeguard all tourists visiting Egypt," he said.
Suspected militants armed with knives wounded two Austrian tourists and a Swede at a hotel in the Egyptian Red Sea resort of Hurghada yesterday evening.
Security forces shot and killed at least one of the attackers after they stormed the beach-side Bella Vista hotel, officials said, though there was no immediate information on the other attacker.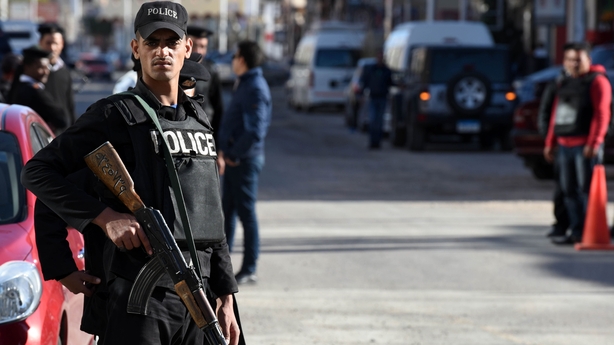 Security sources said the attackers had arrived by sea and also carried a gun and a suicide belt. Officials said officers had tightened checks across the area and shut off roads.
No group immediately claimed responsibility for the attack.
Elsewhere in Egypt, armed men shot dead a police officer and a soldier today while they were in their car in the Giza area, on the outskirts of Cairo, Egypt's state news agency said.
So-called Islamic State militants claimed responsibility for the attack in a statement posted on messaging service Telegram.
Germany updated its travel advice after the hotel attack, advising tourists in Hurghada to stay vigilant.
The German arm of Europe's largest tour operator TUI said it was cancelling all day trips from Hurghada until the end of January.
Egypt is fighting a wave of Islamist militancy since the so-called Islamic State claimed responsibility for the downing of a Russian plane in October, killing all 224 people on board, most of them tourists returning home from the Red Sea resort of Sharm al-Sheikh.
Last month Egypt hired a global consultancy firm to review security at its airports after the crash but said it had found no evidence so far of terrorism or other illegal action linked to it. In November, Russia said the jet was brought down by a bomb.