Some farmers seeking compensation for flood damage may begin applying following several weeks of extensive flooding which has caused damage in many parts of the country.
Up to €2 million has been announced for an assistance scheme for farmers who have suffered fodder losses as a result of the severe flooding in recent weeks.
A hardship recognition case fund for farmers in very difficult situations will also be introduced.
Minister for Agriculture, Food and the Marine Simon Coveney said application forms will be available on the Department of Agriculture's website, from the Department's local office network and from Teagasc offices.
Meanwhile, the Revenue Commissioners have advised that those whose homes have been damaged by flooding can apply to have their local property tax deferred for 2016.
Speaking on RTÉ 's Morning Ireland, Anne Looney, Principal Officer with Revenue, said the measure is only available to those who are in receipt of financial assistance from the Department of Social Protection and the Red Cross, adding that proof will have to be provided.
"From this perspective, Revenue will not pursue immediate collection of tax. The priority is to deal administratively with the immediate issue and to give the Minister [for Finance] time to consider any further way that he may wish to assist people."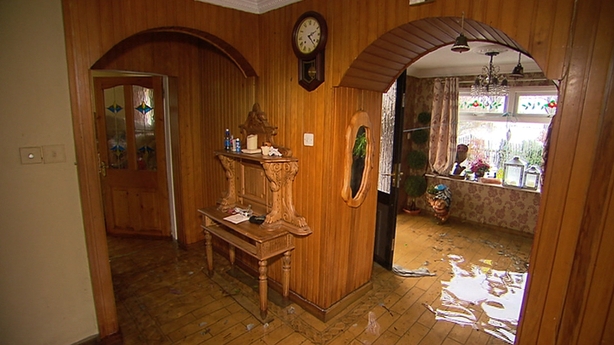 Ms Looney said she was unable to comment on whether or not there was a measure in place for homeowners to devalue their homes in respect of the Local Property Tax.
The deadline for the payment of the tax for those not affected by flooding and those not in receipt of financial assistance as result of flooding is today.
A weather warning, in place since midday yesterday, has been lifted, although occasional heavy showers are forecast in some parts of the country today.
Met Éireann says that overnight frost on wet roads over the coming days will bring an added hazard for motorists particularly on untreated minor roads.
Drier conditions are forecast for Tuesday and Wednesday of next week.
97-year-old doesn't let floods prevent mass attendance
One 97-year-old woman who has been marooned in her family's home for the past month, ventured out last Sunday so she could attend mass.
Great-grandmother Evelyn Kennedy was transported through the floods on a tractor's transport box.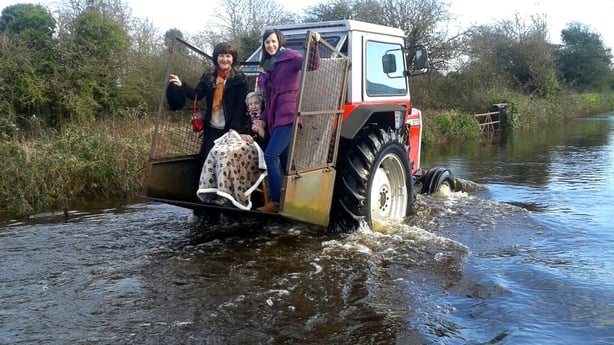 Elsewhere, residents and business owners in flood-hit parts of Northern Ireland continue to battle against rising water levels.
Efforts to save properties around swollen loughs and rivers suffered another setback with a fresh downpour of rain last night.
Low-lying areas around sections of Lough Erne and Lough Neagh have been worst hit.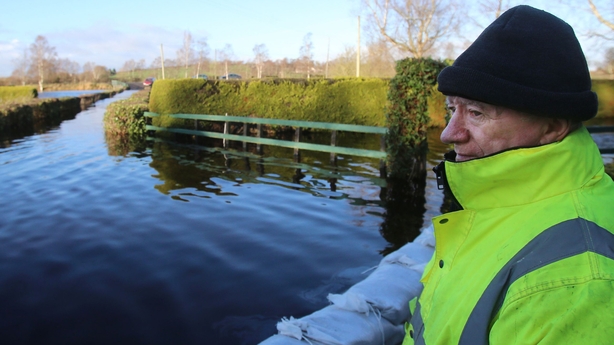 CIF calls for single River Shannon agency
Chief Executive of the Construction Industry Federation, Tom Parlon, has said a single agency to maintain the River Shannon is imperative.
Mr Parlon added the only infrastructure built along the Shannon was built around 150 years ago and was designed to slow down the flow of the river.
He said there the Shannon is completely silted up and needs to be cleaned.
"This single agency is absolutely imperative. Not an agency that's going to have discussions," he told RTÉ's Today with Sean O'Rourke.
"It's going to have to be an executive agency that's going to direct the ESB or whoever that it is that directs the levels because we have very positive and very modern forecasting."
Mr Parlon said the River Dargle in Co Wicklow was recently cleaned and the river bed lowered without any fuss and that it was a total success and had not affected the fisheries or anything else.
60 animals rescued from flooded farm in south #Galway pic.twitter.com/cVZS9f4voO

— Tomás O Mainnín (@omainnintomas) January 7, 2016
ESB warning over submerged wires
Meanwhile ESB Networks warned the public and emergency services to be vigilant when moving around flooded areas in boats and other flotation vehicles.
It has warned people not to approach the electricity network as it is live saying electricity wires are dangerous "even at close proximity and where clearance is compromised."
In a statement the ESB said they should not be passed and that if they are submerged under water it is dangerous to pass over them in a boat. "Do not use oars or anything else to lift or move electricity wires" the statement added.
The network has asked members of the public to report any poor clearance issues immediately to the ESB on 1850-372999.
Offaly County Council has said water levels on the Shannon have reduced slightly in the last 24 hours, with levels expected to reduce over the next few days. However many areas will remain flooded for some time yet and some roads remain closed.
Yesterday, Taoiseach Enda Kenny defended the Government's response to the flooding emergency.
Speaking in the Netherlands, where he is on a trade mission, Mr Kenny said the Government's response had been "very swift."
He said there had to be a "frank" discussion with insurance companies, which he said were making "sizeable profits" from Ireland.
He said there was a "contradiction" between insurance companies saying they had paid compensation and businesses, which, he said, had "proved" that they had not.
He also said that the next government should appoint a minister who would have responsibility for coordinating all responses to a flooding crisis.
However, he stopped short of saying there should be a minister for floods.