Taoiseach Enda Kenny has rejected opposition claims that the Government was slow in responding to the flooding emergency.
Speaking in the Netherlands, where he is on a trade mission, Mr Kenny said the Government's response had been "very swift."
"It's one that has listened to people, one that has taken into account what they're telling us."
Mr Kenny said there had to be a "frank" discussion with insurance companies, which he said were making "sizeable profits" from Ireland.
He said there was a "contradiction" between insurance companies saying they had paid compensation and businesses, which, he said, had "proved" that they had not.
He also said that the next government should appoint a minister who would have responsibility for coordinating all responses to a flooding crisis.
However, he stopped short of saying there should be a minister for floods.
Flood water slowly receding in south Mayo but huge inconvenience with blocked routes across the area. pic.twitter.com/6YaVp0dyYM

— Pat McGrath (@patmcgrath) January 6, 2016
Ahead of next Tuesday's meeting between the Government and the insurance industry, Mr Kenny said: "We need to have a very frank discussion with insurance companies who make sizeable profits from Ireland about what this situation is and how best this can be addressed. I hope we can do that in a clear fashion."
The Taoiseach pointed out that the meeting of the heads of statutory agencies with responsibilities for the Shannon area was the first time such a gathering had happened.
He said the terms of reference for the Shannon Basin Management Group had been set out.
"We'll have more ideas about what needs to be done now, in the medium term and in the longer term with flood defences in the towns and around the urban areas.
"While I wouldn't presume to determine the outcome of any election, I do think that whoever the people elect, given the nature of this particular problem, that it deserves to have a more focussed ministerial attention in the future.
"And if it falls my way I would intend to address that in a coordinated fashion from a ministerial point of view, with responsibility to be able to coordinate the action plans that are going to be in place."
Sinn Féin to put forward bill on Shannon management
Sinn Féin leader Gerry Adams has said his party will put forward a Bill next week in Private Members time to set up a River Shannon management agency.
Mr Adams said he was not against the Government's plan for a coordinating agency, but said it was not clear what powers it would have.
He said there needed to be an agency with the powers to compel all the various bodies involved in the Shannon to carry out work.
He added that he had no problem supporting the Fianna Fáil Bill on the issue if it deals with all the issues.
Mr Adams said they were also against the creation of a quango and his party's Bill avoided this.
Regarding the insurance industry, he said they were against the introduction of a levy and said the cost should be carried by insurance companies.
Flooding may lower LPT - Burton
Tánaiste Joan Burton has said that if people have been affected by severe flooding they may be able to look again at the valuation of their property, which could reduce the burden of the property tax.
Ms Burton said there are provisions to defer the tax, but said that firstly she would like to see the valuations being examined, particularly for people who do not have access to insurance.
She said there are structures in place to support families, adding that these should include addressing the property tax issue.
The Tánaiste said we are suffering from the impact of climate change and we must look at how best to deal with the implications for everyone.
She added that she believes the establishment of a working group to deal with the Shannon is the way to go.
Floods cause travel problems for schoolchildren
Travel difficulties facing schoolchildren and commuters are being exacerbated by flooding across the country.
A rainfall warning, which came into force at midday, will remain in place until tomorrow morning, with up to 25mm of rain forecast to fall in some areas.
Cavan, Louth, Meath and Monaghan will be most at risk of flash flooding.
Bus Éireann services have not been operating on some routes in parts of Cavan, Galway, Monaghan, Offaly and Roscommon.
Hundreds of local roads are closed or severely restricted because of flooding in the Shannon catchment area.
Civil defence volunteers in Roscommon and Longford are transporting children though the floods by boat and track vehicles.
Meanwhile, in Cork the N25 Cork to Waterford road remains impassable between Killeagh and Castlemartyr due to flooding.
Local diversions remain in place, but these routes have deteriorated due to heavy traffic and are no longer suitable for heavy goods vehicles.
The R72 Fermoy to Dungarvan road is now reopened and should be used by these vehicles.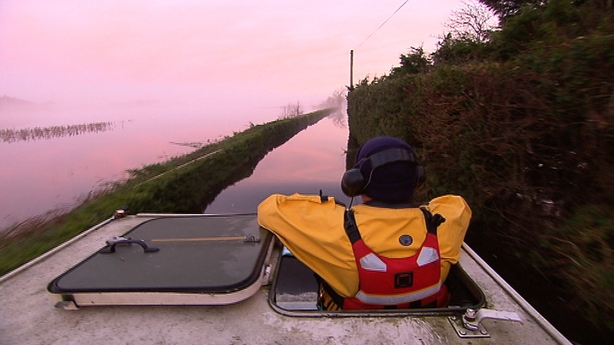 Severe flooding remains around Shannon catchment
The OPW has said there is still a severe flooding situation around Athlone in the mid-Shannon catchment area even though water levels have stayed the same over the past 48 hours.
Water levels have fallen by 4cm in the upper Shannon catchment area.
Jim Casey of the OPW said there was still high flooding around the River Suir, River Barrow, River Nore and River Slaney.
The National Co-ordination group has said there are encouraging signs that the worst of the flooding may be over, although severe flooding remains in South Galway and around Athlone.
Tonight's rain has the potential to cause road flooding tomorrow morning in Louth, Meath, Monaghan and Cavan.
According to the National Co-ordination group, the rain due later today could cause surface water flooding in Louth, Meath, Monaghan and Cavan.
In Athlone, farmers were due to help parents and children get out of their homes when Minister for Agriculture, Food and the Marine Simon Coveney visits the area.
Meanwhile, the ESB has said water levels in Lough Derg have decreased marginally and the flow through Parteen Weir will remain at current levels.
The situation will be reviewed again tomorrow.
ESB advises vigilance during flooding
The ESB is also advising all electricity customers to be extra vigilant during these times of heavy flooding.
Safety Manager at ESB Networks Arthur Byrne said: "As well as the hardships that many people are enduring with flooded homes, farmland and roads, there are important personal safety matters that need your attention.
"When the floods recede, it is important to remain vigilant because previously unseen dangers may now be more immediate. Before your electrical installation is reconnected, have it checked out by a registered electrical contractor," he said.
Speaking on RTÉ's Morning Ireland, Met Éireann's Head of Forecasting Gerald Fleming said it was a relatively normal winter weather system for this time of year but that they decided to issue the rain alert because of how wet the ground is.
"We have a rain system coming across the country today, I'd have to emphasise that this is a relatively normal weather winter system, if you like.
"It is not going to bring us excessive amounts of rain and indeed in normal times we would probably have not issued a warning for it, it doesn't of itself meet the criteria for a rainfall warning.
"But because the ground is so wet and because the rivers are so high, we've put out an advisory indicating we expect something between 15 and 20mm of rain typically to fall and maybe a bit more over the high ground," he added.
The forecaster has warned of flash flooding in parts of the north and northeast of the country that have not been affected by flooding.
Following Cabinet meetings yesterday a long-term flood forecasting system was agreed by Government, meanwhile the Office of Public Works is to report back on the terms of reference for the new Shannon Coordination group within two weeks.
A new community school in Co Offaly which was opened in the last four years has been partially closed today because of flooding.
Gallen Community School was built adjacent to the River Brosna, which has flooded in the last few days into the emergency exit areas of the new school.
After inspection by the fire officer, the school has been partially closed, with only students from two years allowed admission onto another floor in the building.
Principal Ursula Finnegan said the situation will be reviewed on a day-to-day basis before a decision could be made on fully reopening the school.
Water levels forecast to increase along lower River Shannon
Clare County Council has said it is anticipating an increase in water levels on the lower River Shannon at Springfield, Clonlara, this evening and overnight as a result of forecast rainfall and the impact of the spill rate of 470 cubic metres per second (cumecs) being maintained at Parteen Weir by the ESB.
"The Local Authority, assisted by Clare Civil Defence and The Defence Forces, is maintaining a 24-hour presence to assist residents affected by flooding and to respond to any additional impact.
"Approximately 5,000 sandbags have been installed in the Springfield area to assist residents of up to 15 properties. Additional sandbags are on standby if required. Up to 30 pumps have been deployed to and are operating in the area," the council said.
The Red Cross said €385,000 had been paid out to help small businesses. 109 valid claims had been received and 80 have been paid so far, it said.