The Cabinet has agreed to provide €10 million in additional funding for local authorities to cover the cost of flood clean-up operations, bringing the total allocation to €18m.
A final cost on road works in the aftermath of more than a month of flooding has not been established, but it will cost tens of millions.
It is estimated that the cost of repairing roads and bridges will be in the region of €60m.
Taoiseach Enda Kenny, who has been chairing a meeting of the agencies and bodies with responsibility for the Shannon River, has decided to convene a meeting of all insurance companies next Tuesday to discuss flood cover.
The Government is also seeking a meeting with the EU Commissioner to see if emergency work on rivers will comply with river directives.
Minister for Agriculture Simon Coveney has got approval for a fodder replacement scheme where farmers will be paid at the market rate for fodder destroyed by flooding.
A hardship recognition case fund for farmers in very difficult situations will also be brought in. More details of this will be revealed in the coming days.
The Government is also to liaise with the Red Cross to extend the current scheme for businesses to cover sport and community facilities damaged.
A long-term flood forecasting system has also been agreed by the Cabinet, while the Office of Public Works is to report back on the terms of reference for the new Shannon Coordination group within two weeks.
Since before Christmas there have been calls for a single Shannon authority to be set up from the Opposition.
It is understood the Government believes this could take considerable time and would require legislative changes which would also have to take consideration of European laws.
Instead Minister of State with responsibility for the OPW Simon Harris has proposed that the taskforce, which will be charged with implementing the flood protection plans, should be given a greater co-ordinating role with all the agencies.
The Minister for Agriculture and the Marine has said the €10m would help put infrastructure back in place.
Speaking on RTÉ's Drivetime, Simon Coveney said the flood forecasting and warning service will be functioning in the next few months.
From a farming perspective, Mr Coveney said funding under the new fodder scheme will be subject to inspection from the Department of Agriculture.
Mr Coveney also said a working group is to report by the end of the month in relation to home relocation, although he added that such action is seen as a last resort.
He said the Government wants a very blunt conversation with the insurance industry next Tuesday.
He added that the OPW is setting up an implementation coordination group, which will probably have a CEO to implement the new flood relief programmes.
He said he hopes the CEO will be in place before the general election.
N25 #Cork #Waterford road to remain closed until Thursday at the earliest due to flooding at Castlemartyr. @rtenews pic.twitter.com/6rSIWfEfgA

— Paschal Sheehy (@PaschalSheehy) January 5, 2016
Army move in to try and save house from flooding at Barrymore Athlone pic.twitter.com/0gZQsD2Fg7

— Ciaran Mullooly (@ciaranmullooly) January 5, 2016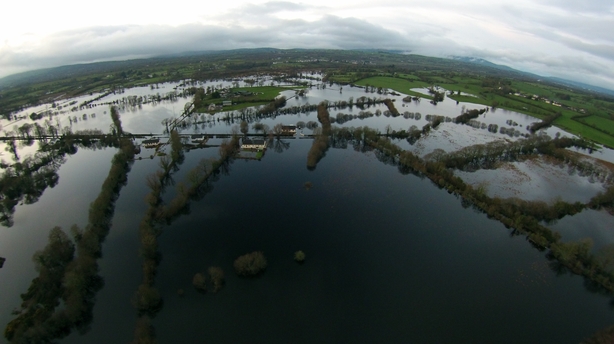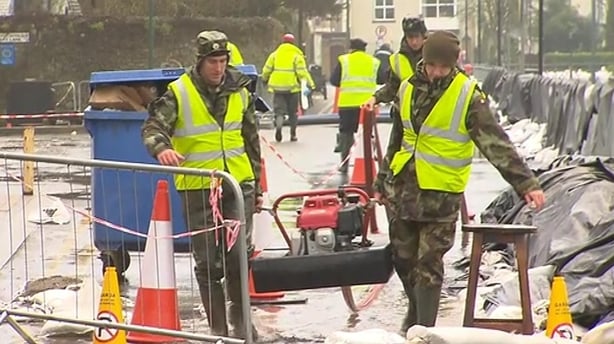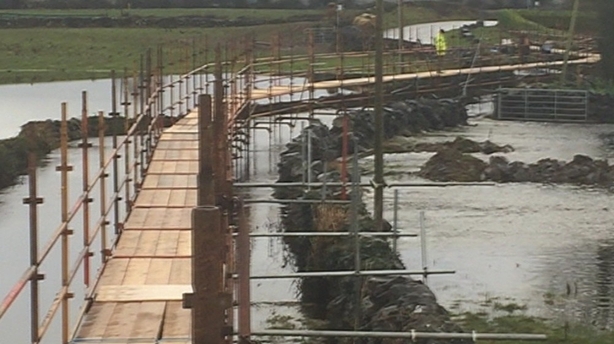 Water flow on River Shannon reaches peak 2009 level
The River Shannon has now reached peak 2009 flood levels at Banagher and Shannonbridge in Co Offaly.
Residents of more than 40 houses across the county have now moved to alternative accommodation due to flooding.
Water levels in Carrick-on-Shannon, Athlone, Lough Ree and Banaher have risen. However, levels in Limerick have fallen for the first time in days.
Jim Casey of the OPW has said rain is due to fall later in the week in the northeast of the county, which could potentially create excess surface water and flash flooding.
Monaghan, Cavan, Meath and Louth are most at risk of flash flooding and surface water due to rainfall that is forecast tomorrow.
Met Éireann say 15-25mm is due to fall between midday and 11pm tomorrow across the country.
Meanwhile the Air Corps took part in two reconnaissance flights today above flooded areas
The flights are designed to allow the agencies tasked with managing the flooding to survey the extent of the problem.
In the south of the country, the ESB is to reduce the flow of water through its dam at Inniscarra in Co Cork to "normal" levels tonight for the first time in more than a month.
ESB to reduce through-flow at Inniscarra Dam #Cork to normal levels tonight for the 1st time in a month. @rtenews pic.twitter.com/LVH2CnjxFP

— Paschal Sheehy (@PaschalSheehy) January 5, 2016
The flow had been maintained at 250 cumecs, or a quarter of a million litres per second, for several days.
It was reduced to 180 cumecs at eight o'clock this morning, and will be further reduced to 75 cumecs by midnight.
The ESB describes this flow rate as normal.
It estimates that in-flows to the River Lee catchment, up-stream of the Inniscarra Dam, peaked at 750 cumecs or three quarters of a million litres of water per second during Storm Frank last week.
This is significantly greater than the 535 cumecs which ESB was forced to spill from Inniscarra when Cork city flooded in November 2009.
The ESB, working with Cork City and County Councils, has managed to maintain out-flows from Inniscarra at a maximum of 250 cumecs since the beginning of December.
There has been little rain in Cork since Sunday, but Cork City Council says it is aware of the severe weather alert in place for tomorrow.
A number of roads in Cork remain closed, including the N25 Cork-Waterford road, which is closed between Castlemartyr and Killeagh and will remain closed until at least Thursday.
The N72 Mallow-Fermoy road is also closed west of Killavullen due to flooding, with diversions in place.
Gerald Fleming from Met Éireann has said from a weather point of view, things appear to be returning to normal.
Homes flooded across Galway, midlands
In Co Galway, the two parts of the county worst effected by the flooding are the area around Adrahan, Gort, Peterswell and Kinvara in the south of the county and the area around Eyrecourt, Meelick and Clonfert in the northeast.
Between 35 and 40 homes have been flooded in the county, while around 100 have been cut-off by floodwater. The majority of these are in the south of the county.
Between 80 and 100 roads in the county are also flooded.
In Shannon Harbour, the ESB cut the power supply to some properties for safety reasons. The electricity supply to parts of the Portavolla estate in Banagher has also been off since last Saturday.
Although water has not entered the houses in Portavolla, residents have voluntarily left their homes due to a lack of power and heating.
A number of homes were flooded due to high water levels on the River Brosna. Affected areas include Gallen, Pollagh and Killaghintober.
Flood water from the river has also entered the new community college in Ferbane in Co Offaly.
Sandbagging is now in place and it is understood the school will operate as normal this week.
However, Offaly County Council's Acting Director of Services Tom Shanahan said levels on the Brosna are now receding significantly and he was hopeful the situation would ease in the coming days.
Mr Shanahan said the Shannon had experienced a slight increase, rising by 20mm in Banagher and 10mm in Shannonbridge over the last two days.
"We would be hopeful at this point that it has peaked," he said.
"We have additional sandbags ready and additional pumps ready if needs be but we expect things to stay the same," he remarked.
While a number of local roads remain closed, Mr Shanahan said most of the closures are "very concentrated" around the Shannon areas. "The clean up is going to be a major issue. We are concerned about the road conditions," he admitted.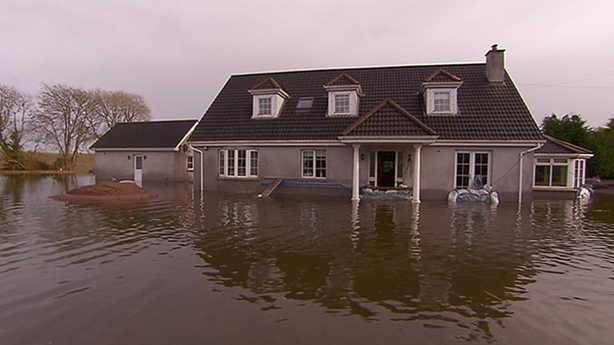 Earlier, Fianna Fáil's spokesperson for the environment Barry Cowen has welcomed the Government's proposed flood relief measures but said it remains to be seen if they will materialise.
Speaking on RTÉ's Morning Ireland, Mr Cowen said the Government had failed to recognise the scale of the emergency and that they should have convened cabinet last week.
"They might have instructed local authorities to have emergency meetings, because on the ground what we have been hearing anecdotally is the lack of pumps, lack of sandbags, poor warning systems, lack of co-ordination, army not being instructed early enough, inadequate compensatory packages, as has been mentioned."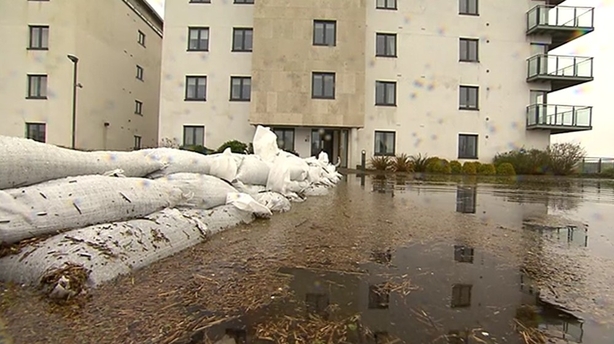 Mr Cowen said his party has proposed a number of measures to deal with flooding such as establishing a body with jurisdiction over the River Shannon, and an insurance model based on that used in the UK for flood victims.
Also speaking on Morning Ireland, a flood expert at Maynooth University has said Ireland has no formal way of forecasting flooding on large scale, and that a new system that gives people notice of impending flooding is needed.
Dr Conor Murphy from the Department of Geography said it is vital that flood warning systems are people centred and that the public understand what the warnings mean.
" ... A lot of education is required with communities in terms of what to do in the context of flood warnings and how to respond to those warnings. So there's investment [needed] in terms of scientific capacity, in infrastructure and human capacity" he said.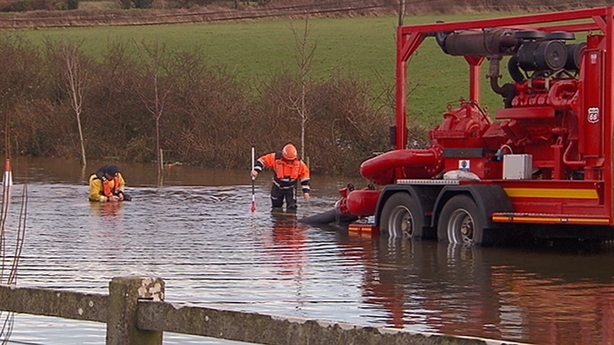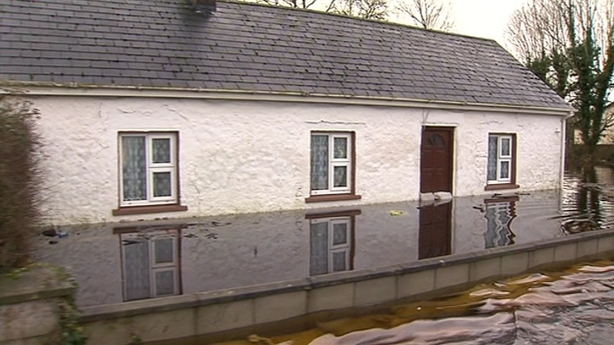 Dr Murphy also said local authorities may have their own smaller scale flood forecasting systems in place but that the public need a few days notice at least of impending flooding.
He said an early warning system would give people time to move possessions out of harm's way and for local authorities to be able to put resources in place to deal with the flood event.