Taoiseach Enda Kenny will chair a meeting tomorrow morning of the various agencies, bodies and ministers with responsibility for the River Shannon to discuss the flooding of areas along the river.
In the afternoon, the Cabinet will get updates from ministers on the impact of the flooding on householders, farmers, businesses and local authorities.
The Department of Environment is still working on an initial estimate of the cost of the clean up operations for local authorities.
Earlier, the Minister of State with responsibility for the OPW, Simon Harris, said the cost of the clean-up after recent flooding will be more than €8 million.
Out of the €8 million, €6m has already been drawn down by local authorities and the Minister for the Environment is expected to allocate more funding.
In terms of transport, the cost of road works is expected to run into tens of millions.
Minister for Agriculture and Defence Simon Coveney will bring proposals to Cabinet for a broader scheme for farmers.
At the moment they can get replacement fodder if it has been destroyed but the scheme is expected to be expanded.
A long term flood forecasting system, proposed by the Office of Public Works and the Department of the Environment, which was approved in principle by the Cabinet before Christmas, will also be discussed.
This would provide more detailed local information.
Mr Harris will also give an update on the indepartmental group that is looking at thousands of households who cannot get insurance.
Clean-up operation to cost over €8m - Harris
Mr Harris said funding that had been allocated to local authorities to deal with the aftermath of the bad weather will have to be increased.
He said the extent of the damage is still not clear and added the Government will not be found wanting in providing extra funding.
Mr Harris also said that the Cabinet is due to approve the introduction of a new long-range weather-forecasting system.
He said the system will ensure the Government has the most accurate forecasts - but it will take several months to put in place.
He added that the Government will look at the possibility of making grant aid available to individual householders to build flood protections for their homes or, in some cases, to assist them with leaving flood-prone areas altogether.
He said the Government has not yet ruled out a single agency being made responsible for the River Shannon but said such an idea was premature.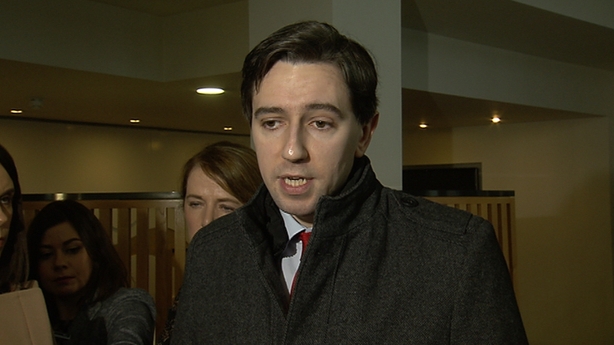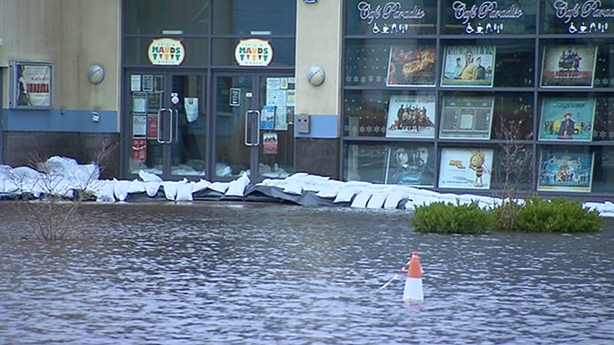 Residents in some of the worst affected areas of the midlands struggled to keep flood water out overnight after another increase in levels on the River Shannon.
More than 100 residents of an apartment complex in Athlone had to leave their homes after the ESB cut off power supply for safety reasons.
Electricity supply was disconnected from 60 apartments at Bastion Quay on the west side of Athlone after safety concerns were raised when sub station pillars became submerged in flood waters.
The residents have moved to local hotels.
Shannon water levels are now higher than they have ever been on Lough Ree since records began in 1932 with members of the Defence Forces operating pumps in several areas.
However, the forecast is that river levels along the Shannon will not rise any further between now and 8 January and may fall slightly.
In Co Roscommon, neighbours and volunteers spent the last 24 hours saving a house on the River Suck.
President visits affected communities
Meanwhile, President Michael D Higgins visited affected communities in Galway and Wexford today.
President meets flood victims in Enniscorthy pic.twitter.com/lTNO9EyGL5

— Damien Tiernan (@damienrte) January 4, 2016
Speaking in Enniscorthy, Co Wexford, the President said it was not his place to make suggestions about insurance for flood victims.
However, he said that "'protecting those who have the least amount of risk for profit isn't an adequate version of insurance and that there needs to be a balance".
He added that you would not have that balance in insurance in relation to health or property insurance, or any future events, if it was not for State intervention and State regulation.
Earlier, the President visited Labane village in Co Galway.
Mr Higgins said that he wanted to express his appreciation and gratitude for all of the different agencies that have been working together since the flooding started.
He said there had been great cooperation between agencies such as the local authorities and civil defence and in particular the local people who have been helping each other.
In a statement, he added: "While everybody was very tired and those who have had to leave their homes are anxious and distressed, there was a great sense of determination to overcome these recent events.
"It is especially important that as a nation we pull together now to address the urgent challenge of managing these events and of putting in place the mechanisms needed to ensure better preparedness in the future, as the evidence points to these extreme events becoming more frequent, and accelerating, in the years to come" he added.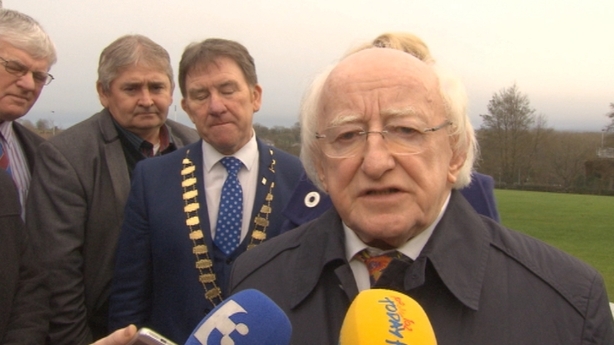 Speaking on RTÉ's Morning Ireland, John Barry of the National Co-Ordination Group, said it will be a number of weeks before water begins to recede around the Shannon Basin.
Mr Barry said it is not yet known how many people have had to leave their homes as a result of flooding, but he added that he hoped to have that information following today's meeting.
He said they will also be looking at how the response to the crisis can be improved and to ease the effects on communities.
The group anticipates that the cost of flooding will increase, but Mr Barry added that it was for the Government to decide if more money would be made available to help those affected.
"Currently we are gathering information on the cost. Local authorities have been meeting. Even before Christmas we gathered costs and the fund of €8 million was made available to meet those costs. We are however in an ongoing situation and we anticipate costs are increasing," he said.
The NCG is comprised of representatives from all the main Government departments and all the key state agencies this includes, inter alia, OPW, ESB, HSE, Civil Defence, Coast Guard, Defence Forces, An Garda Síochána and Met Éireann.
President Higgins greets @defenceforces during his visit to flood stricken areas of #Galway. Photo: Joe Travers. pic.twitter.com/7heORW9wda

— Galway Independent (@galwayindo) January 4, 2016
Flooding clearance will take several days - Cork County Council
Cork County Council says it may take a number of days to clear flooding from the N25, the main Cork to Waterford road which is impassable between Killeagh and Castlemartyr in east Cork and is likely to stay closed until Wednesday next.
The road has been flooded since last Wednesday's storm and prolonged heavy rain. Flooding on the road is extensive and an industrial pump is being used take water away from the affected area.
Water is being pumped over a distance of a kilometre to try to relieve the flooding. However, a total of around 50 acres of land on both sides of the road is also flooded exacerbating the situation.
The road is saucer shaped, and the water is lying over a considerable distance of the dip in the road, several kilometres east of Castlemartyr.
Extensive traffic diversions are in place in the area and gardaí are urging motorists to take extra care on minor roads that are being used for diversions and are experiencing a huge increase in traffic volumes.
Flooding on the alternative N72 via Fermoy has subsided, and HGVs are being urged to take this route instead.
Met Éireann has forecast rainfall amounts to be below average for most areas this week, though rainfall will still above normal in coastal regions of the north, west and south.
Speaking on RTÉ's Today with Sean O'Rourke, Met Éireann's Gerard Fleming said: "I think we're heading towards the end of the unusually high levels of rainfall that we saw at the end of December.
"But I think even normal amounts of rainfall at the moment that amount, given that the rivers are so high and the fields are completely waterlogged, that amount of rainfall may still cause a problem over the days to come."
Parteen Weir flow to remain at current level
Notification from ESB - Flow of water downstream from Parteen Weir to remain at 470 cumecs today 4th January https://t.co/mffUn3v12i

— ESB Group (@ESBGroup) January 4, 2016
The ESB has said the level at Parteen Weir will remain as is for now, but that a rise in the release of flow cannot be ruled out.
The ESB has also issued an updated forecast of river levels along the Shannon for the next five days. This forecast is based on current flows and takes account of Met Éireann's rainfall predictions across the catchment.
The forecast is that river levels will not rise any further between now and the 8 January and may fall slightly.
Also speaking on Today with Sean O'Rourke, spokesperson for ESB Networks Bernadine Maloney said the release rate could potentially rise to 500 cubic metres per seconds, depending on rain that flows into the catchment over the next number of days.
"The levels in Lough Derg have still continued to rise overnight, although there's a hope that they will stabilise over the next number of days. But that depends on more rainfall coming in.
"The levels in Lough Ree are above the levels that they were at in 2009 and that water will ultimately all come down into Lough Derg."
Ms Maloney said the public will be notified if the release flow is to increase.
"We always make the decision in the morning so people know early in the day what's going to happen and the we start to increase the flows.
"Once we've notified people the gates will be raised to increase the flow. As I say we make that decision in the morning so that people are not going to have additional water flowing to the in the hours of darkness where at all possible."
In relation to the Bastion Apartment Complex in Athlone, Ms Maloney said power cannot be reconnected until flood waters abate, adding that she does not know when this will be.
Elsewhere, Iarnród Éireann said the Sligo line remains closed between Longford and Carrick-on-Shannon due to high water levels.
Bus transfers are in operation and passengers are advised to expect delays as a result.
'Current flood problems could have been avoided'
A planning consultant has said he believes some of the current flooding problems could have been avoided by proper planning.
Dr Diarmuid Ó Gráda said many families caught up in the flooding crisis were granted planning permission for homes in grounds that were clearly unsuitable.
He said that some of the rural county councils had failed in that duty of care.
Dr Diarmuid Ó Gráda said he was concerned there was a growing dichotomy between the planning system for urban and rural areas.
He said he believed that it was time for Minister for the Environment Alan Kelly to reform the system for random rural housing which depend on septic tanks and wells that cannot operate under the current conditions.
Dr Ó Gráda said it seemed irrational that planning permission was still being granted for homes that used septic tanks and wells in areas that are going to flood.
"It seems irrational that we are still granting planning permission for houses using septic tanks and wells in areas that are going to be flooded. That can only add to the misery of the future. It's time now to reform that system."
Dr Ó Gráda said that we should be looking to the EU for recourse on the situation and there should be harmonisation in terms of the reaction to some of these problems.