Up to 160 people have had to leave their homes in Athlone after the ESB disconnected the electricity supply to 60 apartments in one of the most severely flooded areas of the town.
The ESB confirmed the move was taken for safety reasons after pillars connecting an electricity substation to the Bastion Quay complex became submerged in flood water.
The Bastion Quay apartment complex is one of the largest in the town of Athlone, overlooking the River Shannon and is only a short distance from Deerpark, Parnell Square and the park residential areas - all of which have been threatened with severe flooding for the last five weeks.
Dozens of residents have been leaving the apartment complex throughout the evening - it is understood the majority have now left but some residents may have stayed on in the building.
It is understood they will be accommodated at local hotels for the coming week until such a time as it is safe for the power to be turned on again.
Elsewhere, the River Shannon at Athlone has risen 7cm in 48 hours and is now 3cm above 2009 levels.
Shannon catchments have risen significantly in the last 48 hours.
Homes near the River Blackwater in Fermoy and Mallow in Co Cork have also been badly affected by flooding. Water levels there are reported to have been continuously rising since Friday night.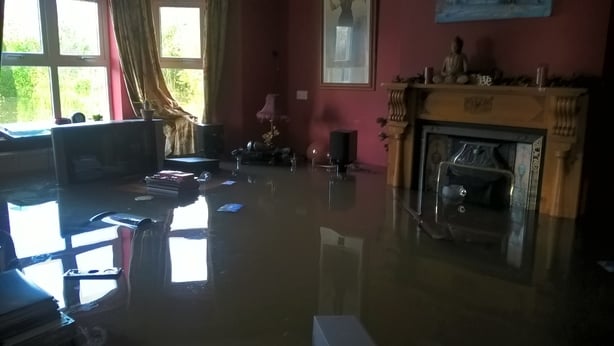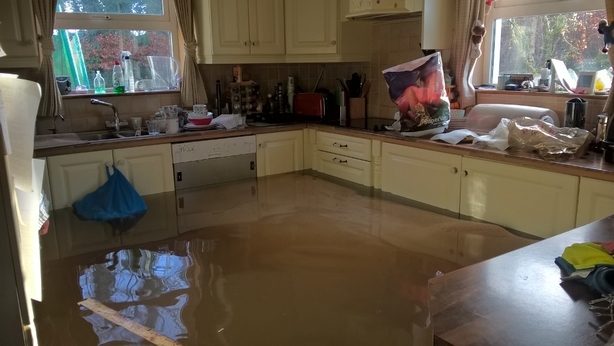 (Pics: Anthony O'Brien)
Elsewhere, Chief Executive of Galway City Council Brendan McGrath said that 25 homes were affected by an evacuation warning in Kilganey, Clonmel on the bank of the River Suir.
14 were evacuated, nine decided to remain and two houses were vacant. They are monitoring the situation very closely.
260 homes around the country have been flooded so far, while another 230 are under threat.
130 houses have been marooned according to the National Co-ordination Group, which met again this morning.
The National Co-ordination Group is warning of the effects on transport tomorrow as people return to work and schools and to take care to plan journeys amid flooded roads and curtailed rail links, and to check that schools are open.
Coveney visits flooded areas in Co Clare
The Minister for Agriculture and Defence Simon Coveney visited homes and residents living in the flooded neighbourhood of Springfields in Clonlara in Co Clare this morning, many of whom are exhausted and fatigued from having to defend their homes from flood waters since the first week of December.
One resident, Geraldine Mason, was angry with the minister and the Government for only visiting their community now, almost four weeks since their flooding crisis began for them.
She said she was effectively homeless, and accused the minister and the Government of not caring about their plight.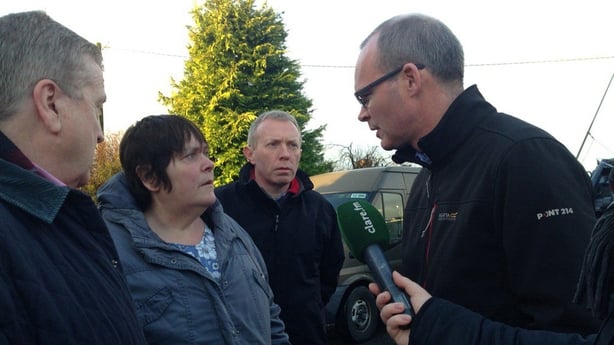 Minister Coveney said more army personnel in great numbers are now being deployed in counties Clare and Tipperary, as well as in Athlone, to help operate pumps at night and at other times during the day to allow residents to get some rest, and to return to work.
He accepted they were coping  with an emergency situation, and had to deploy rsources where they were most in need, and urged residents who need those back-up resources like pumps and personnel to ask for them.
Taking the boat in Clonlara Minister Coveney visits flooded homes in Co.Clare pic.twitter.com/eZi7ebGxaP

— Cathy Halloran (@HalloranCathy) January 3, 2016
He accepted their anger was totally justified and said he would be bringing that anger straight to the Cabinet table.
Mr Coveney listened to a number of residents about what engineering solutions might be best used to solve the problem in the medium term and said these should be used before it is necessary to get residents to move permanently  from their flood-prone homes.
Fianna Fáil TD for Clare Timmy Dooley, who also visited the area today during the minister's visit, said whatever solutions may be used in the future, it has to be accepted that some homes may be permanently flood-prone and it may well be time for the Government to consider moving these people to new residences.
Speaking in Clonmel Minister for the Environment Alan Kelly said everything is being done to help people in the face of the ongoing flooding.
He added that the situation was an emergency and described the weather as incessant and not something the Government can control.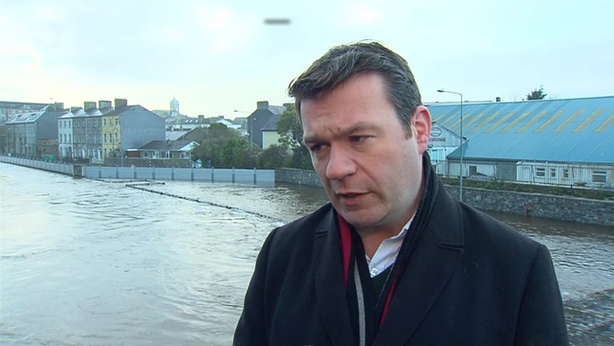 Mr Kelly said everyone was working around the clock including the defence forces, local authorities and volunteers.
He said he could understand people being cynical but he said the reality is that given climate change and other factors this was probably a situation we would be facing into again and again.
He added that we need not just to deal with the emergency but to learn from it.
137 members of the Defence Forces have been deployed to aid local authorities nationwide in the past 24hrs.
They are carrying out a variety of duties, including filling and distributing sandbags, assisting with the evacuation of civilians, and operating water pumps.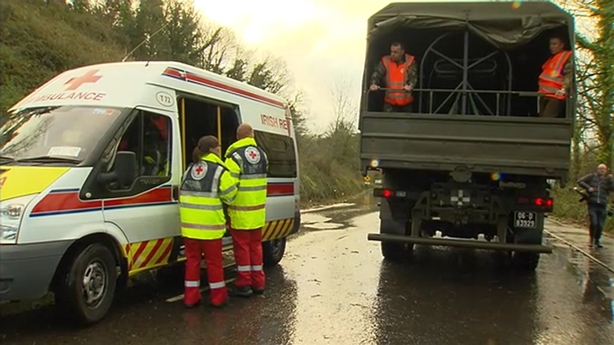 There are soldiers on one-hour notice to move at military installations nationwide, should they be requested by civil authorities.
Areas along the River Slaney remain in a severe flooding situation, especially on the Shannon catchment.
Ongoing flood defence efforts including maintenance of temporary flood defences and pumping will continue.
Meanwhile, Tipperary Co Council Crisis Management Team reconvened at 1.30pm to review the flood situation in the lower River Suir catchment area.
The immediate high flooding risk has abated in Clonmel, Cahir, Ardfinnan and Kilsheelan.
Normal January weather conditions are expected over the next few days and the situation will continue to be closely monitored.
Kilganey residents are being advised that they can now return home and arrangements are in place to facilitate this.
Additional mobile pumps continue to be deployed to manage the water levels on the North Quay, Carrick-on-Suir, which are currently clear of water but remain closed to traffic.
Flooding results in traffic diversions
The N25 Cork to Waterford Road between Killeagh and Castlemartyr is currently impassable due to flooding.
Signed diversions are in place from Killeagh via Mogeely into Castlemartyr but there will be severe traffic restrictions and these diversion routes are now unsuitable for any HGV traffic. 
Gardaí are advising drivers not to deviate from the signed diversion route as roads off of the route are impassable.
The R72 Fermoy to Dungarvan Rd is also currently impassable at Ballyrafter.
ESB maintaining water flows into rivers
The ESB is advising that flows from Inniscarra Dam in Co Cork will reduce to 225 cubic metres today (yesterday the level was 250 cubic metres per second).
The flow of water through Parteen Weir will remain at 470 cubic metres per second today and the situation will be reviewed again tomorrow.
The levels in Lough Derg may reach 2009 levels in the coming days and, as a result, the flow through Parteen Weir may increase to those levels (up to 500 cubic metres per second).
This level of water flow will have increased associated flooding to land and property in the vicinity of the Shannon downstream of Parteen Weir including the areas of Springfield, Montpelier, Castleconnell, Mountshannon (Annacotty) and the University of Limerick.
Met Éireann is forecasting more rainfall tonight, with the heaviest showers expected in southern and western areas.