The National Emergency Coordination Group has said water levels on the Shannon system are still rising and are expected to peak in the coming days.
It comes amid concerns for further flooding in Athlone and Limerick, where the Corbally area of the city was heavily flooded last night. 
Sandbags stacked and pumps will work through the night to keep #floods from Deerpark area of Athlone tonight pic.twitter.com/Pwl6DP9wxb

— Justin McCarthy (@MrJustinMac) December 13, 2015
There are currently no national weather warnings in place, but there is still a Status Yellow marine warning in effect.
The ESB said that because the level of the Shannon continues to rise, it is again increasing the flow of water through Parteen Weir. 
The flow of the water will increase to 440 cubic metres per second.
This level of water flow is likely to lead to increased flooding of roads, land and property in the vicinity of the Shannon downstream of Parteen Weir including the areas of Springfield, Montpelier, Castleconnell, Mountshannon, Lisnagry and the University of Limerick.
Since last weekend, 50 houses in flood-hit areas of the country have been evacuated. 
ESB releasing water at Parteen Weir - 450 cubic metres https://t.co/YP42MtSF22

— Petula Martyn (@petulamartyn) December 13, 2015
The ESB said they have had to increase the flow of water due to rising water coming from Lough Derg.
Earlier, Minister of State with responsibility for the Office of Public Works Simon Harris said there are still significant concerns about flooding in Athlone.
Speaking after meeting the National Emergency Coordination Group, the Minister said that 222 members of the Defence Forces were deployed at various locations around the country yesterday.
River Shannon Water levels up 10 mm overnight in Athlone : 3 houses now flooded . Athlone business centre unaffected by floods - open today

— Ciaran Mullooly (@ciaranmullooly) December 13, 2015
He said 700 personnel have been deployed over the course of the week.
However, locals say a flood drain would have prevented much of the damage to properties.
6InfBn troops Custume Bks deployed in Athlone today. Army & naval reserve out in Limerick Castleconnell & Clonlara pic.twitter.com/mV8zd3pP9v

— Irish Defence Forces (@defenceforces) December 13, 2015
Speaking at a press briefing, chairman of the Coordination Group John Barry said that approximately 50 homes had been evacuated nationwide since last weekend.
Jim Casey from the Office of Public Works said there were still concerns about further flooding in Athlone after water levels at Lough Ree increased by an inch overnight.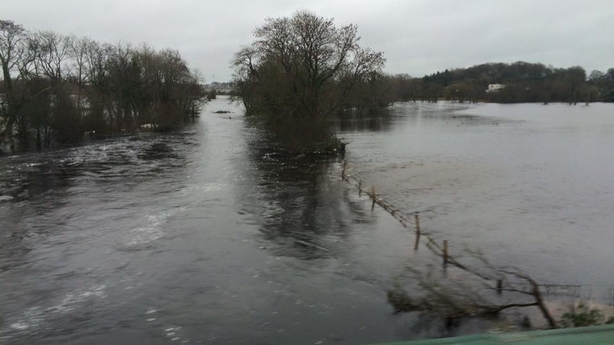 Mr Casey said the Shannon system was still rising, but at a slower rate. 
He said there were still concerns about flooding from the Limerick area to Lough Derg because water levels were still due to peak later today or tomorrow.
Elsewhere, around 14 houses, a secondary school and a number of cars were flooded in the Corbally area of Limerick city last night.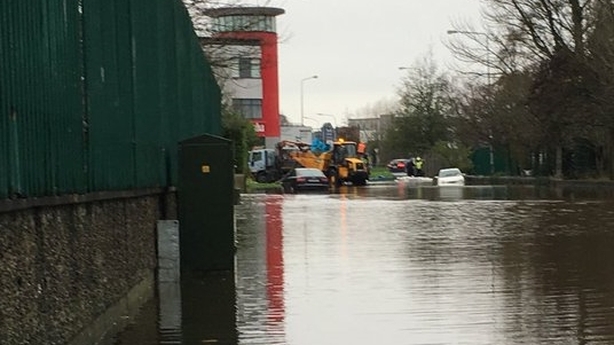 The main Corbally road, which leads from Co Clare into the Limerick city suburb, was impassable after the water flowed over the canal banks, but has now reopened. 
A number of roads in the Castleconnell area are closed including R525 Castleconnell to O'Briensbridge road, due to flooding at the railway bridge 1km north of Castleconnell. 
Drivers are advised to drive with due caution as there may be flooding on other local roads.
Limerick City and County Council has opened a dedicated emergency helpline for flooding support on +353 61 407100 in addition to the existing out-of-hours/emergency phone number on +353 61 417833.
Grounds of Ardscoil Mhuire, Corbally, flooded. There might not be school tomorrow. Inside of school is fine. pic.twitter.com/8VK6JVuUXY

— Petula Martyn (@petulamartyn) December 13, 2015
A number of houses in the Richmond Park area and the grounds of Ardscoil Mhuire secondary school were also flooded.
A number of cars parked in the school grounds were also partially submerged. More than 400 homes nationwide are without power as a result of the flooding. 
Limerick County Council said the surge of flood waters was as a result of exceptionally high waters in the Shannon and Mulkear rivers yesterday evening. 
In Dublin, people living near the River Liffey between Chapelizod and Islandbridge were advised last night by gardaí and Dublin City Council to move all vehicles from underground car parks and low-lying areas because of the risk of rising water.
Bandon in Co Cork, which suffered serious flooding last week, remains on high alert, while the River Blackwater levels are expected to peak later today and flood defences are in place.
Met Éireann said rain across Munster and south Leinster would slowly move northwards through today bringing some persistent falls to Atlantic coastal fringes.
It said tomorrow and the rest of next week would see a move towards "more normal weather".
Met Eireann said: "There will be further rainfall throughout the week but nothing of an exceptional level."
Flooding advice is available on www.flooding.ie. 
Braced On the banks of Irelands biggest river @morningireland live from Athlone 0700 @RTERadio1 @RTENewsNow pic.twitter.com/g5p7x1pQXf

— Gavin Jennings (@DrGavinJennings) December 13, 2015