Fianna Fáil councillor Joe Queenan has resigned from the party following revelations in an RTÉ Investigations Unit report that he offered to act as an intermediary for a company in return for an investment in an agri-feed business he was planning.
In a statement, Fianna Fáil said some of the behaviour displayed in the programme was "shocking and completely unacceptable" and the party had accepted the Co Sligo councillor's resignation.
It said the "instances where there appears to be clear breaches of the law need to be fully investigated by the gardaí and prosecutions brought where appropriate".
The party said that in respect of any allegations made against current members, it will begin an internal inquiry "under the auspices of the Ard Chomhairle to establish the full facts in each instance and will take action as appropriate".
Fine Gael described the revelations made in the programme as shocking and "go against the definition and spirit of public service."
In a statement, the party said it is unacceptable for any public representative to use their position for financial use.
Mr Queenan is one of three politicians who offered to lobby on behalf of a wind farm company in exchange for money or the promise of a loan or an investment in a private business, the report revealed.
The three councillors all agreed to work secretly on behalf of a fictitious company, which was created as part of a major investigation by RTÉ into serious conflicts of interest in local and national politics.
They were chosen after a detailed examination of the declarations of interest of elected representatives in the country - 1,186 in total, including 949 councillors, 60 senators, 166 TDs and 11 MEPs.
These declarations - which must be made each year by politicians to ensure conflicts of interests do not arise - were cross-checked against property titles and company registration records.
Dozens of politicians failed to include the fact that they were directors of companies or owned undeclared properties.
In some cases, councillors had extensive undeclared property portfolios and were directors of companies.
In a number of cases, some of those companies had made settlements with the Revenue Commissioners.
From that list, a number of politicians were selected where possible conflicts of interest were apparent and further investigation was warranted.
Read more: The councillors and how they responded
The RTÉ Investigations Unit created a fictitious company, which was supposed to be developing a wind farm in Ireland and was looking for assistance from a local politician to assist with the planning process.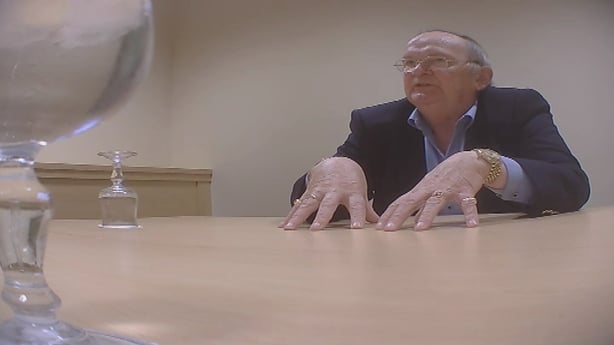 One of the councillors involved, Hugh McElvaney - a four-time mayor of Monaghan - sought payment when contacted by an undercover reporter.
"What's in it for me?" he asked.
Mr McElvaney came to the attention of the RTÉ Investigations Unit because of major gaps in his declaration of interests: an undeclared property portfolio and a directorship of a consultancy firm.
The then-Fine Gael councillor, who recently resigned from the party, said: "Are you going to pay me by the hour or the job?"
When told that the undercover reporter would be visiting Ireland in the next couple of weeks, he asked: "And you will have plenty of sterling with you?"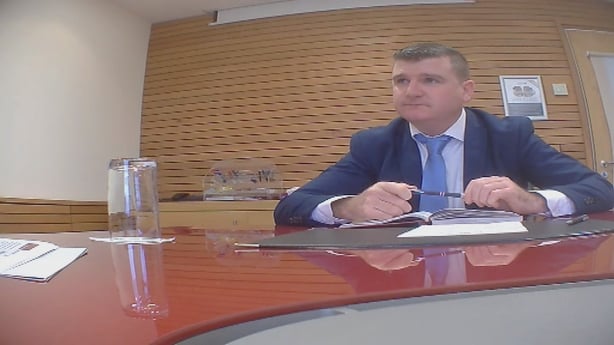 An independent councillor in Co Donegal, John O'Donnell, also said he would be willing to work with the fictitious company to help develop the wind farm.
Mr O'Donnell requested that all money be routed through a third party. "Politically there would be a backlash," he said, "you know the way people are … so many begrudgers out there."
Politicians failed to disclose properties
Seven TDs and Senators also failed to disclose properties or businesses that should have been included in their register of interests.
When it comes to declaring a business, the size, profitability or trading status of the company does not matter.
Even if the role is unpaid, it still has to be declared until the company is legally dissolved.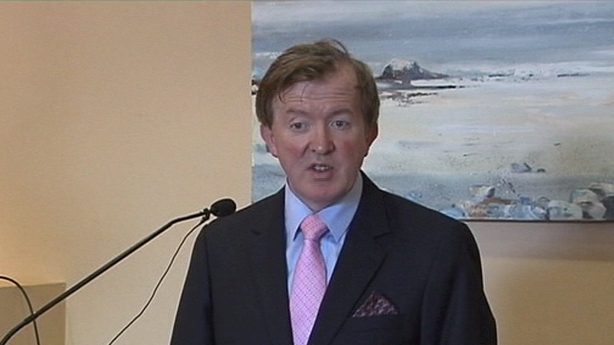 Oireachtas member and former junior minister John Perry owns a residentially zoned site and house in Ballymote, Co Sligo.
When first contacted, he said he did not need to separately declare it because it is used as an overflow car park and storage building for the supermarket across the road - which is on his register of interests.
This was despite the fact that planning permission granted by Sligo County Council in 2011 specified that the property would not, and could not, be used as either a car park or commercial storage facility.
In a subsequent statement, Deputy Perry said: "As far as I am concerned this area was always considered by me as being part of the supermarket and since the council's decision in 2011 not to allow parking on this portion of ground, the area has just been left derelict and unused."
Minister of State Ann Phelan amended her 2014 statement after RTÉ contacted her about a second house she owns that was not on the register.
She said she would amend her statement and rectify this oversight.
Five politicians failed to disclose directorships
Five politicians, including Fine Gael TD Áine Collins and Senator Mary Ann O'Brien, did not disclose directorships of companies in the register of interests.
Ms Collins said the two firms she failed to mention were the result of an administrative error and that she would correct the register.
Ms O'Brien also forgot to declare a firm, which was part of the corporate structure of the Lily O'Brien's chocolate company, which she founded.
Independent TD Noel Grealish said he should have included a glass manufacturing company even though it was in liquidation, while Fine Gael Senator Tom Sheahan said he would add a non-trading company to his register.
Fine Gael TD Tom Barry did not include three "agriculture and real estate" companies on his register for 2014 but has amended the record since being contacted by RTÉ.
Dozens of councillors also had gaps in their declarations with properties and business interests regularly missing from official documents.