A Paris bar where five people were killed by gunmen in last month's terror attacks has become the first to re-open after what its manager called a "nightmare".
"It's time to get together again, united, to move on and not forget," said a message on the menu board at the cafe, A La Bonne Biere.
"I would like to thank everyone who has supported us for your poems, your messages and posts that have so helped us," manager Audrey Bily told reporters outside the bar in the east of the city.
"What are we going to do to start again, to bounce back? We have carried out some work, repainted the walls to wipe away the signs of this nightmare.
"The Bonne Biere cafe was a place where people meet and exchanged and shared. That is what we want it to be again today," she added, as a handful of customers returned to the bar for their morning coffee.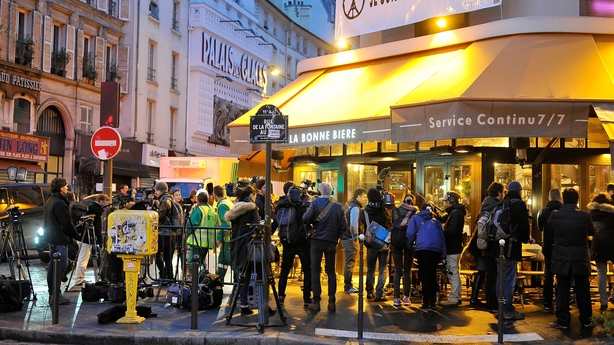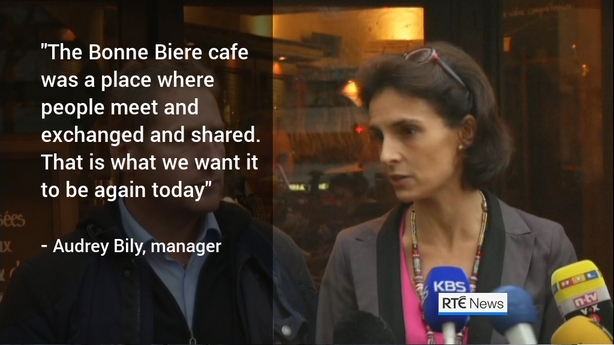 Piles of flowers and candles still line the pavement in front of the bar.
The Casa Nostra restaurant opposite the cafe, which was also hit, is still closed.
Four other bars and restaurants as well as the nearby Bataclan concert hall were also targeted in the 13 November attacks in which 130 were killed.
On Wednesday, two of the Bataclan's owners said they intended to reopen the venue - where 90 people died in the deadliest of the attacks - by the end of next year.
Hundreds of people still flock there every day and fresh flowers line the pavements outside.
Cleaning workers have also begun clearing away flowers from outside the Carillon bar and the Petit Cambodge restaurant, where 15 people lost their lives.