Minister for Justice Frances Fitzgerald has said that between 20 to 30 refugees that were due to be the first to be relocated to Ireland from either Greece or Italy before Christmas will not now arrive until the new year.
Speaking during a meeting of EU justice ministers in Brussels Ms Fitzgerald said that the process of relocating refugees under the EU's controversial relocation scheme was proving "very challenging".
Ireland has agreed to accept 600 asylum seekers under the first phase of the EU's relocation programme, and up to 2,000 more under a second, larger scheme.
Under the proposal, officials from the Irish Office of the Refugee Applications Commissioner were expected to travel to so-called Hot Spots in either Greece or Turkey, in liaison with the European Asylum Support Office (EASO) in early December to select asylum seekers, most probably from Syria, Iraq, Eritrea and Afghanistan.
However, it appears that problems with management of the Hot Spots - areas where large numbers of refugees are arriving - are still proving an impediment to the relocation process.
Under the EU relocation plan member states would accept up to 160,000 refugees which would be relocated from Greece and Italy.
The plan has been fraught with problems, and so far out of 160,000 only a few hundred have actually been sent to other EU member states.
Officials from all 28 member states were also meeting in Brussels today to discuss a separate German proposal to resettle at least 100,000 more Syrian refugees who are currently in Turkey.
The proposal first surfaced during last weekend's EU-Turkey summit in Brussels, as part of a potential over-arching deal to encourage Turkey to restrict and manage the large migratory flows across its border into Greece.
The EU had already proposed a voluntary resettlement programme involving 22,000 refugees back in June.
The Irish Government had offered to take in 520 over two years under that scheme.
However, the latest proposal would see a much more ambitious number, with some reports putting the figure as high as 400,000.
Mrs Fitzgerald said it was too premature to say if Ireland would take part in the new scheme, or what the numbers might be.
EU ministers to discuss Schengen suspension
The EU is considering a measure that would give a new EU border force powers to intervene and guard a member state's external frontier to protect the Schengen open-borders zone, EU officials and diplomats said earlier today.
Such a move would be controversial. It might be blocked by states wary of surrendering sovereign control of their territory.
The discussion reflects fears that Greece's failure to manage a flood of migrants from Turkey has brought Schengen's open borders to the brink of collapse.
Germany's Thomas de Maiziere said in Brussels he expected proposal from the EU executive due on 15 December to include giving responsibility for controlling a frontier with a non-Schengen country to Frontex, the EU's border agency, if a member state failed to do so.
He said: "The commission should put forward a proposal ... which has the goal of when a national state is not effectively fulfilling its duty of defending the external border, then that can betaken over by Frontex."
He noted a Franco-German push for Frontex, whose role is largely to coordinate national border agencies, to be complemented by a permanent European Border and Coast Guard - a measure the European Commission has confirmed it will propose.
Greece has come under heavy pressure from states concerned about Schengen this week to accept EU offers of help on its borders. Diplomats have warned that Athens might find itself effectively excluded from the Schengen zone if it failed to work with other Europeans to control migration.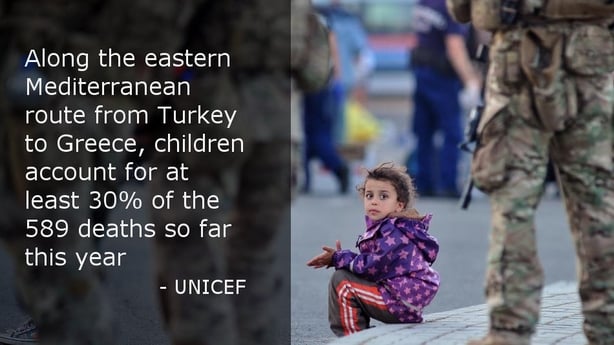 Yesterday, Greece finally agreed to accept help from Frontex, averting a showdown at the ministerial meeting in Brussels. EU diplomats said the proposals to bolster defence of the external Schengen frontiers would look at whether the EU must rely on an invitation from the state concerned.
"One option could be not to seek the member state's approval for deploying Frontex but activating it by a majority vote among all 28 members," an EU official said.
Under the Schengen Borders Code, the Commission can now recommend a state accept help from other EU members to control its frontiers. But it cannot force it to accept help - something that may in any case not be practicable.
The code also gives states the right to impose controls on internal Schengen borders if external borders are neglected. As Greece has no land border with the rest of the Schengen zone, that could mean obliging ferries and flights coming from Greece to undergo passport checks.
Asked whether an EU force should require an invitation or could be imposed by the bloc, Swedish Interior Minister Anders Ygeman said: "Border control is the competence for the member states, and it's hard to say that there is a need to impose that on member states forcefully.
Pressure on Greece
"On the other hand," he said, referring to this week's pressure on Greece, "we must safeguard the borders of Schengen and what we have seen is that if a country is not able to protect its own border, it can leave Schengen or accept Frontex. It's not mandatory, but in practice it's quite mandatory".
Ministers and the commission welcomed Greece's decision yesterday to accept more help from Frontex.
"Greece is finally taking responsibility for guarding the external European border," Austrian Interior Minister Johanna Mikl-Leitner said. "I have for months been demanding that Greece must recognise this responsibility and be ready to accept European help. This is an important step in the right direction."
A dramatic increase in EU powers over national territory would be deeply controversial in much of Europe. On Thursday, Danes, who are part of the Schengen zone, heeded Euro scepticcalls and voted against giving their government power to deepen its cooperation with the EU policy agency.
The European Union faces another test over the next two years as Britain, its second biggest economy, prepares to hold a referendum on whether to quit.
Although not a member of the26-nation Schengen zone, and so unaffected by increased powers for EU border guards, increasing Brussels's say over security policies in Schengen states might fuel the campaign to leave.