Eddie Downey has said he does not regret his decision to resign as president of the Irish Farmers' Association last week and feels he was "thrown under the bus".
Mr Downey tendered his resignation during a 17-hour crisis meeting of farmers after details emerged of the remuneration package of its former general secretary Pat Smith.
Mr Downey said he wants to "put the record straight" and to give his side of events.
He said he fully supports the work of Con Lucey, who is currently preparing a review of pay and pensions for the IFA.
He also said that he only became aware of the full remuneration package of Mr Smith had been receiving on the 19 November and he acted on that information within hours.
Speaking on RTÉ's Morning Ireland, Mr Downey said he had approval in relation to the severance agreement with Mr Smith worth €2m - which the IFA will now challenge in court.
He said the figure was arrived at following legal and financial advice. He said he was advised that this was a deal that had to be done to move the situation on.
"I'd be delighted if that deal can be overturned. I have no desire to see any more money go to the General Secretary than he had already got," he said. "When someone has an open-ended contract there, an open ended contract they've got rights."
Mr Downey said Mr Smith's salary was an "outlandish salary, an outrageous figure" and it came with entitlements. He said employment law needs to be overhauled.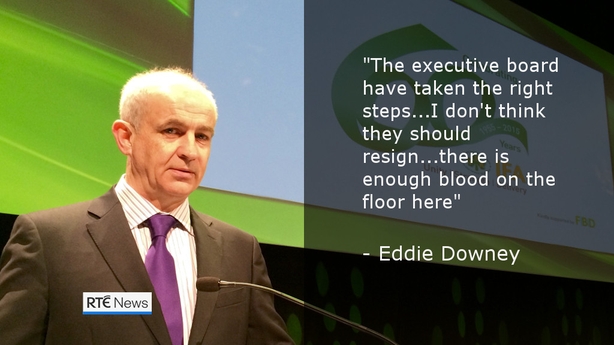 As for the executive board, he said there was "enough blood on the floor" and there was no reason for the board to resign.
"The executive board have taken the right steps. They have done everything that Con Lucey recommended. They have acted correct and honourably here and I dont think they should resign. There is enough blood on the floor here .
"I think this organisation need a period of healing and I think we all need to come together and work on that basis," he said.
Mr Downey said he does not regret his decision to resign during the crisis meeting at which he was told there were misrepresentations of his involvement, and as such he had been "thrown under the bus".
He has had many messages of support from the IFA membership and said he believes it has a very strong future.
However, seven IFA county executives - Mayo, Galway, Donegal, Roscommon, Sligo, west Cork and Kerry - have passed resolutions calling for one or more members of the IFA executive board to resign.
Another eight executives - Cork north, Cork central, Kilkenny, Offaly, Meath, Westmeath, Wexford and Wicklow - discussed resolutions calling for board members to resign, but did not pass them.
More county executives are meeting to discuss similar motions, with three meeting in the next 48 hours.
The Monaghan Branch is meeting tonight with Dublin and Leitrim meeting tomorrow evening.
According the Chairman of the Meath Executive, Diarmuid Lally, the consensus at its meeting last night was that the current board should stay on for three to six months if IFA rules permit this.
Meath members also agreed that the board members should offer themselves for re-election or to be challenged at the same time as the presidential election.