Irish Water has identified the Parteen Basin on the River Shannon as its preferred option for a new supply of drinking water for Dublin and the Midlands.
The water company was given the task of sourcing a new supply, because the existing supply sources will not meet the requirements of an increasing population and the growing economy.
Irish Water is proposing the construction of a 165km pipeline from a reservoir on the Tipperary side of the Parteen Basin.
The Parteen Basin is located south of Lough Derg and close to the point where counties Clare, Tipperary and Limerick meet.
It is also near the Ardnacrusha hydro-electric power station which is why it is Irish Water's preferred option.
It says taking water from this point will use approximately 2% of water that would otherwise have been used for power generation and then discharged to sea.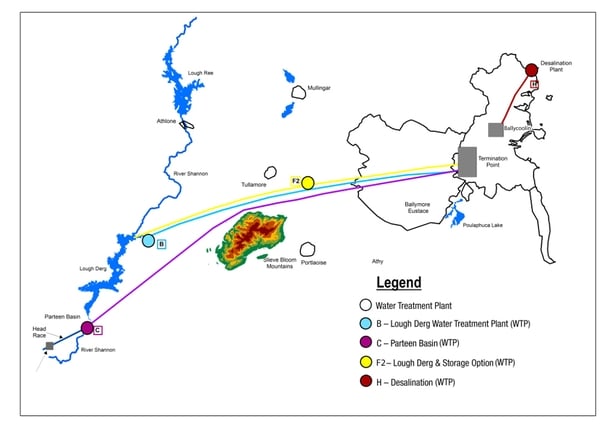 The other three options considered were taking water directly from Lough Derg, taking water from a storage facility to be built at Lough Derg, or desalination of sea water.
There is a long-standing campaign against sourcing a future water supply from the River Shannon, and opposition to this proposal is likely to be strong.
A ten-week period of public consultation will now begin.
Irish Water hopes to submit the final planning application to An Bord Pleanála in 2017.
@rtenews Irish Water plan for 165km pipeline from Parteen Basin south of Lough Derg to Dub and Midlands #water pic.twitter.com/x8ODrcyHhu

— TERESA MANNION (@MANNIOT) November 26, 2015
Irish Water's Head of Asset Management Jerry Grant said the Parteen Basin is its preferred option because it will have the least environmental impact on Lough Derg.
He said consultation is currently being carried out and once the option has been confirmed a lengthy environmental impact assessment on the design of the scheme will be carried out next year.
Speaking on RTÉ's Morning Ireland, he said the plan is to remove 2% of the water going through Ardnacrusha and that will not change and cannot be changed without fresh planning applications being made in the future.
He said it is a one-off project for two generations.
Mr Grant also added that there was a short term objective to reduce leakage significantly in the Dublin area which should buy enough time to build the new pipelines before there was a risk of water shortage.
He said leakage currently was at 35% and needed to be reduced to 25%.
Mr Grant said that reducing leakage remained an important part of Irish Water's overall plans.