Minister for Health Leo Varadkar has expressed his disappointment at the Irish Nurses and Midwives Organisation ballot that will see nurses engage in industrial action nationwide.
Patients in emergency departments face industrial disruption next month after the vote saw 92% opt for strike action to start on 15 December.
Mr Varadkar said: "The INMO ballot is disappointing particularly when we are starting to see the Emergency Department Task Force Plan taking effect."
INMO General Secretary Liam Doran warned that if the one-day stoppage did not secure increased staff resourcing and other measures to reduce pressure on emergency departments, there could be a national dispute in the new year.
Mr Varadkar said: "While there is a long way to go, there are 20% fewer people on trolleys than on this day last year.
"197 hospital beds have opened nationally since October with another 44 due to open in the next two weeks.
"There are also 759 more nurses in the health service than this time last year. Industrial action won't get a single patient off a trolley and we should all be focused on implementing the Task Force plan.
"Negotiations between the INMO and the HSE as employer will now take place under the auspices of the Workplace Relations Commission," he added.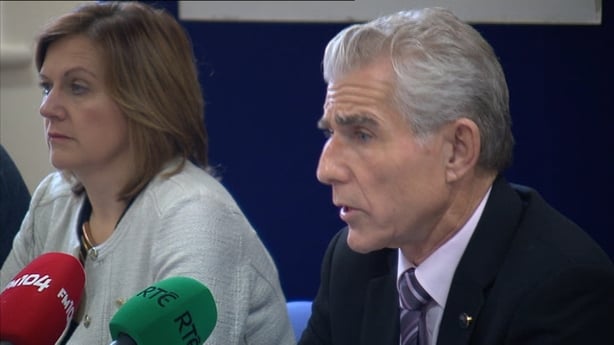 Mr Doran said the INMO would formally notify the HSE today that there would be rolling simultaneous strike action on 15 December. However, nurses will maintain emergency response teams to deal with any unforeseen crises.
Health officials acknowledged there were difficulties in emergency departments but accused the INMO of engaging in "spin".
They said that the timing of the threatened strikes close to the election was no coincidence and they expect the overcrowding situation to improve as 150-200 beds are expected to open by the end of the month.
The officials accused the union - which is part of the Emergency Department Task Force Implementation Group - of only focusing on resources when a task-force analysis had found 11 factors contributing to the problems.
They cited issues like work practices and the failure to introduce new grades such as operating theatre assistants.
The officials also said that October figures showed there were 730 more nurses than last year, with 400 "definite expressions of interest" in posts during a recruitment drive abroad.
INMO to meet HSE over contingency plans
Speaking on RTÉ 's Drivetime programme INMO Director of Industrial Relations, Phil Ní Sheaghdha, said organisation is due to meet with the HSE on Thursday afternoon in connection with contingency planning.
She told Drivetime that the INMO has notified the HSE of work stoppages, saying the INMO believe hospitals will have to divert their ambulances and put in place alternatives to emergency departments.
Ms Ní Sheaghdha said seven hospitals will be involved in the work stoppages on the 15th of December.
She described the environment that nurses are working in as intolerable and said she hopes the stoppages will make the Government and managers aware of such.
Also speaking on RTÉ 's Drivetime programme HSE's National Director of Human Resources, Rosarii Mannion, described the INMO's decision to strike as extremely regrettable.
Ms Mannion said: "Everything isn't about adding more staff", adding that there are 759 more nurses in the system this year, when compared to last year.
She said the HSE has invested significantly in recruitment campaigns and have offered permanent contracts, this year, to all nurse graduates.
She said taking industrial action is not going to improve the situation for one patient in the health service and that she is hopeful the situation will be resolved in the next three weeks.
Staff numbers
Mr Doran said that the overall nursing staff numbers were down 4,200 since 2009, despite the fact that demand for services had increased significantly.
He said that 200 additional nurses needed to be recruited immediately on a permanent basis to fill existing vacancies in emergency departments.
Mr Doran said a further 100 would be needed to care for patients who had been admitted but had not yet secured beds.
He also called for enhanced health and safety measures for emergency units, and for hospital management to enforce existing escalation measures to deal with overcrowding.
Fianna Fáil Health Spokesperson Billy Kelleher said it is "not at all surprising given the scale of the crisis in our hospitals and the conditions they are expected to work in".
He added: "Minister Varadkar does a great job of talking about the problems in the health service as if he is somehow removed from the process.
"The minister has a responsibility to take action to address the crisis in our hospitals.
"I think it is clear from the result of the INMO ballot that members do not believe in the Government's health agenda.
"But how could they? We have had almost five years of false budgets, unrealistic targets and regressive cuts to frontline services."
Patient numbers
Figures show that on average there have been 365 patients each day on trolleys, in emergency departments or on wards, waiting for admission to a bed, in the past week.
It represents a reduction of seven on the comparable figures for around the same period this time last year, when there were on average 370 patients waiting each day.
The figures cover weekdays since Monday 16 November up to today and the equivalent weekdays from Monday 17 November last year.
According to the INMO there are 339 patients waiting today.
The hospital worst affected is St Vincent's University Hospital in Dublin with 37 patients reported to be waiting in the emergency department.
The union says that this figure does not include any patients waiting on wards, as the hospital is not in a position to provide those figures.
Other hospitals badly affected are: Beaumont with 31 patients waiting; Cork University Hospital with 29; and the Mater with 24.
The worst figure this year was on 6 January, when there were 601 patients waiting in hospitals around the country.
'Patients often left uninformed about their condition at St Vincent's Hospital' - nurse
A nurse at the Emergency Department at St Vincent's Hospital in Dublin has described her working conditions as 'horrendous', insisting that the only option for many of her colleagues would be to leave the health service if overcrowding was not tackled.
Pamela O'Brien claimed that up to 70% of nurses in her department had left the hospital over the past year.
She said that nurses were stressed from the moment they arrived in work until the moment they left, and were often unable to take rest or toilet breaks due to staff shortages.
Ms O'Brien said patients were often left uninformed about their conditions and frightened, with nurses unable to find time to reassure the elderly or to provide pain relief to those calling out for help.
She said that no matter how often concerns were raised about overcrowding, nothing was being done and patients were suffering.
Ms O'Brien said she feels partly to blame for the suffering patients endure because she continues to be a part of a healthcare system that she says does not work.
She said she worries on her days off about the care she is not able to provide to vulnerable patients, and feels that she should work extra days, or longer shifts, because the hospital is so under-staffed.
She said the only option left open to nurses was to either leave the profession or take industrial action. She claimed that lip service was being paid to nurses' concerns, but that the HSE had no plans in place to open, or staff, additional hospital beds.