President Michael D Higgins has spoken about the high social cost of the austerity measures introduced in Ireland to tackle the banking crisis and manage sovereign debt, during a speech at the United Nations in Geneva.
President Higgins gave the keynote address at the opening of the Debt Management Conference, held by the UN Conference on Trade and Development this morning.
During his address, the President spoke about the impact of the conversion of private bank debt to sovereign debt in Ireland.
He said cuts in public service pay and pensions were significant and a similar consequence could be noted in relation to the provision of social services and the consequences in social cohesion.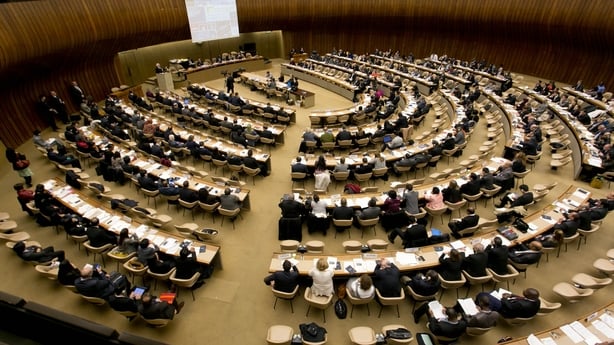 President Higgins said Ireland had managed to stabilise its sovereign debt position, but he said there had been "a huge social cost to be paid".
The President was also critical of the role of rating agencies in Europe.
He said these private bodies, which were neither accountable nor disinterested, had wielded a devastating impact on states.
The President said it could be argued with much weight that the Government did the very best it could within the confines it faced, however he said the nature of those restrictions remained a matter of great controversy in Ireland and other European countries.
President Higgins also spoke about the unsustainable debt position of some countries internationally.
He cited those countries affected by the Ebola virus epidemic, outlining the difficulty they faced in trying to fund a preventative response to the crisis and continuing interest repayment on debt.
Call for careful language after attacks
Mr Higgins has said that people have to be careful about the language we use in responding to the recent attacks in Paris.
The President said a criminal act, such as the actions that had taken place in Paris, sought to create the maximum amount of fear.
He said it was necessary to make certain that everything we did did not contribute to fear.
Mr Higgins said it was a time for care.
He again expressed his sympathies for the relatives of those who had lost their lives in Paris, and those who were injured.
President Higgins also expressed his support for those who were providing security, which he said was often done at great personal cost.