Peter Robinson has given his final speech as party leader to the Democratic Unionist Party Annual conference in Co Down.
Mr Robinson announced on Thursday that he will not be contesting in the May Assembly elections and he is expected to step down as party leader and Northern Ireland first minister before the end of next month.
The 66-year-old has been an active member of the DUP for 45 years.
He took over from Ian Paisley as DUP leader and first minister in 2008.
The party has yet to decide if it will split the roles with Arlene Foster and Nigel Dodds the favourites to be given leadership positions.
---
Analysis: Tommie Gorman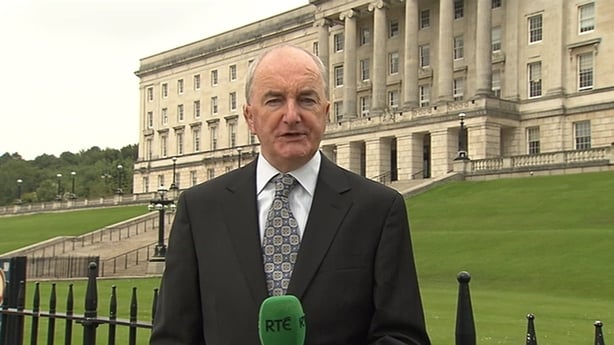 Throughout his 45 years in politics Peter Robinson usually kept his emotions in check.
But there was an emotional side to this speech.
It included the lines - my race is nearly run; advancing years and failing health bring with them a sense of mortality.
Mr Robinson's defining characteristics are his abilities as a strategist and his resilience.
A key part of this speech saw him indicate he favours splitting the leadership roles.
He told delegates - there will be a need for the new leader to appoint a new first minister.
That is shorthand for Nigel Dodds taking over as party leader and Arlene Foster becoming first minister at Stormont.
It would be new because Ian Paisley and Peter Robinson held both positions.
It is not guaranteed but if Mr Robinson favours a change of policy, it is usually a sign it will happen.
Arlene Foster, a former member of the Ulster Unionists, received a strikingly warm reaction from delegates.