Beaumont Hospital has apologised for the failings in dignity provided to the late Gerry Feeney on 19 December last year, shortly before his death, after an independent investigation into the case.
The 34-page report, commissioned by the hospital and seen by RTÉ News, says it was "completely unacceptable" that his incontinence pad was undone and he was left exposed on a ward.
It found there was a failure to protect Mr Feeney's dignity.
He was 81 years old.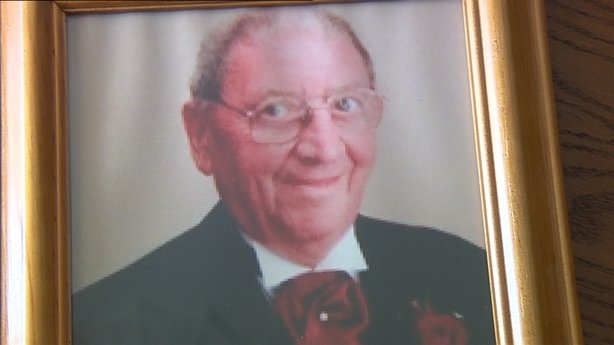 The report says that when a relative visited Mr Feeney, he had finished his evening meal and was in a gown, with evidence of soiling from food and drink.
The relative took a photograph of him to support the family's complaint.
It showed him to be in a dishevelled state, sitting on a chair, wearing a stained hospital gown, which was pulled up to his hips.
The incontinence pad he was wearing was undone, leaving him exposed.
The report says that the bay should have been staffed at all times but no member of staff was present at 6pm and neither the patient nor his relative could get assistance.
It says the fact that Mr Feeney's gown was stained after his meal was understandable, due to his propensity to spill drinks.
But it found that if the bay had been staffed at all times, in keeping with ward policy, Mr Feeney would not have been left in this state.
The investigation was unable to identify the health-care assistant who allowed the situation to happen.
The report also accepts that he was found in a soiled state on 20 December.
In February, Mr Feeney's family complained to the hospital that he was treated without dignity.
The report says that the "distressing and unacceptable condition" of Mr Feeney in the photograph was not a true reflection of the overall care provided during his admission.
It also says that the use of the incontinence pad was not for the convenience of staff.
Apart from the 19 December incident, it finds that the hospital policy was complied with and his hygiene needs and care were not neglected overall.
Mr Feeney was discharged back to his nursing home where he died on 30 January.
The report also deals with an earlier admission of Mr Feeney on 9 December last year.
It finds there was "poor communication and confusion" about which medical team had responsibility for him.
This is because the Beaumont Hospital electronic information system does not require the person entering the data to be identified.
The report expresses concern over the lack of this safeguard and warns of the danger to patient care.
It says it poses a risk to unauthorised alterations to the clinical records and hampers later investigation of complaints.
The report also says there was a breach of the hospital discharge policy.
Mr Feeney's discharge on 9 December was not authorised by a senior doctor and he should not have been discharged back to his nursing home.
There is also no record of who made the decision to discharge him.
Mr Feeney was readmitted to Beaumont on 11 December.
Beaumont Chief Executive Liam Duffy has apologised for the aspects of the failings in care, specifically with regard to dignity.
In a letter to the family, he said that all efforts will be made to act on the recommendations of the report.
Mr Feeney spent his early years in the army but most of his working life was at Aer Lingus.
His family have welcomed the report and the finding that he was not treated with dignity in the last weeks of his life, but say they do not accept all the findings.
They claim that he was earlier left for over a week in what they view as the general emergency department and "we do not accept that a partition or curtain marks a different ward".
The report says Mr Feeney was not left in the emergency department for nearly a week.
The family are expecting to meet with the hospital chief executive next month and will also be seeking a meeting with Minister for Health Leo Varadkar.
Mr Feeney's niece Ann-Maria said her family were unhappy with the investigation that was carried out and she called for the establishment of a hospital ombudsman.
Speaking on RTÉ's Morning Ireland, she said doctors and former directors of nursing are not the right people to carry out an investigation in the health sector.
"We feel that doctors investigating fellow doctors is akin to gardaí investigating gardaí and we all know that a garda ombudsman was set up and we feel as a family that there should be a similar call for a health or a hospital ombudsman," she said.
"We don't feel they got the whole story, we feel that doctors and former directors of nursing aren't probably the right people to investigate the health system."
In response, the Office of the Ombudsman Peter Tyndall said it can examine complaints about public hospitals and public and private nursing homes.
In a statement, Beaumont Hospital said it initiated an independent investigation following a complaint from a member of Mr Feeney's family and said it was seriously concerned about the issues raised.
The hospital said it accepts the recommendations made in the report and is implementing an action plan to put them into effect.
The statement added that the hospital has offered to meet Mr Feeney's family "to provide assurance that the issues arising from the investigation are being dealt with at a senior level".
Meanwhile, Age Action Ireland has said what happened to the late Gerry Feeney was absolutely appalling.
Justin Moran, Head of advocacy and Communications, said that the issue was bigger than any one hospital.
He said there had also been recent reports of patients aged 90 and even over 100 years of age, left on trolleys in hospital emergency departments.
Age Action has welcomed the Beaumont apology and its commitment to implement the recommendations of the report.
Taoiseach Enda Kenny said that it should not have happened and another case should not happen again in the future.
He said he Mr Feeney's passing was not in vain and that whatever resources are used at the hospital should prioritise patient care.
Nurses ballot for industrial action
The Irish Nurses and Midwives Organisation has said their members at the medical and surgical wards at Beaumont hospital are completing a ballot for industrial action for staff shortages.
Speaking on RTÉ's Today with Keelin Shanley General Secretary Liam Doran described as unacceptable the treatment the elderly man had received, but said the hospital is severely short staffed, and that unfortunately, standards drop as a result of extra pressure on nurses.
He said he was not trying to excuse what had happened, adding that "it was simply the reality".
Mr Doran said the result of the ballot will be known later today.