The first same-sex marriages have taken place in Ireland today after the Marriage Law 2015 came into law.
Dublin-based couple Richard Dowling and Cormac Gollogly have become the first same-sex couple to tie the knot. 
The couple who have been together for 12 years got married in Clonmel, Co Tipperary this morning.
Senior Registrar for south Tipperary Mary Claire Heffernan confirmed they were the first same-sex couple to be civilly married in Ireland.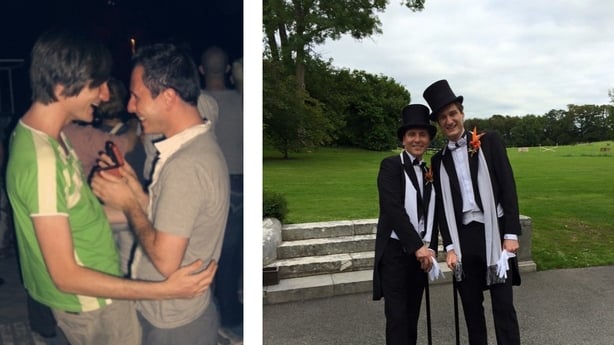 They got married two months after they entered into civil partnership at a more lavish affair in Kilshane House outside Tipperary town.
"We got civil partnered on the 18th of September and all our family and friends were there, that was really our wedding day," Mr Dowling explained after the ceremony in Clonmel.
"This is formalising the legalities of our marriage. We wanted to try and get in the history books and be first across the line," he said.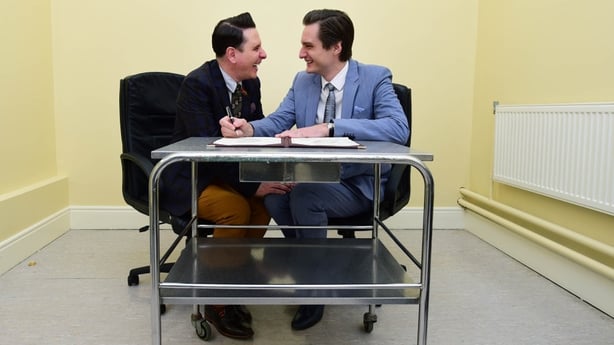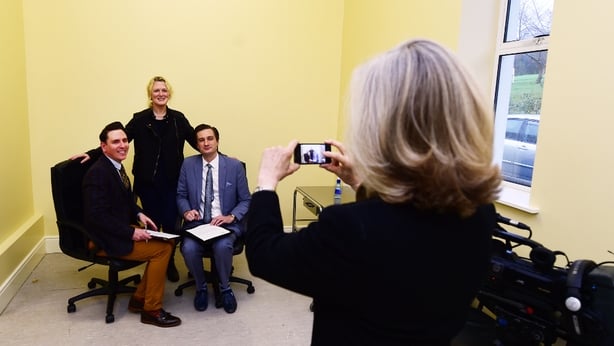 The couple got engaged in Spain several years ago and waited until same-sex marriage was legalised by referendum and through Government legislation.
"I really wanted to thank everyone in the Yes Equality campaign, their hard work really paid off.
"Our friends were flying home to vote from London and Australia and Richard's two brothers, who had never voted, both registered to vote," Mr Gollogly said.
The couple met when they were both aged 22 at the George in Dublin and Mr Gollogly said such change has happened in Ireland since that time 12 years ago.
"We remember, well, on the day of the 23rd of May. Thanks to everyone who voted yes.
"It was really great for us and such a great feeling. It was our first day to hold hands and walk into town.
"What a seachange Ireland has been through and it's just so lovely to have been part of it," he said.
His mother is originally Rosemary Ryan from Roscrea in Co Tipperary while Richard's mother is Kathleen Rafter from Rathcabbin, also in north Tipperary.
The couple already enjoyed a honeymoon in The Maldives following their civil partnership event in September and after today's ceremony in Clonmel, headed back to Dublin for a celebratory lunch.
Hitch in plans for couple hoping to marry in Cork
Elsewhere, Dolores Murphy and her civil partner Mabel Stoop-Murphy spoke of their devastation after they heard at the 11th hour that their marriage could not go ahead in Cork today.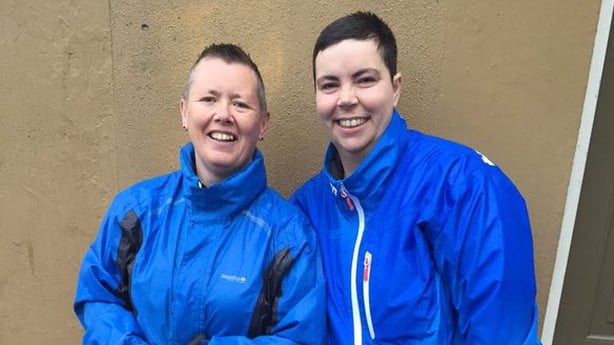 The couple were told that the registry office in Cork had been advised by the General Registry Office in Roscommon that their marriage could not take place over a lack of notice under the Civil Registration Act.
Under the act, a minimum of five days notice has to be given that there is no impediment to marriage, but this can be reduced to one day at the discretion of the local registrar.
However, since the couple only signed the declaration of no impediment this morning, they could not get married today as planned.
Ms Murphy said they were devastated and described the situation as "beyond ridiculous" and they should have been informed of the notice period when they booked their marriage last week.
She accused the service of making "absolute eejits" of them on a day that should have been so memorable.
Speaking earlier on RTÉ's Morning Ireland, Ms Murphy said she never thought that same-sex marriage would be legalised in Ireland.
The couple, who have a two-year-old son James, had hoped to be married at midday.