Investigators have obtained a video confirming there was a ninth attacker in Paris among the men who opened fire on bars and restaurants, sources close to the inquiry have said.
The video indicates that a second unidentified attacker could be on the run with 26-year-old Salah Abdeslam - unless the man in the video is one of two suspected accomplices being held in Belgium.
French and Belgian police have launched a manhunt for Abdeslam in connection with Friday's carnage in Paris, which left at least 129 people dead.
Abdeslam is believed to have fled after gunning down people at bars and cafes in Paris' 10th and 11th arrondissements alongside his brother Brahim Abdeslam, who later blew himself up outside a bar on Boulevard Voltaire, seriously wounding one person.
The video indicates there was a third suspect in the black Seat car used in the attacks, when five people were gunned down in front of the bar A La Bonne Biere at 9.32pm, a source close to the inquiry said.
The video shows the assailants firing from the car, which was later found abandoned in Montreuil, east of Paris along with three Kalashnikov assault rifles.
The third man in the car has not been identified, another source close to the inquiry said, without ruling out the possibility that he could be on the run.
Earlier an Aachen city police spokesman had said the suspects "could be connected with the Paris attacks" but also cautioned that the suspicion "could go up into thin air".
French police have released a photograph of one of the suicide bombers who blew himself up outside the national stadium, appealing for any witnesses with information to come forward.
Investigators have already established that he had been finger-printed by authorities in Greece in October but his identity remains unclear.
Near his body was a Syrian passport apparently belonging to a Syrian regime soldier killed several months ago.
Meanwhile, European police forces are continuing their search for Salah Abdeslam, who was named by French police as a key suspect in the Paris attacks in which 129 people were killed.
News site Spiegel Online reported that the German police alert was sparked by a supermarket employee who reported spotting a suspect who resembled Abdeslam.
French investigators who have issued a photograph of Salah Abdeslam and describe him as "dangerous".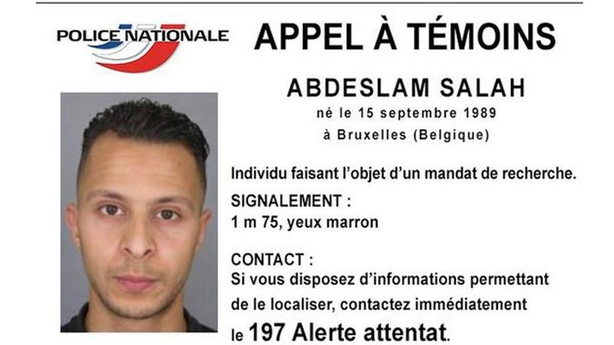 Belgium, where the French citizen lived, has issued an international arrest warrant.
He allegedly rented a black Polo, registered in Belgium, which was found near the Bataclan concert venue in Paris, where three attackers killed 89 people.
Abdeslam was in Austria in September, telling police after arriving from Germany with two men that he was "on holiday", Austrian authorities said this afternoon.
Meanwhile, another car rented by Salah Abdeslam that may have been used in the preparation of the carnage was found today in a northern district of the capital, police sources told AFP.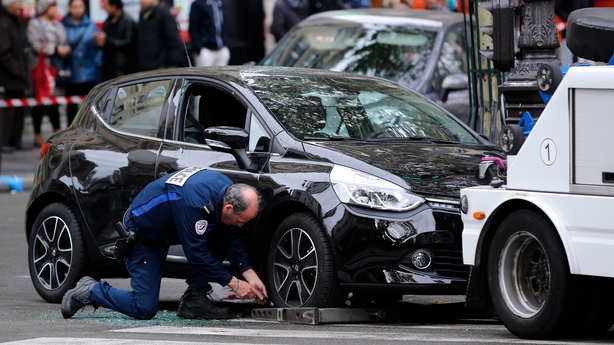 "A black [Renault] Clio found ... in the 18th district may have been used in the preparation of the attacks," one source said.
"The car was seen on the A1 motorway as part of what may have been preparatory contacts between groups in Paris and Belgium," the source added.
Another source said further analysis by forensic investigators was needed to determine whether the car was involved in the attacks.
It was found parked partly over a pedestrian crossing and has Belgian number-plates, AFP reported.
After checks to ensure the vehicle was not booby-trapped, it was towed away by police for further examination.
Two other Belgian-registered vehicles have been linked to the Paris attacks.
Germany releases seven held in Paris investigation
Earlier, German police released seven people they had arrested today, saying there was no evidence linking them to the Paris attacks.
Police near the Belgian border had detained five men and two women through the day as they hunt for suspects related to last Friday's bloody jihadist attacks in France.
The special units had hoped one of those detained near the city of Aachen would be wanted suspect Salah Abdeslam, 26, the younger brother of Brahim Abdeslam, who blew himself up in the series of attacks.
But German Interior Minister Thomas de Maiziere said that hopes authorities had netted a "big fish" were dashed, saying "unfortunately he is not who we hoped he would be".
The minister said "there does not appear to be a close connection to the Paris attacks", speaking at a Berlin press conference.
Shortly after, the seven were released, national news agency DPA reported, citing police as saying there was "no indication that the persons are connected to the attacks".
France invokes EU assistance clause
France this morning invoked the European Union's mutual assistance clause for the first time, asking its partners for military help and other aid in missions in the Middle East and Africa after the Paris attacks.
Defence Minister Jean-Yves Le Drian said all 28 EU member states had accepted France's formal call for "aid and assistance" under the EU treaty.
He said he expected all to help quickly in various regions.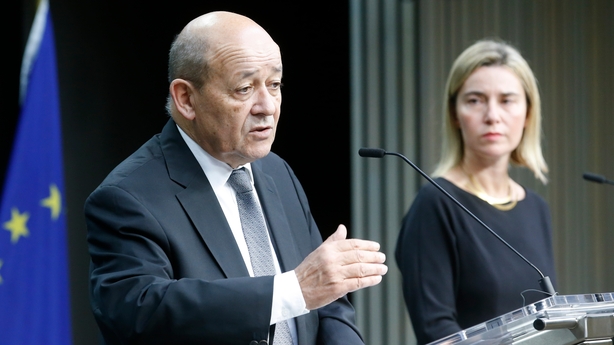 "This is firstly a political act," Mr Le Drian said of the decision to invoke Article 42.7 of the EU's Lisbon Treaty.
"Beyond that, how is this going to work? It may be by cooperating with French interventions in Syria, in Iraq, it maybe in support of France in other operations," he told a press conference in Brussels.
Speaking alongside him, EU foreign policy chief Federica Mogherini said: "France has requested aid and assistance in accordance with article 42.7. It's an article that has never been used before in the history of our union."
Article 42.7 provides for solidarity of member states in the event one of them is attacked.
"Today the EU through the voices of all the member states unanimously expressed its strongest full support and readiness to give the assistance needed," Ms Mogherini said.
"France will be in contact bilaterally in coming hours and days to express the support it requires and the EU will ensure the greatest effectiveness in our common response," she added.
Mr Le Drian said the EU's support was a "political act of great significance".
He said it would "allow us in the hours to come to have bilateral talks where necessary" with other EU states to establish what aid France needed.
This aid could either be in support of France's Syria air strikes but also in other theatres, adding that France "can't be everywhere at the same time".
Russian President Vladimir Putin has ordered the Russian navy in the Mediterranean to establish contact with its French counterparts and work together "as allies" in the campaign against IS in Syria.
French war planes carried out fresh raids overnight against the Raqa stronghold of IS, destroying a command centre and training centre in the in northern Syrian city, the defence ministry said today.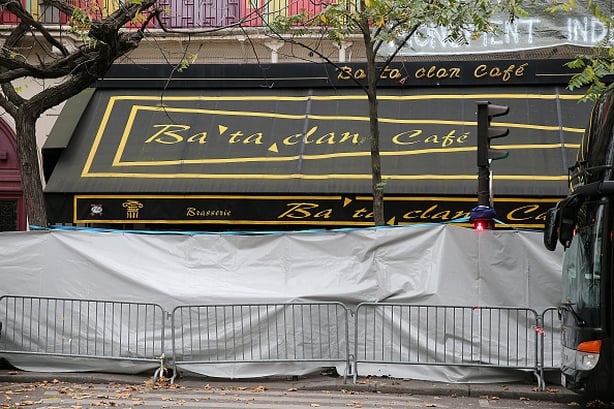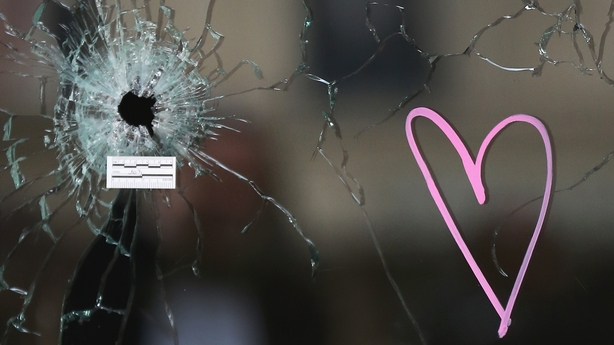 "For the second time in 24 hours the French military conducted an air raid against Daesh in Raqa in Syria," it said in a statement, using another name for the jihadist group.
Meanwhile, French President Francois Hollande has vowed to hit back at IS "without mercy" after Friday's attacks in Paris, the bloodiest on its territory.
Ten Rafale and Mirage 2000 fighters carried out the raid overnight, dropping 16 bombs, the defence ministry said.
It said: "Both targets were hit and destroyed simultaneously.
"Conducted in coordination with US forces, the raid was aimed at sites identified during reconnaissance missions previously carried out by France."
France has carried out air raids against IS in Syria since September but stepped up its raids after Friday's attacks, with ten war planes dropping 20 bombs on jihadist targets in Raqa on Sunday.
The United States and France have also decided to increase their exchange of intelligence on potential targets.
France is set to further intensify its operations against the jihadists in Syria through the information acquired and upcoming deployment of the aircraft carrier Charles de Gaulle, which will triple its capacity to strike.
Mr Hollande will travel to Washington for talks with US President Barack Obama on 24 November followed by talks with Mr Putin in Moscow two days later.
President Hollande called on the United States and Russia to join a global coalition to destroy IS following the attacks.
"France is at war," President Hollande told a joint session of parliament at the Palace of Versailles yesterday.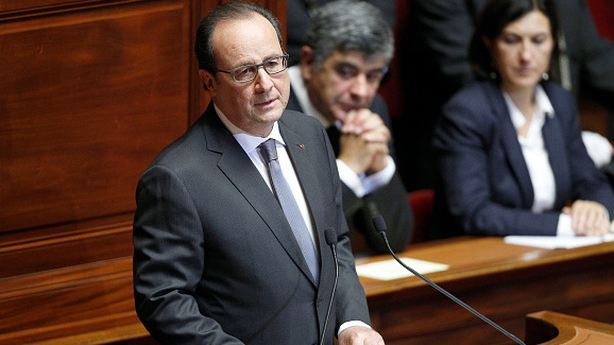 "We're not engaged in a war of civilisations, because these assassins do not represent any. We are in a war against jihadist terrorism which is threatening the whole world," he told a packed, sombre chamber.
Mr Hollande pledged that France would intensify the assaults on the Islamic State group.
"We must combine our forces to achieve a result that is already too late in coming," the President said. The US-led coalition has been bombing Islamic State for more than a year.
Russia joined the conflict in September, but Western officials say it has mainly hit foreign-backed fighters battling Syrian President Bashar al-Assad, not Islamic State.
Speaking in Turkey at the same time as President Hollande, President Obama called Friday's attacks a "terrible and sickening setback", but maintained that the US-led coalition was making progress.
"Even as we grieve with our French friends ... we can't lose sight that there has been progress," President Obama said at a Group of 20 summit, ruling out sending in ground troops.
US Secretary of State John Kerry has described Islamic State militants as "psychopathic monsters".
Mr Kerry, in Paris for talks with President Hollande, said the US stood "shoulder to shoulder" with France.
Meanwhile, speaking in Brussels ahead of today's meeting of EU leaders Minister for Defence Simon Coveney said Ireland will support France should it seek to increase the sharing of intelligence information among EU Member States.
Mr Coveney said: "I hope we will be able to create a situation where we can allay the security concerns of countries of course like France who are coping with an extraordinary tragedy following a terrorist attack, while at the same time staying true to the ideals of the European Union and that's a big challenge."