French officials have named Abdelhamid Abaaoud, from Molenbeek, Brussels as the alleged mastermind of the attacks in Paris on Friday night which left at least 129 people dead.
Abaaoud, who is understood to be 27, has been linked to a foiled attack in Thalys in August, and a foiled attack on Villejuif churches in April.
He is believed to be one of the so-called Islamic State's most active operators.
A source told Reuters: "He appears to be the brains behind several planned attacks in Europe."
Molenbeek is home to other members of the militant Islamist cell that carried out the attacks in Paris.
In February of this year, Islamic State's online magazine Dabiq carried an interview with an Islamist named Abdelhamid Abaaoud who boasted of having travelled through Europe unnoticed by security forces to organise attacks and procure weapons.
Abaaoud was also named in various media last year as the elder brother of a 13-year-old boy who left Belgium to become a child-fighter in Syria.
Elevated risk of further attack - French Interior Minister
The French Interior Minister Bernard Cazeneuve has said there is an elevated risk of further attacks.
French interior ministry says 23 people arrested and are undergoing questioning in connection with terror attacks.

— Tony Connelly (@tconnellyRTE) November 16, 2015
French prosecutors earlier said they had identified two more Paris attackers, including a Syrian and a Frenchman who was previously charged in a "terrorist" case
Samy Amimour has been named as one of those who took part in the attack on the Bataclan concert hall, where 89 people were killed.
Amimour is "known to anti-terrorist investigators" and was charged with conspiracy to commit terrorism in 2012 over a failed attack in Yemen.
He violated his judicial supervision in 2013, prompting judges to issue an international arrest warrant. 
His family told AFP, in an interview before Friday's attacks in Paris took place, that he had gone to Syria in 2013.
Three members of Amimour's family were taken into custody early this morning, the statement said.
A suicide bomber who blew himself up outside the Stade de France stadium is believed to be Syrian Ahmad Al Mohammad, from Idlib.
A statement from the prosecutor's office said the Syrian passport found in that name near the body "remains to be verified", but that fingerprints matched those taken in Greece in October.
French Prime Minister Manuel Valls earlier said police raided homes of suspected Islamists across the country overnight in the aftermath of the Paris shootings.
Police have additional powers under a state of emergency declared after the coordinated attacks.
La jeunesse qui trinque https://t.co/QR1hSOuraJ pic.twitter.com/Z8OfBoJJIC

— Libération (@libe) November 15, 2015
Mr Valls also said that French intelligence services had prevented several attacks since the summer and that police know other attacks are being prepared in France as well as in the rest of Europe.
"We are making use of the legal framework of the state of emergency to question people who are part of the radical jihadist movement ... and all those who advocate hate of there public," Mr Valls said on RTL radio. 
#ParisAttacks: timeline pic.twitter.com/bVu5YG8wya

— Agence France-Presse (@AFP) November 15, 2015
Police sources in Paris said "several dozen" pre-dawn raids were carried out in French cities, including in Bobigny, an eastern suburb of the capital.
Thirteen raids were carried out around the southeastern French city of Lyon, a local police source said.
They led to five arrests and the seizure of "an arsenal of weapons," including a rocket launcher, a Kalashnikov assault rifle, bulletproof vests, handguns and combat gear, the source said.
Police also carried out raids in Toulouse in southwestern France, where at least three people were arrested, according to the local prosecutor's office.
In the Alpine city of Grenoble, according to the local newspaper Le Dauphine Libere, at least half a dozen people were arrested and guns and money were seized.
Belgian prosecutors deny Paris suspect arrested
Europe holds minute's silence for Paris victims
Paris attacks: What we know so far
French war planes pounded IS positions in Syria yesterday as police in Europe widened their investigations into Friday night's attacks.
The suicide bombings and shootings have re-ignited a row over Europe's refugee crisis and drawn calls to block a huge influx of Muslim asylum-seekers.
Meanwhile, a major raid is under way in Brussels aimed at arresting Saleh Abdeslam, who has been named by French police as a key suspect in the Paris attacks, prosecutors told AFP this afternoon.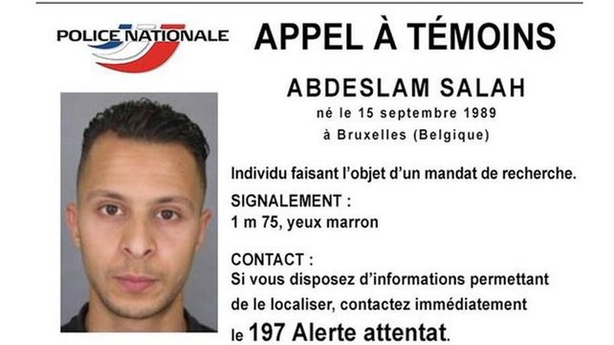 The French authorities missed an opportunity to detain Abdeslam just hours after the carnage in Paris when he was questioned and released after a car he was in was pulled over near the Belgian border.
Officers have warned the public not to approach the 26-year-old Frenchman, born in Brussels, and described him as "dangerous".
Abdeslam rented a black Volkswagen Polo used by the group which attacked the Bataclan concert hall, an official said.
France has been bombing IS positions in Iraq and Syria for months as part of a US-led operation.
Following Friday's mayhem, the French government vowed to destroy the group. 
#ParisAttacks: Investigation in France and Belgium pic.twitter.com/ZLUmswREOv

— Agence France-Presse (@AFP) November 15, 2015
Apparent French air strikes overnight hit weapons depots and a training camp in the de facto Syrian capital of the Islamic State group, a monitor said today.
"There were at least 36 explosions overnight in Raqa city, some caused by air strikes and some by weapons and explosives detonating after being hit," said Rami Abdel Rahman, director of the Syrian Observatory for Human Rights.
"The blasts shook the entire city. There were strikes on both the north and south of Raqa," he told AFP.
Abdel Rahman said the strikes were believed to have been carried out by French aircraft.
Raqa city is the de facto Syrian capital of Islamic State's self-declared "caliphate," territory it controls in Syria and neighbouring Iraq.
It imposes its harsh interpretation of Islam on the territory, and Raqa is often the scene of gruesome execution-style killings carried out by the group.
IS has warned in a new video that countries taking part in air strikes against Syria would suffer the same fate as France.