Taoiseach Enda Kenny has said he expects political negotiations in Northern Ireland will be successfully concluded in the next few days.
Mr Kenny made his comments in Enniskillen where he was attending the annual Remembrance Day commemoration.
For two months political negotiations have been taking place among the five main parties at Stormont and the British and Irish Governments.
The Taoiseach predicted this morning that a deal will be concluded this week.
Mr Kenny is to review the talks and other issues with British Prime Minister David Cameron in London tomorrow.
He will then meet Northern Ireland's First Minister Peter Robinson and Deputy First Minister Martin McGuinness - possibly tomorrow night.
If there is to be an agreement, much of it will be shaped by the two main parties at Stormont, the DUP and Sinn Féin.
The DUP's Arlene Foster, Finance Minister in the power-sharing executive, said she hopes an agreement will be concluded this week.
She said recent criminal activity in the border area has brought home why this problem is one the matters that must be addressed in any meaningful agreement.
Thursday is seen as one of the possible target days for concluding the deal-making.
Meanwhile, Minister for Foreign Affairs Charlie Flanagan laid a laurel wreath at the Cenotaph in Belfast today.
He described the ceremony as an important opportunity to reflect on the thousands of men and women from across the island involved in World War I.
Around 600 people attended the annual service of remembrance at Saint Patrick's Cathedral in Dublin.
President Michael D Higgins laid a laurel wreath at the war memorial, alongside a poppy wreath laid by the President of The Royal British Legion in the Republic of Ireland, Major General David O'Morchoe.
Tánaiste Joan Burton, Minister for Heritage Heather Humphries and the Lord Mayor of Dublin, Sinn Féin's Críona Ní Dhálaigh, were also in attendance.
Ms Ní Dhálaigh is the first elected Sinn Féin representative to attend the service.
The President of the GAA, Aogán Ó Fearghail, was also present for the first time.
Elsewhere, Britain's Queen Elizabeth has led the nation in honouring members of the armed forces killed in war as Remembrance Sunday services took place.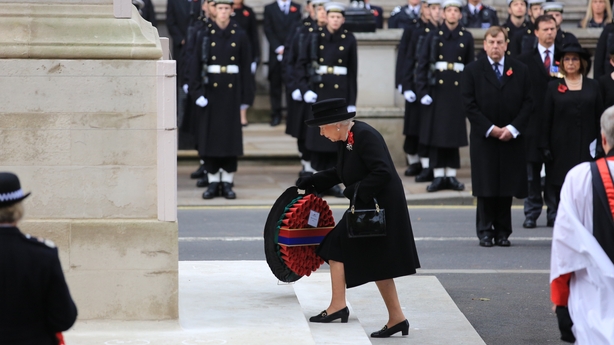 She was accompanied by the Duke of Edinburgh, other senior royals and members of the leading political parties at the Cenotaph in central London.