The mother of the late Michael Dwyer, shot dead by Bolivian security forces in 2009, has described a meeting she had tonight with the Bolivian Minister for Foreign Affairs and Defence Minister as positive.
The meeting in the Department of Foreign Affairs finished just before 9pm.
Caroline Dwyer said the ministers committed to an independent international inquiry into her son's death and said they would facilitate this process.
However, she said she remains concerned that a separate but related judicial process ongoing in Bolivia could cause further delay.
The Bolivian delegation told her that process is close to conclusion
The talks took place as part of Bolivian President Evo Morales' two-day visit to Ireland. He is the first Bolivian Head of State to visit Ireland.
Mr Morales' visit to Ireland is intended to strengthen ties between Ireland and Bolivia and the meeting is also likely to focus on trade and political links including issues such as climate change.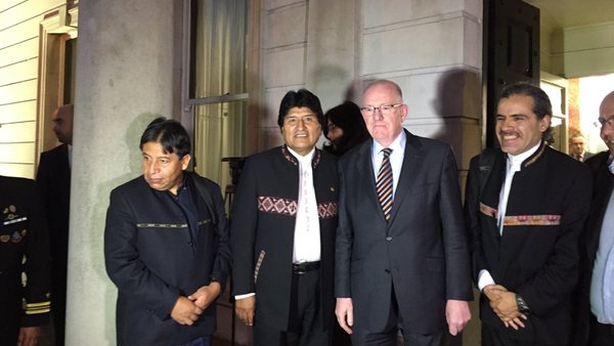 Mr Morales has held talks with Minister for Foreign Affairs and Trade Charlie Flanagan, who raised the case of Mr Dwyer.
He also held a one-hour meeting with President Michael D Higgins at Áras an Uachtaráin, where they discussed issues including climate change, sustainable development and poverty.
Mr Higgins also urged progress in addressing the understandable loss and grief of the Dwyer family.
Mr Flanagan said: "I welcome this historic visit - the first by a Head of State from Bolivia - and I hope that President Morales trip to Ireland will assist our efforts to strengthen relations with Bolivia and Latin America more generally.
"Links between our two countries have grown in recent years - not least in the area of trade, which is increasing steadily, albeit from a low base," he said.
"I am also conscious of the important role played by Bolivia on the global stage in areas such as climate change and sustainable development and I look forward to discussing these with the President," Mr Flanagan added.
Ireland is the final stop for Mr Morales on a programme which also includes France, Germany and Italy.