A Russian plane which crashed in Egypt last week was flying on auto-pilot and appeared to breakup in mid-air after a sudden noise, but it is too soon to conclude exactly what brought it down, the lead investigator has said.
Ayman al-Muqaddam, head of a team of experts looking into one of Egypt's worst air disasters, said the cockpit voice recording would be analysed to identify the nature of the noise, which Western governments have indicated may have been a bomb.
Islamic State militants fighting security forces in Egypt's Sinai Peninsula have said they brought down the Airbus A321, which crashed 23 minutes after taking off from the resort of Sharm al-Sheikh one week ago, killing all 224 passengers.
Fears that the crash was caused by IS led several Western countries, Russia and Turkey to suspend flights to Sharm al-Sheikh, stranding tens of thousands of holidaymakers and dealing a heavy blow to Egypt's vital tourist industry.
Mr Muqaddam said the auto-pilot was still engaged when the crash occurred and debris were scattered over a wide area of the Sinai desert extending for 13km, adding that this was "consistent with an in-flight break-up".
The black boxes recovered from the crash site showed that a "noise was heard in the last second of the ... recording".
The recording will be send to a specialist laboratory for analysis.
Scientists have used such methods to examine the signature of dying cockpit recordings in aircraft bombings.
Comparing the frequencies may help determine whether the sound recorded on the Russian jet comes from a deliberate or accidental explosion.
Mr Muqaddam said his team, including experts from Egypt, Russia, France, Germany and Ireland, was considering "all possible scenarios for the cause of the accident" but had not yet reached any conclusion.
He said structural fatigue, a fuel explosion and even lithium batteries carried by passengers could be a cause.
Referring to media reports that Western intelligence sources believe that the plane may have been brought down by a bomb, Mr Muqaddam said no evidence related to those claims had been provided to his team.
Attempts continuing to repatriate tourists
Meanwhile, further attempts are being made today to bring home tens of thousands of holiday-makers from Sharm-el-Sheikh.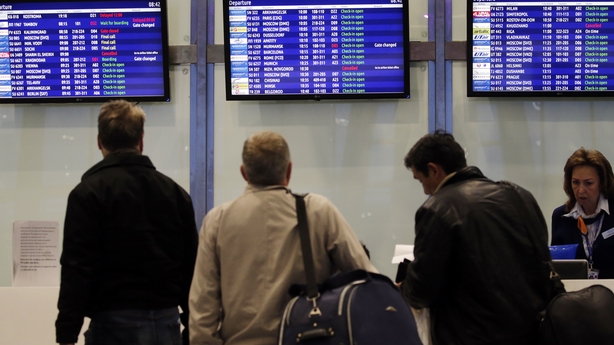 Nearly 80,000 Russians are currently holidaying in Egypt, with the Russian aviation body to send 44 planes to repatriate them in the coming days.
Russia halted flights to Egypt yesterday amid growing fears that a Russian jet downed in Egypt last week was bombed.
Empty planes are now being sent to Egypt to bring Russian holidaymakers home, but they will be able to return at their own pace.
British attempts to fly home thousands of holidaymakers ran into trouble yesterday when Egypt restricted the number of flights, citing capacity at Sharm al-Sheikh airport and British airliners' refusal to take passenger luggage in the hold.
A British official at Sharm al-Sheikh airport said nine flights were expected to repatriate 2,000 stranded British tourists today, and the government hoped to get them all home within 10 days.
The US Department of Homeland Security has announced new security measures yesterday, including tighter screening of items before they are brought on board aircraft for flights to the United States from some foreign airports in the region.
Meanwhile, Egypt's foreign minister has said that his country was not dismissing possible scenarios that led to the Russian passenger plane crash, but there was no "hypothesis" yet from a probe investigating the disaster.
Sameh Shoukry told a press conference that foreign intelligence suggesting it was caused by a bomb that spurred several governments to impose restrictions on flights to Egypt "has not until now been provided to the Egyptian security services."
He also said foreign countries did not heed Egypt's calls for greater co-ordination to fight terrorism.
A group affiliated with Islamic State has claimed responsibility for the crash. Militants described it as revenge for Russian air strikes in Syria that began more than a month ago.