An analysis of black boxes from the Russian plane that crashed in Egypt last weekend point to a bomb on board the aircraft, a source close to the probe has said.
The flight data and voice recorders showed "everything was normal" until both failed at 24 minutes after takeoff, pointing to "a very sudden explosive decompression."
The data "strongly favours" the theory of a bomb on board, the source said.
The chairman of the Egyptian-led probe into the crash is to hold a press conference in Cairo at 3pm on Saturday.
Meanwhile, British and US spies intercepted "chatter" from suspected militants and at least one other government suggesting that a bomb, possibly hidden in luggage in the hold, downed a Russian airliner on Saturday, killing all 224 people on board, Western intelligence sources claim.
Britain says there was a "credible threat" but has refused to comment further on the intelligence involved, citing long-standing rules about disclosing operational details about live investigations.
Western intelligence sources said some of the assessment about the bomb came from intercepted communications both from suspected militants and from one or more governments involved in the investigation.
The intelligence sources, who spoke on condition of anonymity due to the sensitivity of the situation, said the evidence was not categorical and that there is still no hard forensic or scientific evidence to support the bomb theory.
"We still cannot be categorical but there is a distinct and credible possibility that there was a bomb," one source said.
Two sources with knowledge of the matter said the bomb may have been hidden in luggage in the hold of the Russian plane. They refused to give any further information.
A Sinai-based group affiliated with Islamic State, the militants who have seized swathes of Iraq and Syria, has claimed responsibility for the crash, which, if confirmed, would make it the jihadist organisation's first attack on civil aviation.
"The theory of an explosive device, with local complicity, is being taken seriously. Nothing is proven yet, but it is a real possibility," a European official said after being briefed by a Western intelligence agency.
A US government source said some of the "chatter" intercepted about the bomb included conflicting details about whether the bomb was placed on the plane.
A statement from the White House has said expanded security screenings will take place at fewer than 10 airports in the region following the crash.
Russia, which was initially critical of Britain's assessment of what it has called a crash, on Friday suspended all flights to Egypt.
President Vladimir Putin ordered the halt to flights after Alexander Bortnikov, the head of Russia's FSB security service, recommended that Russia suspend all passenger flights to Egypt until it knew exactly what caused the crash.
The first flight bringing British tourists home from Sharm el-Sheikh has arrived at London's Gatwick Airport.
Egypt's civil aviation minister said only eight out of 29 planned flights to Britain will leave today, blaming luggage restrictions for the reduction.
Hossam Kamal said that a requirement that passengers take only their hand luggage with them on the resumed flights had forced the move as Sharm el-Sheikh airport could not accommodate more than 120 tonnes of check-in baggage left behind.
The first departure came after airline easy Jet released a statement confirming that two flights would be leaving, but claiming the airport authorities had suspended permission for another eight.
Other carriers have suggested they were still expecting to operate flights back to the UK.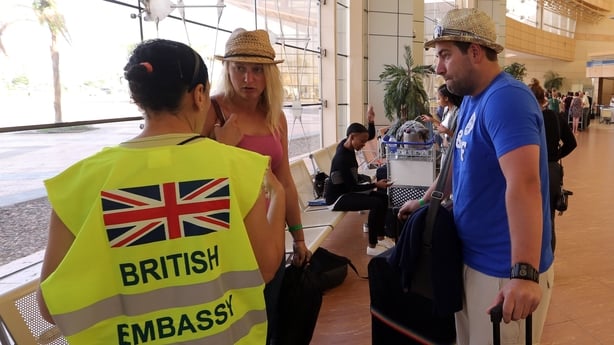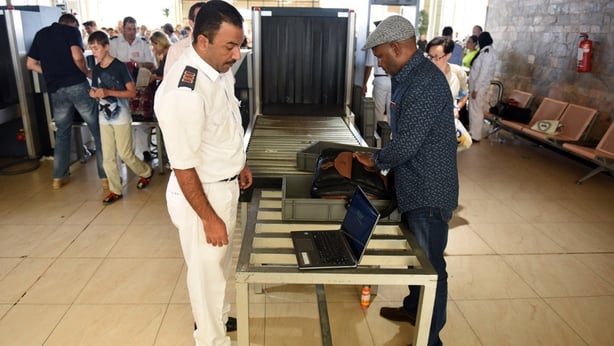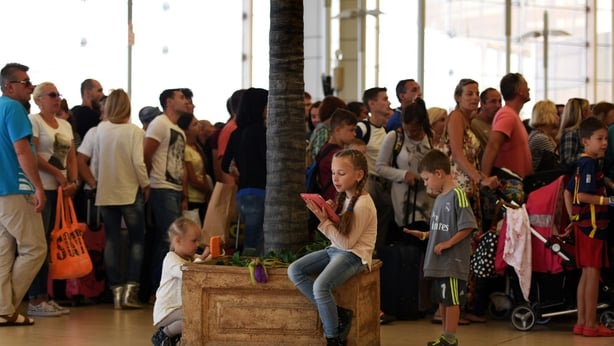 In an apparent indication of frustration with easyJet, the British government said it was important for airlines to give tourists "accurate information".
"I think it is important that all the airline companies work closely with us to ensure that what they are telling customers is accurate and that they are giving them the best possible information," a Number 10 spokesman said.
One element in hold-ups at Sharm el-Sheikh is the presence of a broken-down plane, which was causing an issue in terms of getting flights in and out, he said.
Some planes have been in Sharm el-Sheikh since being grounded on Wednesday, while others are being flown empty to the resort from the UK.
Egypt's civil aviation ministry denied that they were to blame for delays.
"Flying out thousands of people on one day is incredibly hard. Everyone has to go through the procedures. We have not cancelled any flights but the airport cannot handle all these planes at once," a ministry spokesman told Reuters.
When tourists do fly from the resort they will do so with extra security measures in place - including only being able to have hand luggage and no hold baggage - after British Prime Minister David Cameron said a bomb probably downed a Russian plane last Saturday killing all 224 people on board.
Mr Cameron's decision to ground British flights to and from the airport angered Egypt, which depends on tourism revenue, and drew criticism from Russia, which said it had not been given details of the intelligence behind Britain's move.
"The additional security measures will include permitting passengers to carry hand baggage only and transporting hold luggage separately," a spokeswoman for Mr Cameron's office said.
"We are working with the airlines to ensure there are suitable arrangements in place to reunite passengers with their belongings as soon as possible."
Outbound flights to Sharm el-Sheikh were still suspended and Britain advised against air travel to or from the airport, she said.
Thomas Cook Airlines, easyJet, privately-held Monarch, British Airways and Thomson operate direct flights between Britain and Sharm El-Sheikh. About 20,000 British tourists are believed to be in the area.
At least 170 Irish people are known to be in Egypt, according to the Department of Foreign Affairs, but it is not clear how many of these are affected by the decision by Irish and UK aviation authorities to suspend flights to Sharm el-Sheikh due to terrorism fears.
Minister for Foreign Affairs Charlie Flanagan said in a statement that Irish citizens and those intending to travel to Egypt are advised to register on the Department of Foreign Affairs' website and check the department's travel advice for updated information
He said the department has "provided advice to a very small number of citizens who have made contact with our Consular Assistance Unit in Dublin or the Embassy of Ireland in Cairo seeking information.
"There are currently no Irish tour operators with package holiday groups in Sharm el-Sheikh at this time."
He said any Irish citizens that are in Egypt and are concerned about situation can contact the Embassy of Ireland in Cairo on +20227358264.
He also said people in Ireland can contact the Department of Foreign Affairs on 01-4082000.
Earlier, Egypt's Ambassador to Ireland Soha Gendi said she is concerned with the decision taken by authorities in Ireland to stop Irish airlines operating to and from Sharm el-Sheikh airport.
She said that a decision of this importance should not be made on assumptions but should be made when investigations are concluded.
"We want this investigation to be completely transparent which can only will lead us to the truth" Ms Gendi said.
A Sinai-based group affiliated with so-called Islamic State militants, which has seized swathes of Iraq and Syria, has claimed responsibility for the crash, which, if confirmed, would make it its first attack on civil aviation.
In his first public comments on the disaster, US President Barack Obama said in a radio interview: "There's a possibility that there was a bomb on board. And we're taking that very seriously."