British Prime Minister David Cameron has said it was increasingly likely that a bomb brought down a Russian airliner over Egypt with the loss of 224 lives.
US President Barack Obama also said it is a 'possibility' that a bomb brought down the Russian plane, while emphasising it was too early to say for sure.
Speaking on a US radio station, Mr Obama said: "I think there is a possibility that there was a bomb on board and we are taking that very seriously".
Britain, Ireland, Germany, France and the Netherlands suspended flights to and from Sharm el-Sheikh, leaving thousands of European tourists stranded in the Red Sea resort.
However, the British government has announced that flights to bring British tourists home from the Egyptian Red Sea resort of Sharm el-Sheikh will resume tomorrow.
Egypt, which depends on tourism as a crucial source of revenue, said the decision to suspend flights was unjustified. It said there was no evidence a bomb was to blame.
Russian President Vladimir Putin suggested that Britain jumped the gun in grounding flights and said all countries should await the outcome of the investigation into the crash.
A Sinai-based group affiliated to the so-called Islamic State has claimed responsibility for the crash.
Mr Cameron, who hosted Egypt's President Abdul Fatah al-Sisi for a previously scheduled visit, said: "We cannot be certain that the Russian airliner was brought down by a terrorist bomb, but it looks increasingly likely that that was the case."
Foreign Secretary Philip Hammond said it was "a significant possibility" Islamic State was responsible, given a range of information, including the claim of responsibility.
Britain said it was working with airlines and Egyptian authorities to put in place additional security and screening measures at the airport to allow Britons to get home.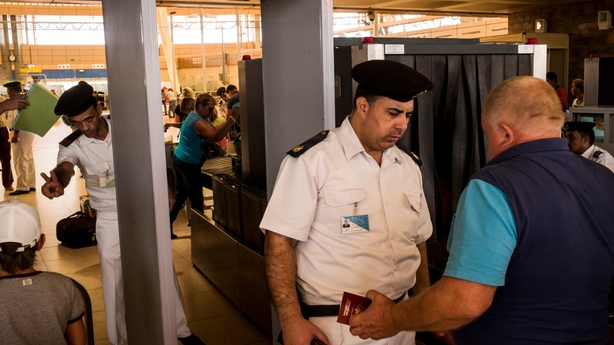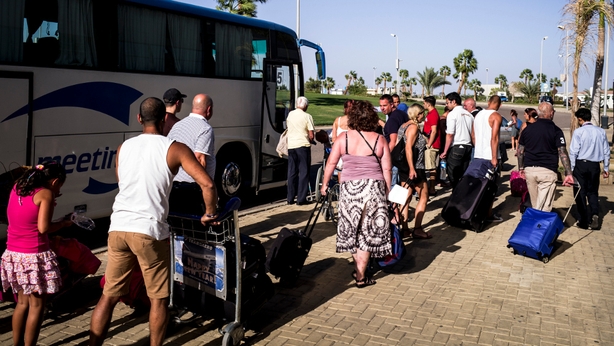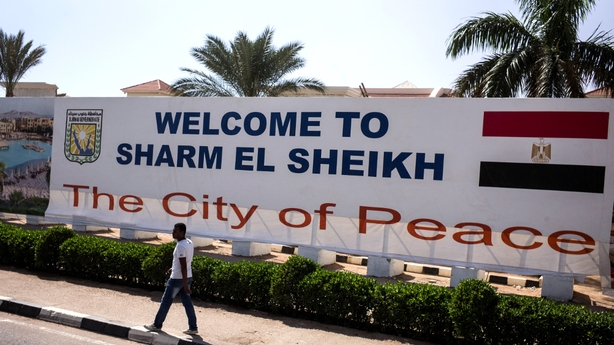 US Representative Michael McCaul, the Republican chairman of the House Homeland Security Committee, said on Fox news that evidence so far indicated an Islamic State attack "with an explosive device in the airplane".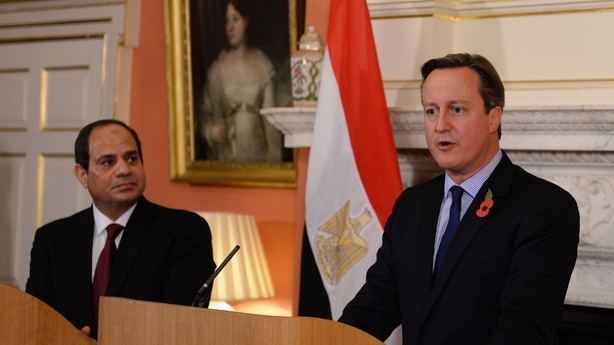 Mr Sisi said during his visit to London that he understood countries' concerns about safety.
He said Cairo had been asked ten months ago to check security at the airport in Sharm el-Sheikh.
Downing Street confirmed that a team of British experts had gone to Sharm el-Sheikh at that time as part of a long-term approach to assessing security arrangements at the airport.
"We understood their concern because they are really interested in the safety and security of their nationals," Mr Sisi said.
Dmitry Peskov, a spokesman for Mr Putin, said Russian planes were still flying to and from Sharm el-Sheikh.
"Theories about what happened and the causes of the incident can only be pronounced by the investigation," he said.
Egypt's civil aviation minister, Hossam Kamal, said investigators so far had no evidence to support the explosion theory.
Security experts and investigators have said the plane is unlikely to have been struck from the outside and Sinai militants are not believed to have any missiles capable of striking a jet at 30,000 feet.
Russia's Kogalymavia airline, which operated the crashed plane, said three of its four remaining A321 jets had passed Russian safety checks, while the fourth would be checked shortly.
At least 170 Irish people in Egypt amid growing flight ban
At least 170 Irish people are known to be in Egypt but it is not clear how many of these are affected by the decision by Irish and UK aviation authorities to suspend flights to Sharm el-Sheikh due to terrorism fears.
The Department of Foreign Affairs has said scores of passport holders had registered with its consular division but the official figure may not be a true reflection of all Irish citizens in the country.
Diplomats said they were constantly reviewing travel advice for Egypt after all Irish and UK flights to and from the resort of Sharm el-Sheikh were suspended amid concerns that the Russian plane that crashed in the Sinai region last weekend was brought down by an "explosive device".
A foreign affairs spokesman urged all Irish people in the country to register their details.
"As registration is not compulsory, this figure does not reflect the total number of Irish citizens living in or visiting Egypt," the spokesman said.
"We are closely monitoring the situation in Egypt though our embassy in Cairo."
The Irish Aviation Authority has directed Irish airlines not to fly to the area and diplomats updated travel advice for the region.
The IAA order bans Irish operators from travelling to and from the Sinai Peninsula or Sharm el-Sheikh.
Easyjet and Monarch both said they hope to begin repatriating British tourists from Sharm el-Sheikh tomorrow, however the Foreign Office said the planned flights were "all subject to security reviews".
"The additional security measures will include permitting passengers to carry hand baggage only and transporting hold luggage separately," a spokeswoman for Prime Minister David Cameron said this evening.
The Lufthansa Group said today it would halt flights by its subsidiaries Eurowings and Edelweiss between Germany and Sharm el-Sheikh, citing "the current situation on the Sinai peninsula".
It also said it would cooperate with the German foreign ministry and tour operators to repatriate holiday-makers from the Egyptian Red Sea resort.
The DFA has updated its travel advice for Egypt, which cautions against unnecessary travel to the country with a number of exceptions.
On its website, the DFA said: "Irish citizens are advised to avoid-non-essential travel to Egypt at this time due to a heightened threat of terrorist incidents, including targeted attacks against foreigners, and a continuing threat of civil unrest."
It said the following exceptions apply: "The Red Sea coastal resort of Hurghada and other Red Sea resorts outside the Sinai peninsula, where Irish citizens are advised to arrive and depart by air and to strictly avoid travelling outside the resort; and Luxor, Aswan and Abu Simbel (including cruises between them) where Irish citizens are advised to exercise caution and arrive and depart by air."
The department adds that Irish citizens in Sharm el-Sheikh are advised to exercise a high degree of caution and to avoid travelling outside the resort.
It said: "Irish citizens intending to fly into/out of Sharm el-Sheikh should note the direction issued by the Irish Aviation Authority on 5 November to Irish airline operators not to operate to/from Sharm el-Sheikh airport or in the Egyptian Sinai peninsula airspace until further notice."