The Central Bank's former head of financial stability has claimed a series of reports he authored warning of a collapse years before the crisis were "suppressed" and "censored" by the organisation's senior management. 
Frank Browne said his concerns were not made public because the Central Bank gave more weight to the views of banks who argued Ireland was not facing a crisis. 
Mr Browne said research by the Central Bank was used to "selectively to convey externally a misleading impression of the true state of health of the financial system in Ireland."
Mr Browne's written statement was published by the banking inquiry this afternoon. In his statement he said that he began warning of the risks of a crisis in 2004. 
He said the senior management at the bank were more concerned about getting the "tone" of a Financial Stability Report "right" as opposed to "flagging the real dangers overhanging the financial system".
Despite highlighting that house prices were overvalued by using a series of measures he said senior management subscribed to the view that there was "no conclusive evidence of misalignment in house prices"
In one 2004 report Mr Browne said a comment by Central Bank staff that "the prospects for a soft landing for Irish house prices is not favourable" was excluded from the final report. 
He said research by staff warned that a correction in house prices would be "devastating" for those households who would be unable to ride out fall in house prices. 
In his statement Mr Browne said "contrary to the popular view, the relevant decision makers were informed in good time before the financial crisis about the imminent and growing risk of a property bubble and were enabled to make the appropriate decisions based on such information."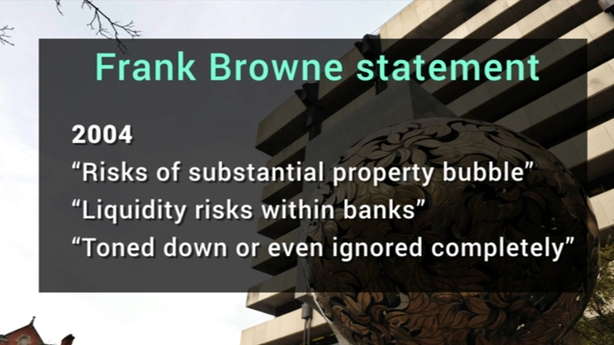 Mr Browne raises the effect of contacts between the Central Bank and the main banks and said that warnings raised about the financial system were "subordinated" to the opinions of the banks. 
He added this was despite the fact that the banks could not be expected to offer anything other than a "self serving" and "overly optimistic assessment". 
When Mr Brown wrote a report warning about the liquidity of the banks he was told by senior management that the report was "tricky stuff" and "political". 
In 2005 he presented a paper to senior management at the Central Bank which warned of a sharp increase in non-performing loans in Irish banks.  
He said if this problem had been acknowledged in the Central Bank then policy makers might have been alerted to a significant vulnerability in the financial system.