A Russian aviation official has said that a Russian plane that crashed in Egypt's Sinai Peninsula yesterday, killing all 224 people on board, broke up in the air.
Viktor Sorochenko, an official with the Intergovernmental Aviation Committee, made the comments after inspecting the crash site.
He added that it was too early to talk about conclusions.  
Meanwhile, Russia has grounded Airbus A321 jets flown by the Kogalymavia airline operating the flight, Interfax news agency reported this morning.
The A321, operated by the Russian airline under the brand name Metrojet, was carrying tourists from the Red Sea resort of Sharm el-Sheikh to St Petersburg when it went down soon after daybreak yesterday.             
Interfax said the Russian transport regulator Rostransnadzor had told Kogalymavia to stop flying A321 aircraft until the causes of the crash were known.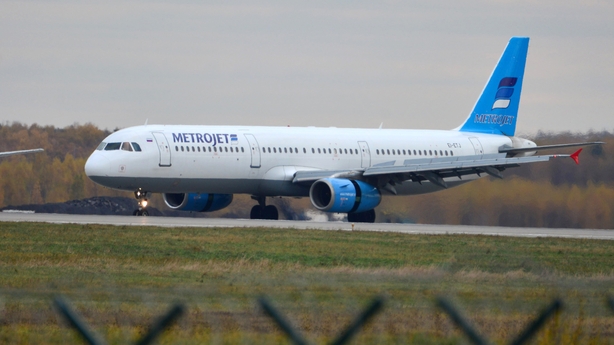 However, RIA news agency cited a Kogalymavia representative as saying that the airline had not received the order from Rostransnadzor.             
Egyptian and Russian investigators will begin examining within hours the contents of two "black box" recorders recovered from the airliner, which crashed into a mountainous area of central Sinai shortly after losing radar contact near cruising altitude.
A militant group affiliated to the so-called Islamic State in Egypt said in a statement that it brought down the plane "in response to Russian airstrikes that killed hundreds of Muslims on Syrian land", but Russia's Transport Minister Maxim Sokolov told Interfax news agency the claim "can't be considered accurate".             
Three carriers based in the United Arab Emirates airlines - Emirates, Air Arabia and fly dubai - said today they were re-routing flights to avoid flying over Sinai.
Two of Europe's largest carriers, Lufthansa and Air France-KLM, have already said they would avoid flying over peninsula while awaiting an explanation of the cause.             
Egyptian Prime Minister Sherif Ismail told a news conference late last night that there did not appear to be any unusual activity behind the crash but added that the facts would not be clear until further investigations had been carried out.             
Mr Sokolov and a team of investigators arrived at the scene this morning and experts would begin examining the black boxes at th ecivil aviation ministry in Cairo within hours, judicial and ministry sources said.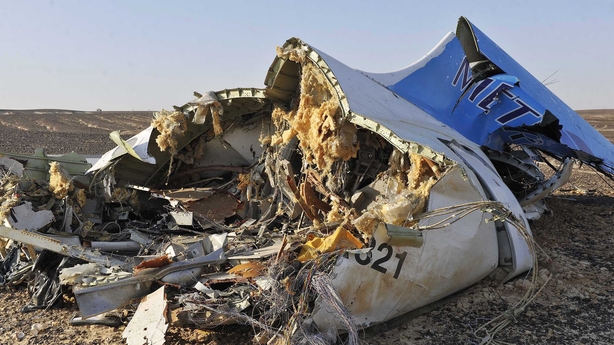 It was not clear how long the contents of the boxes, which record flight data and cockpit conversations, would take to retrieve.
Russian transport prosecutors have already examined the quality of the fuel used by the airliner and found that it met necessary requirements, Russia's state-run RIA news agency said.             
The crew had also undergone medical tests recently and no problems were detected, Interfax reported.             
At least 163 bodies had already been recovered and transported to various hospitals including Zeinhom morgue in Cairo, according to a cabinet statement.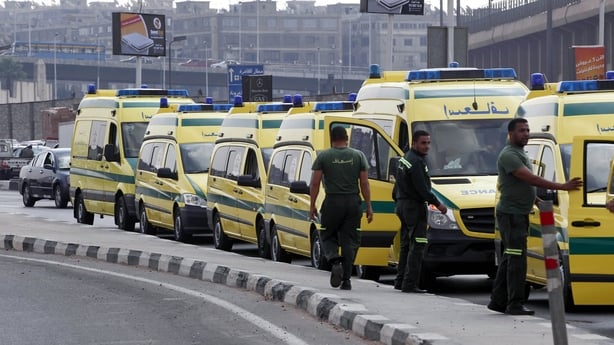 Russian experts had already visited the morgue last night and Russia's emergency minister said in a televised statement that 120 bodies had been examined and were being prepared to return home.             
They were expected to begin arriving in St Petersburg late tonight or early tomorrow.             
Those on board included 214 Russians, at least three Ukrainians and one Belarusian, most returning from holidays on the Red Sea, popular with Russians seeking winter sun.             
The Russian flag was flying at half-mast over the Russian embassy in Cairo this morning.
President Vladimir Putin has declared a day of national mourning in Russia.                            
Emergency services and aviation specialists resumed their search at the crash site which is spread over more than 15 square km early this morning with 100 Russian emergency workers on their way to help recover bodies and gather evidence.             
Russia, an ally of Syrian President Bashar al-Assad, launched air raids against opposition groups in Syria including the so-called Islamic State group on 30 September.             
The Islamic State group, which controls large parts of Iraq and Syria, has called for a holy war against both Russia and the United States in response to airstrikes on its fighters in Syria.             
Sinai is the scene of an insurgency by militants close to Islamic State, who have killed hundreds of Egyptian soldiers and police and have also attacked Western targets in recent months.
Much of the Sinai is a restricted military zone.             
Militants in the area are not believed to have missiles capable of hitting a plane at 30,000 feet.             
Islamic State websites have in the past claimed responsibility for actions that have not been conclusively attributed to them.
Officials say there is no evidence to suggest so far that a bomb could have brought down the plane.