An extensive search is under way off a Greek island for at least 34 people missing after their boat sank near the island of Lesbos yesterday
Five children, two men and one woman drowned after the wooden boat, crammed with more than 280 people, sank yesterday.
Eight more people drowned at two other locations, bringing the day's total dead to 16.
Some 242 people were safely plucked out of the sea after their boat sank about 3kms north of Lesbos in rough seas, the coastguard said.
At least 15 children, aged between three months and ten years old, were taken to hospital with hypothermia, according to the UN refugees agency UNHCR.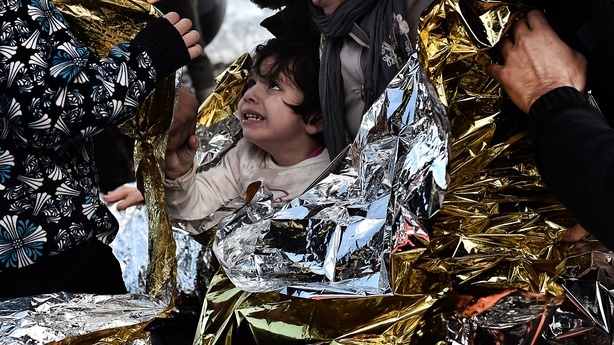 The boat reportedly sank when its upper deck, crammed with people, collapsed onto the lower desk.
Elsewhere, another 123 people were rescued off the islands of Samos and in another incident off Lesbos. There were 11 children among the 16 people drowned yesterday, the coastguard said.
A baby has been missing for more than 12 hours.
"We have warned for weeks that an already bad situation could get even worse if desperate refugees and migrants must continue to resort to smugglers who send them out to sea despite the worsening weather," said Alessandra Morelli, UNHCR's senior operations coordinator for Greece.
Meanwhile, Spain's coastguard said it rescued 15 migrants from a boat that was sinking off the coast of Morocco today, but 39 others who were on board are missing.
A coastguard vessel spotted the troubled boat just after midday, northwest of the town of Al Hoceima in northern Morocco.
Two women and 13 men were clinging to what was left of the boat, which had lost its base.
The 15 rescued migrants were being transported by the coastguard ship to the southern Spanish port of Malaga.
Another coastguard vessel backed by two helicopters was searching for the missing migrants.