Germany has said Europe's ongoing migrant crisis cannot be solved through the construction of fences or walls at borders, after Austria announced plans to fence up its border with Slovenia to slow the flow of migrants.
Earlier today, Austria said it will build "technical barriers" on its border with Slovenia to help control the flow of thousands of migrants crossing daily into Austrian territory.
Over 680,000 asylum seekers fleeing war and deprivation in the Middle East, Africa and Asia have poured into Europe this year, with Slovenia and Austria currently bearing the brunt of a migrant tide along a corridor towards the north west from the Balkans.
"I have commissioned plans for special construction measures," Austrian Interior Minister Johanna Mikl-Leitner told reporters, according to Austria's APA news agency.
"The situation here is especially dynamic. We've had between 3,000 and 8,000 people crossing the border (a day).
But we also need to prepare ourselves (in case numbers rise) to 12,000."
Ms Mikl-Leitner, who was speaking to reporters at the Spielfeld border crossing with Slovenia, offered no details or time frame for the new measures. The interior ministry had no immediate comment on her remarks when contacted by Reuters for details.
Earlier yesterday the premier of the German state of Bavaria criticised neighbouring Austria for failing to coordinate a tide of migrants into southern Germany even as he renewed a challenge to German Chancellor Angela Merkel over her management of the refugee crisis.
Slovenia has said that about 14,500 migrants were currently in the tiny Alpine state, hoping to continue their journey to Austria later in the day or on Wednesday. More were on their way to Slovenia from Croatia.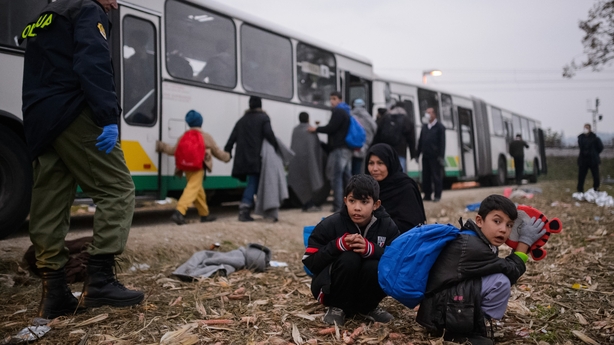 Since Hungary's anti-immigrant government sealed off its border with Croatia 10 days ago, causing the migrant tide to shift westwards to Slovenia, 86,500 have streamed into the country, almost all of them bound for preferred destinations in the wealthier west of the European Union, especially Germany.
Many migrants are refugees fleeing wars in Syria, Iraq and Afghanistan.
The UN refugee agency says the world is currently grappling with its worst refugee crisis since World War II.