The National Transport Authority has said it is not yet able to calculate the public service subvention payment which will be withheld from Iarnród Éireann because of this morning's strike.
All trains scheduled to depart between 6am and 9am were cancelled after conciliation talks at the Workplace Relations Commission broke down last night resulting in widespread travel delays.
It is estimated that 40,000 passengers were disrupted.
A spokesperson for the NTA said the average daily subvention was around €250,000.
She said Iarnród Éireann had a contract to deliver services and where these were not delivered, part of the subvention would be withheld. However, she said this should not be described as a fine.
The NTA is not yet in a position to quantify the cost of the strike, which would include knock-on disruption to rail services outside the three hours of the actual stoppage.
Iarnród Éireann has previously indicated that it would handle around 130,000 passenger journeys on a bank holiday Friday. It estimates that about 40,000 passengers were affected this morning.
The company says its revenue for the day would be just under €1m, which includes both fares and the public service subvention.
It has estimated the cost of the strike at around €500,000.
Iarnród Éireann previously warned unions that it intends to recoup the loss of revenue from drivers, meaning there will be less on the table for any new deal.
More than 70 train services outside Dublin were cancelled today.
Meanwhile, the train drivers' unions - SIPTU and the NBRU - accused the company of failing to properly address their claims for pay increases for past productivity.
Iarnród Éireann said that the normal pay scale for train drivers ranges from €43,716.99 to €55,238.59.
However, those rates have temporarily been reduced by 1.7% as part of temporary cost reduction measures.
The full pay scale will be restored next October.
The company said there was some scope to enhance earnings through working on rest days, but only a very small percentage of drivers would earn over €60,000.
Minister for Transport Paschal Donohoe said the strike was a significant blow to a company facing significant challenges.
A quieter than usual Connolly station this morning #railstrike pic.twitter.com/q6bT7ItV5R

— Sinead Morris (@SineadMorris) October 23, 2015
Roisín and Aisling Moore from Laois didn't hear about the #railstrike and arrived at Kent Station, #Cork at 6.30am. pic.twitter.com/VnevVQhixi

— Paschal Sheehy (@PaschalSheehy) October 23, 2015
NBRU General Secretary Dermot O'Leary said: "It is unfortunate that it took until the eleventh hour for the real company agenda to emerge.
"They continuously and quiet deliberately chose to ignore our members' agenda in relation to past contributions," he added.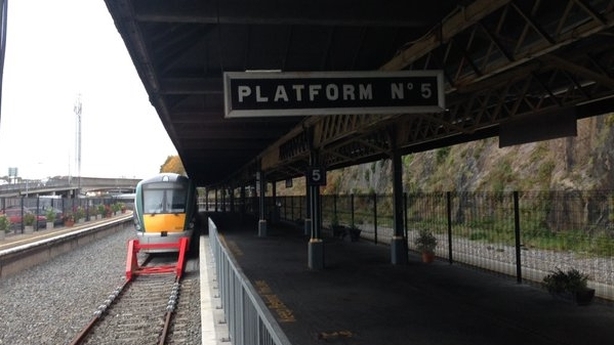 SIPTU also said management at Iarnród Éireann failed to address the agenda of unions in the dispute over pay and past productivity at the company.
Speaking on RTÉ's Morning Ireland, SIPTU's Paul Cullen said measures proposed by the unions such as a reduction in the working week were completely rejected by management.
Mr Cullen defended the unions' request for a reduction in the working week as a best industry practice, comparing working hours with the UK and across Europe.
"We've been sitting in the WRC on the basis that it would be all encompassing productivity, both future and past productivity. Both agendas would be addressed, " Mr Cullen said.
"Our agenda has failed to be addressed because the company were quite happy to run out and decide, well this is what we're going to put out now in regard to future productivity and forget about the past," he added.
Spokesperson for Iarnród Éireann Barry Kenny said the company made it very clear to trade unions that the cost of today's disruption will have to be recovered.
Also speaking on Morning Ireland, Mr Kenny said he thinks drivers will be disappointed to hear that trade unions declined the proposal of a 7.9% increase in return for a more efficient roster that would generate savings.
He said the best offer was on the table and rejected the view that the pay-increase proposal was to try to drive a wedge between unions and the people they represent.
Asked about the planned strike next month, Mr Kenny said another disruption would be hugely damaging.