With a few months yet to the General Election it would be foolhardy to predict exactly what shape the next Government might take, writes RTÉ's Brian Dowling.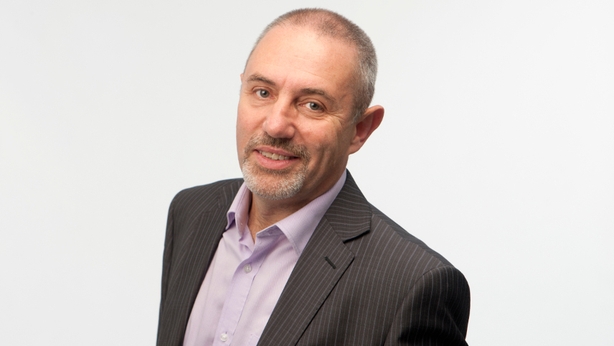 Last month I suggested in a blog how the assumption that Fine Gael must be part of the next Government could be in for a rude awakening.
I based that view on polling data prepared for RTÉ by Sean Donnelly. He did Dáil seat projections based on two polls in September.
To recap:
For the Sunday Business Post/ Red C poll he calculated the following seat combinations –
Fine Gael/Labour [62 seats]; Fine Gael/Fianna Fáil [79 seats] and FF/ Sinn Féin/Labour [71 seats]
The Irish Times/ IPSOS MRBI poll produced the following calculations –
Fine Gael/Labour [59 seats]; Fine Gael/FF [82 seats] and Fianna Fáil/ Sinn Féin/Labour [76 seats]
Now, based on the latest Sunday Times/Behaviour & Attitudes his calculations are:
Fine Gael/Labour [53 seats]; Fine Gael/Fianna Fáil [74 seats] and Fianna Fáil/Sinn Féin/Labour [74 seats]
It is quite clear that in any of these scenarios the Fine Gael/Labour block is a long, long way off government and would need 20 plus TDs from Independents/Others to return to office assuming Fianna Fáil and Sinn Féin are ruled out.
That leaves two competing blocks: Fine Gael /Fianna Fáil and Fianna Fáil/Sinn Féin/Labour. A Fine Gael/Fianna Fáil is the one best placed to reach a majority or to form a government with only a small number of additional TDs required. But the Fianna Fáil/Sinn Féin/Labour block would not be that far off either.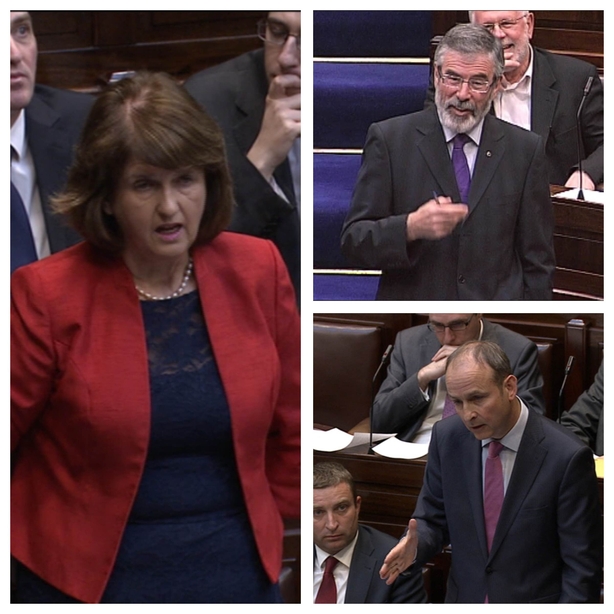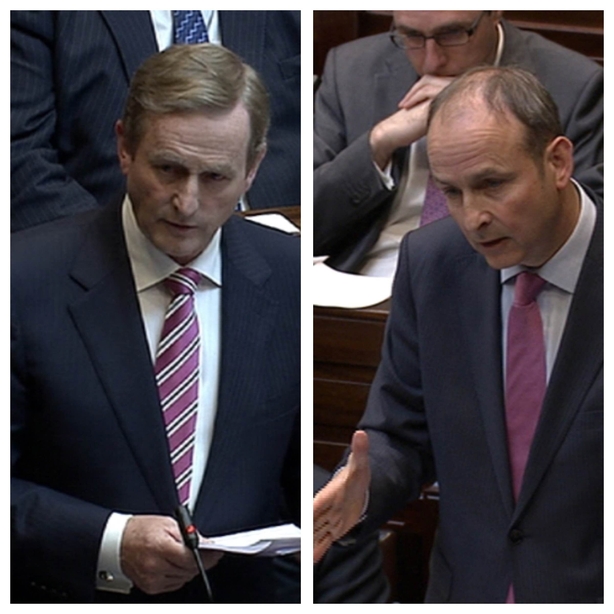 Micheál Martin at his party's Wolfe Tone commemoration in Bodenstown this weekend ruled out any coalition with either Fine Gael or Sinn Féin and at the same time suggested the party can lead the next Government.
Polling trends indicate two potential party blocks for government
On all recent polling trends – and even if Fianna Fáil matched the 25% share of the vote in the local elections – it is almost impossible to see how that party could enter a government that did not involve either Fine Gael or Sinn Féin, given Labour's consistently weak showing.
At the Fine Gael Presidential dinner on Saturday night the Taoiseach Enda Kenny, had this to say about the General Election next year:
"People will have a clear choice between stability and economic progress on the one hand: and chaos and uncertainty on the other."
His message – there is no realistic alternative to Fine Gael heading the next Government. Fine Gael is still the party in the driving seat. It is still the party best placed to lead the next Government. Enda Kenny is still the person best placed to be the next Taoiseach.
And if the mood in Fine Gael during the controversy over the date of the election is anything to go by it seems many believe they are assured a return ticket to the Cabinet table.
It is worth pondering whether this attitude contributed to the party dropping 3 points in this weekend's Sunday Times/ B&A poll.
Election campaigns can and do make a difference. The relative position of any of the political groups could change. However, if the established polling trends hold then it seems there will be only two blocks in a position to form a government.
And one of them does not include Fine Gael.