Several hundred people have attended a candlelight vigil in Fassaroe in Bray for the victims of the Carrickmines fire.
Candles lined the kerbs of the estate in which five of the victims of the blaze lived.
A sixth victim was originally from Bray, and all ten were deeply connected with the community.
The service opened with hymns sung by friends and family of the deceased.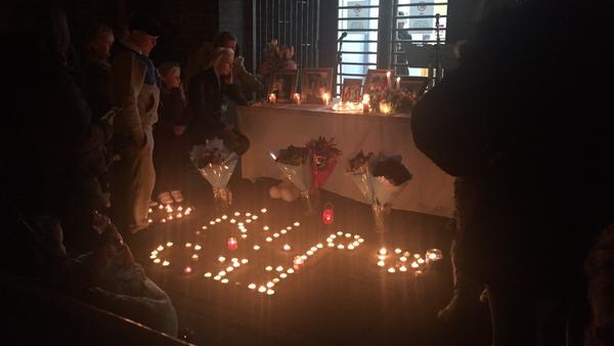 Fr Derek Farrell of the Parish of the Travelling Community led prayers in memories of the ten people and one unborn baby who lost their lives a week ago tomorrow.
Balloons, flowers and framed pictures adorned the makeshift alter at the entrance to the Bray Family Resource and Community Centre which played host to the ceremony.
Family members also read a number of reflections as part of the vigil.
Crowds gather in Fassaroe in Bray for a vigil to remember those who died in the Carrickmines Fire @rtenews pic.twitter.com/2H5YF0SNG5

— Samantha Libreri (@SamanthaLibreri) October 16, 2015
Earlier, the people who died in the fire were named as: Thomas and Sylvia Connors, 27 and 25; their children Jim, aged 5; Christy, aged 2 and Mary, five-months-old.
Willie Lynch and his partner Tara Gilbert, 25 and 27; their children Kelsey aged 4, and Jodie aged 9. Tara was four months pregnant at the time of her death.
Jimmy Lynch, 39, also died in the fire. Both Sylvia Connors and Willie were his siblings.
The Connors family lived on the site in Carrickmines, while the Lynch family and Tara Gilbert lived in Fassaroe, Bray.
Funeral arrangements are being made for the two families in Bray, Co Wicklow and in Wexford.
Meanwhile, a spokesperson for Dún Laoghaire-Rathdown County Council said that following lengthy discussions with the residents of Rockville Drive, progress has been made on the temporary relocation of the families made homeless by the fire.
The statement said a number of outstanding issues which require further clarification remain, and discussion and work will continue on these issues.
Everyone is conscious of the need to provide an emergency site for the families of last week's tragedy as soon as possible.
The council has met with the residents of Rockville Drive over the past two days and the latest talks follow proposals that were discussed by the two parties.
It is understood a number of issues, including a legally binding agreement on how long the site will be in use and guarantees on the management of traffic and anti-social behavior, formed part of those discussions.
A solicitor firm, which is advising the residents, would not comment this morning on whether the residents have come to an agreement on the issues.
Council officials had said the land would be used as an emergency site for six months.
Traveller Advocacy groups are confident that an agreement is in sight.