Taoiseach Enda Kenny has defended the Government's handling of the controversy surrounding the departure of the Web Summit from Dublin.
Arriving for a summit of EU leaders in Brussels Mr Kenny said the organisers of the Web Summit had made their decision to switch to Lisbon for "commercial" reasons.
He said: "I spoke to Paddy [Cosgrave] myself when he was in Portugal, saying we would offer whatever assistance we can, in terms of what the Government could do.  It wasn't the Government writing a cheque here, but being very supportive along the line."
The Taoiseach said they were "quite entitled to make that decision" and he said he wished them every success in Lisbon.
He said he had supported the Web Summit since he was in opposition, and that the Government - and Government agencies like the IDA, Enterprise Ireland and others - had contributed financially.
"The company has made its own decision," he said.
He compared the decision with the IT company Sage which had announced 300 new jobs yesterday, saying that Dublin had "competed against 10 other cities and won."
He said: "The Web Summit are fully entitled to make their decision, I expect that vacuum will be filled by others in a relatively short time."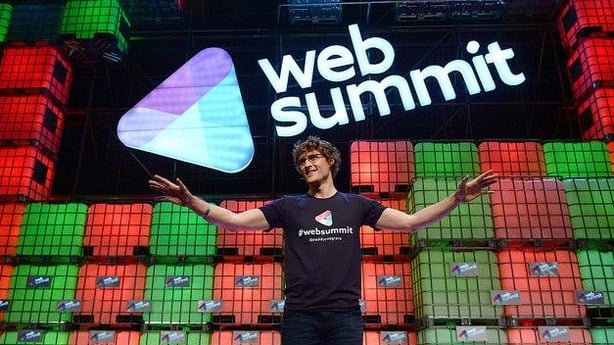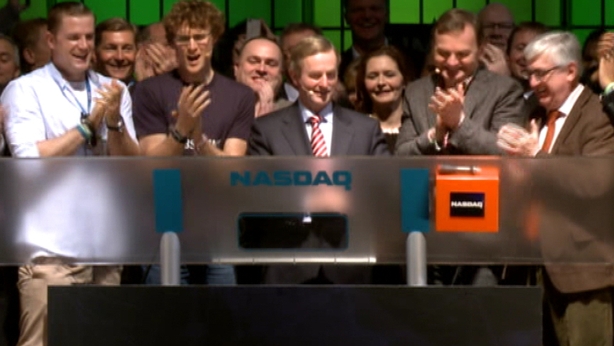 This follows the release of documents today which indicate relations between the Government and the organisers of the Web Summit  deteriorated sharply in the weeks before the announcement last month that the summit was to move to Lisbon from next year.
The Web Summit published a string of correspondence between it and top Government officials, showing how relationships deteriorated significantly in the four weeks prior to the announcement.
In a statement the Government said the documents released today "are a selection of rather than a full account of contact between the summit and Government and it's agencies".
Speaking to RTÉ news a senior Government source said the Taoiseach and the Government had taken a particular interest in the Web Summit and provided support above and beyond the norm.
The source also suggested it was a little bit disingenuous for the Web Summit to claim it was not looking for a penny, when it had requested money and the facilities it was seeking had a cost to the taxpayer.
He said the Web Summit had also referred to other sporting events with traffic plans, but the company had never said it was prepared to pay for a traffic plan.
The emails released today outline how the Web Summit never sought Government funding, but instead its bosses tried repeatedly to raise concerns with officials in the Department of the Taoiseach around four issues - traffic management, public transport, hotel costs and WiFi at the RDS venue.
In the correspondence, Web Summit co-founder and Chief Executive Paddy Cosgrave expressed growing frustration at what he saw as a lack of engagement from the State in relation to trying to address the company's concerns.
He also outlined what was being offered by authorities in other countries by way of inducement to get the Web Summit to move, and warned a decision about Web Summit 2016 would be taken by September 2015.
In a statement today the RDS said it "wholeheartedly rejects" assertions made by Mr Cosgrave regarding its approach to Wi-Fi supply.
The statement said the "Web Summit organisers have full and exclusive responsibility for the installing and managing of the Wi-Fi service" at the upcoming summit.
In an email dated 21 August 2015 to the Taoiseach's Private Secretary Nick Reddy, Mr Cosgrave outlined what was being offered from other cities outside Ireland, adding the company's "absolute preference" was to stay in Ireland.
He goes on to highlight the issues of hotel costs and the RDS's facilities, which he said were first raised in 2013.
Mr Cosgrave then wrote again to Mr Reddy three days later, pointing out that he had not received a response, and requesting proposals for a clear traffic management plan, without which he says Web Summit will be too big for Dublin in 2016. 
He claimed the summit's organisers were determined to make Web Summit work in Dublin in 2015 and again in 2016 and wanted the event to "remain in Dublin long into the future".
In this email, he also warns Mr Reddy that the decision will be announced on 23 September. Mr Reddy replied with a holding response the same day.
Eight days later, Mr Cosgrave wrote again to Mr Reddy, saying he still had not received a response and warned without a basic plan Web Summit would be forced out of Ireland in the coming weeks.
He said the company was not looking for a penny; just a plan for public transport, traffic management, WiFi and hotels, and was more than willing to turn down offers from others for even an outline of a plan.
He said without a plan, Web Summit would be "too big, too unmanageable, too risky for Dublin." 
"We need your engagement," he appealed.
He also said that the Web Summit would be happy to give the IDA and Enterprise Ireland stands to the value of €1 million in 2016, expand its school and student summits to cater for 11,000 free places and give free tickets to 300 or more Irish start-ups.
Mr Reddy responded two days later, saying he was in France on a trade mission and would get back to him.
The same day Mr Cosgrave responded asking when would a response be received, and reiterated that all the company was looking for was a basic plan.
He said he realised that everyone in Government was busy, but other governments had been in daily contact.
He also pointed out that they had never managed to get a single meeting with Dublin's City Manager, despite being constantly invited to meetings with prime ministers of other countries, including at Number 10 Downing Street.
He said what is being done for 2015 is "unfortunately disorganised, uncoordinated and in many instances not guided by evidence."
Mr Cosgrave said no minister has ever attended a meeting, but all show up for photos at Web Summit. He also claimed that last year the person appointed to coordinate the city, publicly denied he was coordinating anything a few days before Web Summit.
He also highlighted how last year the company was left with a significant bill for policing because traffic management and congestion was so bad around the venue that gardaí had to be called in to resolve the situation.
The Web Summit boss also highlighted that Prince Charles, Number 10 Downing Street and the chairman of the Conservative Party were all interested in the event.
On 10 September, Mr Reddy wrote back to Mr Cosgrave, saying the Taoiseach was confident a sensible and effective plan could be prepared for 2016 informed by arrangements for 2015.
He said there had been extensive engagement between various departments and agencies across a range of issues, with his department coordinating.
He said the Taoiseach understands this engagement has resulted in good progress on a range of issues including traffic management, public transport, airport registration, etc.
He also pointed out that some logistical concerns are fundamentally contractual matters between Web Summit and service providers with a limited role for Government.
He said the Taoiseach had asked officials to put greater attention on the matter now. Seven days later, Mr Cosgrave wrote back to Mr Reddy, taking issue with some of the claims in Mr Reddy's previous email and reiterating the issues that needed resolving and why a plan was necessary.
He said they had been assured in 2013 that traffic issues would be resolved the following year by increasing public transport, and introducing traffic calming, but were not, nor had they been since.
He said other cities had presented a detailed plan of how they would host Web Summit.
A day later Nick Reddy responded, saying he would get back to Mr Cosgrave.
Three days later on 21 September, Paddy Cosgrave wrote to Assistant General Secretary at the Department of the Taoiseach John Callinan, saying despite repeated requests for a plan, none had been forthcoming.
He warned that they were facing little option but to move from Dublin as they were up against it for time.
Mr Callinan replied the same day with a draft framework for engagement, to form the basis of discussions.
He also took issues with Mr Cosgrave's assertion that meetings had produced nothing in the past.
The next day, Paddy Cosgrave responded, claiming Mr Callinan's email had been misleading and reiterated that they wanted four issues addressed in "some small way".
He said the previous day his head of production attended a meeting around transport but nobody from across the State was prepared to lead the meeting. 
As a result, he said Web Summit had taken the bizarre decision to take the lead and write the plan for the State. 
A day later, Mr Callinan responded to Mr Cosgrave saying he had heard by the time Mr Cosgrave had sent his last email that Web Summit would announce that day that it was moving to Lisbon.
He said while he was naturally disappointed, he wished the Web Summit well.
No place to 'join the dots' for the Web Summit - Dublin Chamber of Commerce
In a statement this afternoon, Dublin City Council said it has been very supportive of the Web Summit over the years and everything possible and within reason was done to facilitate it.
It said this year a senior official in the City Council took on the specific role of trying to get a more co-ordinated approach to the event not just from within Dublin City Council but including all the other external agencies and Government Departments.
It said the Assistant Chief Executive, Brendan Kenny, did meet Mr Cosgrove last year and he would have gladly met him again if such a request was made. They said they are not aware of any such request.
Meanwhile, Dublin Chamber of Commerce has warned that Dublin will lose further investment and further events like the summit without an overall single plan for Dublin.
The Director of Public Affairs Director, Aebhric McGibney, described the approach at the moment as "piecemeal".
He said debate released in today's correspondence highlights the lack of the overall plan for Dublin over the next 30 years.
He said there is no "one place" where anyone could go to join the dots for an event like the Web Summit.
Mr McGibney described the approach as to how Dublin is operated at present as piecemeal - with four local authorities and national bodies involved in its running.
He said they needed to draw all those bodies together and that there needs to be a single plan for Dublin.
Fianna Fáil spokesperson on Jobs, Enterprise and Innovation, Dara Calleary, said the Government treated the organisers of the Web Summit with complacency, and showed no hunger to retain the event in Dublin.
Mr Calleary told RTÉ news that he believed the Web Summit organisers had been looking for issues which were dealt with every day in terms of traffic management and WiFi.
He said these were things which were done every day for sporting and musical events.