London Mayor Boris Johnson has caused a bit of a stir after he knocked over a child during a game of street rugby in Japan.
The Tory politician took out the ten-year-old schoolboy as he raced down the mini turf pitch in Tokyo.
Toki Sekiguchi hit the ground and suffered some pain but was soon up and running again.
He said: "I felt a little bit of pain but it's OK."
The schoolboy said it had been "enjoyable" meeting the mayor.
Mr Johnson, a keen rugby fan, was hurtling down the pitch at speed with the rugby ball when he ploughed into the little boy.
After they had picked themselves up, the mayor went over to Toki and asked if he was OK before shaking his hand.
"I'm so sorry," he added.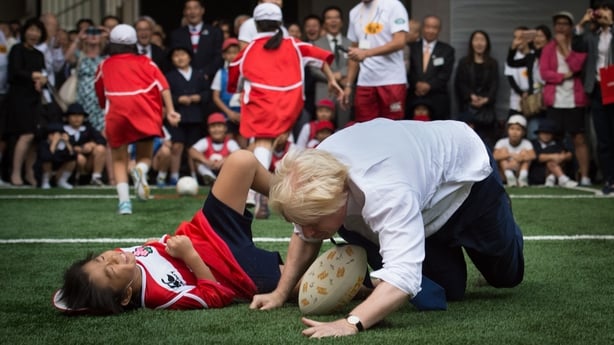 The pair later posed for photographs and Mr Johnson handed over a 2015 rugby ball to the youngster.
In a speech to the British and American chambers of commerce in Tokyo on the benefits of major sports events, Mr Johnson admitted that he had "flattened" the young boy and used the incident to draw parallels with the ups and downs of hosting the Olympic Games, which will be staged in Japan in 2020.
"We have just played a game of street rugby with a bunch of kids and I accidentally flattened a ten-year-old, on TV unfortunately," he said.
"But, he bounced back, he put it behind him, the smile returned rapidly to his face.
"That is my theme tonight - the possibility that confidence can suddenly and unexpectedly return."
He warned the business leaders there would be a mood of "gloom" in the run-up to the Games but said it would lift.
"For about a month Britain was crop-dusted with serotonin and the Games themselves were utterly spectacular," he added.
It is not the first time Mr Johnson has collided with a youngster on the sports field.
Last year he sent a nine-year-old tumbling to the floor during a football match.
The mayor had been taking part in the friendly as part of an initiative to get more children involved in sport.
But Mr Johnson tripped up the child, sparking cries of "referee" from the crowd.
And there was also this incident in an England v Germany "Legends" match.