Hundreds of people gathered this evening at the scene of last Saturday's fatal fire in Carrickmines in Dublin for a candlelit vigil.
Hundreds of candles were lit and placed alongside the floral tributes at the entrance to the halting site where the ten people died.
A number of people released Chinese lanterns, however gardaí stopped any further lanterns being released after one of them got caught in a tree and burned out above the crowd.
Prayerful candlelit vigil now over No speeches but prayers and song Hundreds in attendance #rtenews pic.twitter.com/Xukh3AfiKI

— Joe Mag Raollaigh (@joemagraollaigh) October 14, 2015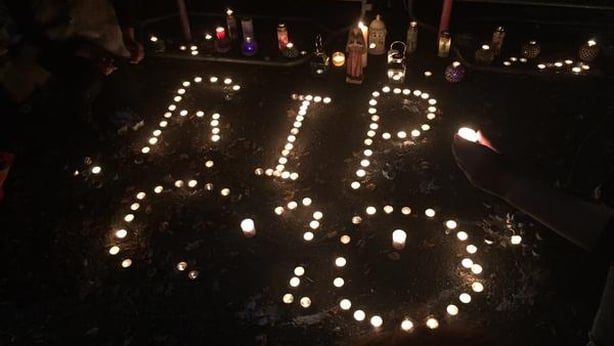 A vigil was also held in Eyre Square in Galway this evening to commemorate the fire victims.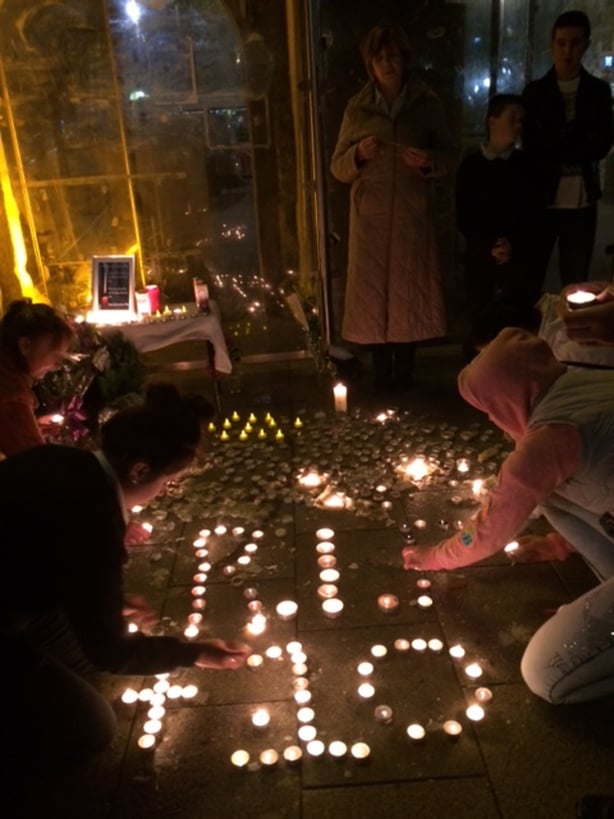 Earlier, Dún Laoghaire-Rathdown County Council told residents of a south Dublin housing estate that a temporary halting site for survivors of last weekend's fire will be used for just six months.
Those living on the estate met local council officials today after they blocked entry to a plot of land earmarked as a temporary accommodation site for survivors of the fire in which ten people were killed.
Residents of Rockville Drive, a cul-de-sac off Glenamuck Road in Carrickmines, have said that they were not consulted on the plans and while they had sympathy for those affected, they were concerned about the lack of discussion in selecting the site and its suitability.
The council wrote to the residents yesterday informing them that work was to begin on the plot of land to accommodate survivors of the fire.
In the letter, the council said it had used its emergency powers under the Housing Act to use the site for emergency accommodation.
It said due to the emergency nature of the situation and urgent need, it was proposing to start the work immediately and it would take about a week to complete.
Three protesters in favour of using Rockville as a rehousing site hung up posters at the site this evening.
In a statement this afternoon, Southside Traveller Action Group said officials from Dún Laoghaire-Rathdown County Council met residents on Gelnamuck Road this morning to solve the impasse.
There was no outcome of the meeting and council officials confirmed to the group that negotiations are ongoing.
3 protestors in favour of using Rockville site have now shown up and hung their posters #rtenews pic.twitter.com/KZrzat7NXJ

— Joe Mag Raollaigh (@joemagraollaigh) October 14, 2015
Earlier, the council issued a statement saying its representatives at today's meeting with the local residents gave a commitment that the emergency site will be decommissioned within six months on completion of the works at the new permanent designated site.
The digger that was in place waiting to begin work has now left the location.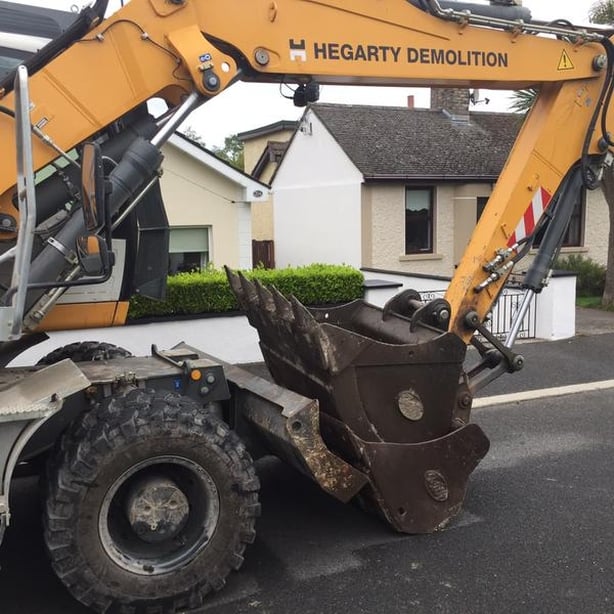 Site of proposed emergency traveller accomadation #rtenews pic.twitter.com/foEPZPXj40

— Joe Mag Raollaigh (@joemagraollaigh) October 14, 2015
Meanwhile, Taoiseach Enda Kenny has said it is necessary to consult with local communities when re-locating families.
Speaking on Newstalk, Mr Kenny said: "The funerals haven't even taken place of these ten people.
"Of course these things have to be dealt with but there is a procedure and a process by which you can consult with local people at a time of tragedy and say look 'we need to use this field'."
Mr Kenny said "consultations and conversations" with communities were very important and he hoped that could take place today.
He hoped the residents of Carrickmines would respond after things were explained to them fully, the Taoiseach added.
Minister for the Environment Alan Kelly denounced the protest yesterday, describing it as "shameful and wrong".
Residents concerns' are unfounded - Irish Traveller Movement
The Director of the Irish Traveller Movement has said that concerns from some quarters about the family affected by Sunday's fire tragedy in Carrickmines in Dublin are unfounded.
Speaking on RTÉ's Six One news Brigid Quilligan said that the family concerned would be good neighbours. She said they have not been in a position to reply to these allegations because they are overcome with grief and this situation is adding to their stress.
Ms Quilligan said the objections raised by some residents in Carrickmines to a temporary site being used to provide interim accommodation for the families affected by the fire are not in keeping with outpouring of sympathy by so many people following the tragedy.
Earlier today Co-Director of Pavee Point Martin Collins urged the residents to reflect on their actions and "search deep inside their conscience".
Speaking on RTÉ's Morning Ireland, he called on them to re-consider their objection to the provision of emergency housing.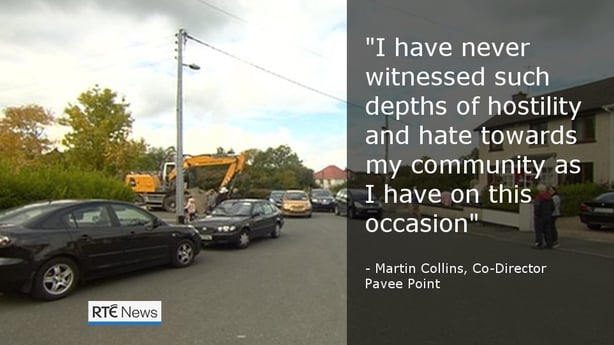 He urged them to "ask themselves is this right what they're doing" and he said he thought they would find it is not right.
Mr Collins said they were only adding to the pain and suffering the families were already enduring.
He said he can understand the concern of the residents that this may not remain a temporary site.
However, he added "it's not beyond solicitors and the legal system ingenuity" to develop a contract that is watertight that would say this site would exist for a particular period of time.
"I have never witnessed such depths of hostility and hate towards my community as I have on this occasion.
"I think these small number of individuals in this estate are completely and utterly devoid of any humanity and any compassion and their actions are only compounding the stress and the trauma that these Traveller families are already enduring," he added.
Traveller accommodation a major challenge
Sinn Féin Justice Spokesperson Pádraig Mac Lochlainn has said there is major challenge facing the Government in relation to Traveller accommodation.
Speaking on RTÉ's News at One, Mr Mac Lochlainn said there has been a failure of political leadership across the country on the issue.
He said: "15 local authorities, including Dún Laoghaire-Rathdown County Council, have not drawn down any funding this year, so there's a major challenge there and the Taoiseach and the minister need to sort this out and learn the lessons of this tragedy."
He said he is disappointed by the protest in the area where emergency accommodation has been proposed, adding that the Government must also address the issue of distrust between both communities.
"All across this State there are very few communities that would welcome Traveller accommodation nearby, that's the extent of the wall of distrust, even where it's an emergency after ten people have lost their lives, so we have a major challenge. We need to stop ignoring it.
"A massive challenge in this State and it needs leadership in every county, in every council."
Mr Mac Lochlainn said we have lost ground in terms of developments made in recognising Traveller rights, adding that bridges need to be built between the settled and the Traveller communities.
He said the State also needs to recognise Traveller culture as a unique ethnicity.
The Mediators' Institute of Ireland welcomed proposals by Mr Mac Lochlainn to introduce mediation programmes across the country to help deal with stand-offs over Traveller accommodation like the one in Carrickmines.
President of the Mediators' Institute of Ireland Gerry Rooney said if the proposal by Mr Mac Lochlainn was implemented, communities would have the capacity and prospect of successfully dealing promptly with issues as they arise.