The Communication Workers' Union has agreed to suspend industrial action at IO Systems, whose workers have been on strike since midnight on Thursday over pay for sub-contract workers at An Post mail centres.
The workers will be reinstated in their jobs at their agreed wage levels and rostering arrangements.
In a statement the CWU said it understood that talks are being arranged through mediator Phil Flynn - involving IO Systems - for tomorrow afternoon.
An Post said it welcomed the suspension of the industrial action, and said customers may now resume posting mail.
It said normal working will resume in the mail centres tonight, but it may take a number of days to restore normal service levels.
IO Systems Managing Director Fergal Lynam said he wanted a final resolution of the dispute by the end of the week at the latest.
CWU General Secretary Steve Fitzpatrick said: "As we have consistently stated, we are prepared to engage, but only on the basis that workers at IO Systems have their jobs restored to their agreed wage levels and rosters.
"We are also prepared to back Phil Flynn's intervention in good faith. However, we hope that IO Systems, or indeed An Post management, don't squander the opportunity that is being presented," he added.
Minister for Communications, Energy and Natural Resources Alex White said he welcomed the progress that had now been made and expressed the hope that the parties will reach a speedy resolution of the dispute.
Postal services had been disrupted for a fourth day.
The 36 staff who maintain key equipment in the mail centres are employed by contractor IO Systems, but are retained by An Post to maintain the automated postal processing machinery at the centres in Dublin, Cork, Portlaoise and Athlone.
Businesses and agencies, including the Health Service Executive, Revenue and the Motor Tax Office, had been putting contingency plans in place.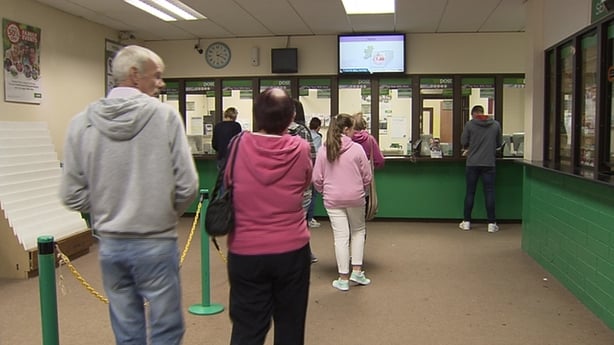 With no post to process, unions feared that some of the 9,500 workers at An Post could be put on protective notice and said they would ballot for industrial action if this happens.
Unions have also questioned the company's decision to suspend postal services when it says parcels, Passport Express, registered mail and periodicals are all sorted manually and it would co-operate with extending the manual sorting service.
Speaking on RTÉ's Morning Ireland, the Communications Workers' Union said its members in IO Systems had taken industrial action due to a decision by the company to arbitrarily cut pay and change their attendance patterns.
The CWU said this was done in circumstances where there is an agreement arriving from a Labour Court binding determination which sets the rate of pay and the attendance pattern.
Mr Lynam denied this and said the dispute has been ongoing for over two years.
The IO Systems chief said workplace contract changes were necessary due to decreases in volumes at An Post and the fact that weekend working was no longer required in the mailing centres.
He said the company had engaged with the CWU, had been to the Labour Relations Commission and the Labour Court and entered into third party mediation regarding the dispute.
Mr Lynam said a Labour Court determination in February gave the company the right to change rosters and shift premiums, adding "we have asked the union to go for binding arbitration, they refused to do so, so we were left with no other option than to implement the new shift rosters".
CWU National Officer Seán McDonagh acknowledged that both sides were interpreting the Labour Court's recommendation differently.
He said: "I have no difficulty in asking the Labour Court to clarify whether IO systems is correct or not, so then we can make a considered judgement on whether they're right or not."