Residents in a Dublin apartment complex are facing a €4 million bill or possible evacuation over fire safety failings in their building.
Around 900 people live in 300 apartments in the Longboat Quay complex in Dublin's docklands.
Longboat Quay was built by developer Bernard McNamara in 2006 with owners paying between €450,000 and €750,000 at the height of the boom.
However serious fire safety deficiencies were uncovered last year and so far Dublin Docklands Development Authority, the nominal landlord, has paid €1m to fix the fire alarm system.
But further work is required to upgrade fire walls and smoke vents at a cost of €4m.
The docklands authority insists this is the responsibility of apartment owners as the company used by Mr NcNamara has gone into receivership.
But owners say while they could pay some of the cost, the authority still has responsibility for common areas.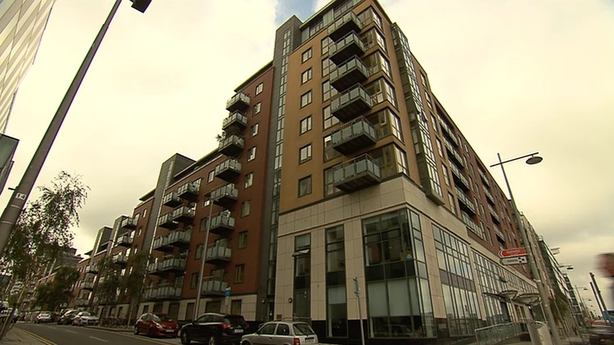 Dublin City Council has warned that the buildings will be evacuated if a time scale for the work is not set out.
Dublin Fire Brigade Fire Prevention Section is involved in ongoing discussions with Longboat Quay management company and other relevant parties.
In a statement, the council said that discussions are to secure completion of the schedule of works required to address the fire safety deficiencies highlighted in the recent Fire Safety Survey Assessment Report.
A Fire Safety Notice, if served, does not constitute a Closure Notice, and is intended to ensure that all deficiencies identified are rectified and signed off by a competent authority within an appropriate timeframe.
Owners told they must pay up to €18,000
Owners have been told they have to pay between €9,000 and €18,000 in order to prevent the complex becoming another Priory Hall.
The complex consists of two blocks North and South.
It is 60% owner occupier and 40% tenants. 35 were shared ownership apartments with the DDDA.
Richard Eardley, an owner who sits on the management company, said the owners were the victims although it is not their fault.
He said they could be part of the solution but the receiver and the DDDA also had a part to play. 
Speaking on RTÉ's News at One, Mr Eardley said it would be wonderful to think that Mr McNamara might come back and "contribute towards a problem that he was part of creating in the first place".
He added: "Do we think it's going to happen? I'm not sure".
Mr Eardley said it would be wonderful if some pressure could be applied on Mr McNamara because that is where the original fault lies, but his development vehicle Gendsong, went into liquidation so there is no legal recourse there. 
Labour Councillor Dermot Lacey has called on Dublin City Council and the Dublin Docklands Development Authority to pay for the necessary works at the apartments.
Mr Lacey said a decision would have to be made quickly to enable people to stay living in their homes.
Resident Paula Daly said she already pays a mortgage and maintenance fees and is not in a position to pay the money.
Speaking on RTÉ's Today with Sean O'Rourke, she said: "We got hit with the news last night that they were looking for everybody to pay and it depends on what unit you're in.
"I'm in a three bedroom duplex and they're looking for us to pay €18,000.
"I have two children and we both work and I just don't know where we're going to get the money to pay this.
"We got it for an affordable price but have a mortgage like everybody else and we have maintenance fees like everybody else," she added.
Ms Daly also said they were told two years ago there were fire issues in the apartment complex and they needed fire alarms in every room and fire marshals were brought in.
McDonald asks those who are responsible to 'foot the bill'
Sinn Féin's Mary Lou McDonald said that a young working mother bought an affordable home in Longboat Quay in 2009, and she found out last night that she and her neighbours may have to move out of their homes.
Speaking in the Dáil, Ms McDonald said residents have found out that their homes are fire traps built by Mr McNamara and the DDDA.
She pointed out that Mr McNamara ran up debts of €2bn during the boom and is now back in the property business.
She asked: "Where is the legislation required to provide home owners with the protection that they need?
"Will you make sure that those responsible for Longboat Quay foot the bill?"
Taoiseach Enda Kenny said that he has read the account of what happened and recalled Priory Hall and the fire traps that were discovered there.
He said that planning permission is issued on certain conditions and unfortunately nobody policed the quality of the building that went into these estates during the Celtic Tiger years.
Mr Kenny said that because of the rush to cut corners, this is grossly unacceptable and he said he wants to find out more but said he cannot give a judgement at this stage.