Dutch authorities have said there was no sign of militant groups systematically using Europe's asylum provisions as a way of smuggling attackers into Europe disguised as refugees.
Far-right politicians in the Netherlands and elsewhere in Europe have suggested in recent months that the hundreds of thousands of people fleeing war and poverty in the Middle East and Africa pose a national security threat.
But, echoing scepticism expressed by other intelligence services, a spokeswoman for the AIVD intelligence agency said there was no evidence that militant organisations like the so-called Islamic State were infiltrating fighters across Europe's southern and south-eastern borders.
"There are no structural signals of refugees coming in with terrorist motives," a spokeswoman for the AIVD intelligence agency told Reuters.
"It is possible that individuals may use it (the route) but we don't see groups coming in."
Germany's domestic intelligence service, however, warned on Tuesday that radical Islamists posing as humanitarian helpers could try to recruit young refugees arriving in the country.
Dutch anti-Islamic politician Geert Wilders recently referred to the influx as an "Islamic invasion", saying that thousands of Islamist militants were concealed among those fleeing conflict in Syria and Iraq.
A poll this week showed his far-right populist Freedom Party would nearly double its seats, from 12 to 29 in the 150-member parliament, if elections were held now.
More than half of Dutch voters oppose a European deal under which the country will admit an additional 7,000 refugees.
The Dutch government has been stepping up security measures amid growing concern at the threat of attacks by returning militants and plans to grant sweeping cable-tapping powers to intelligence agencies.
It comes as European Union leaders have agreed to mobilise at least €1bn for refugees in countries neighbouring Syria through UN agencies.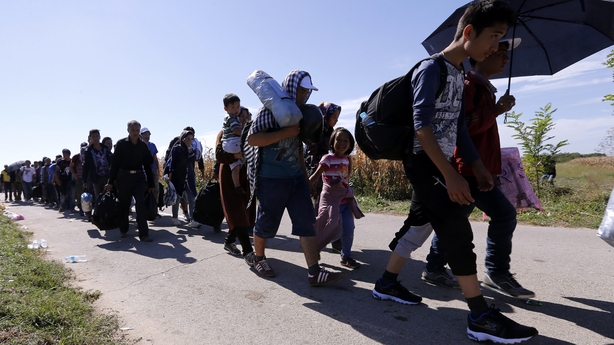 The EU will also set up by the end of November special registration centres in frontline states like Greece and Italy to separate migrants fleeing war from economic migrants, Mr Tusk told a press conference after an emergency summit in Brussels.
"'Hotspots' will be set up by the end of November," EU President Donald Tusk said. "This is an achievement because only a few days ago it had been very controversial."
He said the leaders, which included Taoiseach Enda Kenny, from the 28 EU countries agreed on increased aid to countries like Lebanon, Jordan and Turkey, which are hosting millions of people from war-torn Syria.
"At last an additional €1bn will be mobilised for refugees in the region through the UNHCR and the World Food Programme," he said.
"The measures we agreed today will not end the crisis but are necessary steps in the right direction," he said.
Speaking at the same press conference, European Commission President Jean-Claude Juncker, the head of the EU executive, said the "meeting took place in a better than expected atmosphere."
Mr Tusk had earlier called for ending "the cycle of mutual recriminations and misunderstandings" that has undercut EU efforts to forge a common response to the worst refugee crisis since World War II.
Europe is under increasing pressure over its handling of a huge influx of an estimated 500,000 migrants this year, many of them fleeing conflict and repression in Syria, Afghanistan and Eritrea.
But Mr Tusk later said: "The meeting was really excellent, for sure much better than we expected.
"It's a quite a symbolic moment. I am absolutely sure that we have stopped with this little bit risky blaming game."
The UNHCR has welcomed the €1bn assistance but said it falls short of their assessment of what is needed.
Speaking on RTÉ's Morning Ireland, UNHCR head in Ireland Sophie Magennis said the money needs to be released immediately, in particular the €200m that is to be split between the UNHCR and the World Food Programme.
Ms Magennis said aid agencies need an approach that deals with the crisis in the immediate, medium and longer terms, such as putting measures in place to give assistance to people upon arrival into the EU and for life-saving operations at sea as well as support for countries in surrounding areas that are hosting refugees.
She added that the summit conclusions also included a renewed focus on diplomatic efforts "because what we need is a resolution to the conflict".
Croatia bans entry to Serbian citizens, cars - border police
Meanwhile, Croatia has banned Serbian citizens and cars from entering its territory, Croatian border police has told Reuters, after Serbia banned Croatian cargo traffic.
"Serbian passport holders and cars registered in Serbia cannot enter Croatia until further notice," a police officer said from Bajakovo, the main crossing point between the two ex-Yugoslav republics.
Serbia banned Croatian cargo traffic and goods late yesterday in a dispute over the flow of migrants across their border, plunging relations to their lowest since the overthrow of Slobodan Milosevic in 2000.
Shoring up Europe's borders will only bring more refugee deaths: UN official

It comes as the United Nations refugee agency representative in Macedonia warned that shoring up Europe's borders will only bring more suffering and more deaths.
Mohammad Arif, United Nations High Commissioner for Refugees representative in Macedonia, is also calling for a comprehensive approach from Europe on the issue.
Macedonia is one of the key pipelines on the illegal migration route, with more than 6,000 people a day currently passing through the country.
Hundreds of refugees are queuing at the gate of Gevgelija's refugee centre and wait for train that will take them across Macedonia towards Serbia.
According to the UN refugee agency camp here, more than 5,000 people have passed through this camp in the last 16 hours.
The UN has already warned that the EU's plan to relocate 120,000 refugees within its member countries is not enough to stabilize the situation, and also said that shoring up the borders is not a solution.

"The flow is continuing. So the more it is made difficult for them, the more there will be suffering, there will be more deaths, there will be more smuggling and there will be more human trafficking. And people will continue to move. So the world international community, they really have to see this from every angle and see how best they can solve it," said Mr Arif.
His remarks come as a young migrant, believed to be younger than 18 years old, was found dead in the Channel Tunnel overnight.

The young man was thought to be of Sudanese or Eritrean nationality, local police said.
About a dozen migrants are know to have died trying to reach Britain from France through the tunnel.
Around 3,000 migrants fleeing war and poverty in Africa and the Middle East are camped on the French side of the tunnel in Calais, trying to board vehicles heading for Britain via the tunnel and on ferries or by walking through the tunnel, even though security measures aimed at keeping them out have been stepped up.
Merkel says Assad must be involved in Syria talks
Elsewhere German Chancellor Angela Merkel has said President Bashar al-Assad should be involved in any Syrian peace talks, amid mounting pressure to end the four-year conflict.
"We have to speak with many actors, this includes Assad, but others as well," Ms Merkel told a press conference after an EU summit on the migration crisis sparked by the Syrian war.
"Not only with the United States of America, Russia, but with important regional partners, Iran, and Sunni countries such as Saudi Arabia," she added.
The comments by the leader of Europe's biggest political and economic power come amid increasing signs that Western powers who were once insistent on President Assad's departure may be softening their positions in a bid to end the war.
US Secretary of State John Kerry said on Saturday that although President Assad must step down, that need not immediately be upon reaching a settlement to end the country's civil war.
Russia and the United States launched military talks on the Syrian conflict last week as Moscow increased its build-up of forces in the war-torn country.
But French President Francois Hollande, whose country is set to launch air strikes against Islamic State militants in Syria, insisted today that there could be no place for President Assad.
"There can be no transition without his departure," Hollande insisted after the summit.
"The future of Syria will not pass through Bashar Assad."
Merkel, Hammond, Hollande and the other EU leaders issued a statement after the Brussels summit calling for a new push for peace.
"As regards Syria, we call for a renewed UN-led international effort to bring an end to the war that has caused so much suffering and forced an estimated 12 million people to leave their homes," the summit statement said.
---
Analysis: European Editor Tony Connelly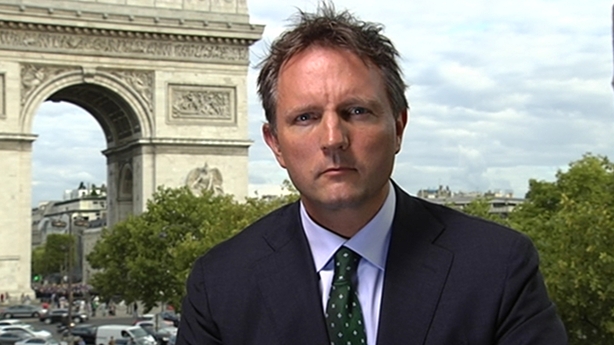 There's been a very clear shift with this summit away from the idea of refugees coming in and the sense of welcoming refugees. While member states are still obliged by international law to provide asylum options for refugees there's a definite change of direction for this summit.
The focus is now on trying to discourage refugees from coming to Europe in the first place and to strengthen Europe's borders. To better manage these huge inflows that we've had.
However, the question would be: Are you really going to discourage people who have been living in fairly derelict camps on the fringes of Syria over the last four years from travelling to Europe?
Emotions at the summit last night was largely kept under control - the tone was set by Donald Tusk. While there were some sharp exchanges, leaders did manage to put most of the recrimination behind them.