Taoiseach Enda Kenny this afternoon met with Indian Prime Minister Narendra Modi at Government Buildings.
Mr Modi is the first Indian Prime Minister to visit Ireland in almost 60 years.
He was presented with an Ireland cricket jersey and a hurley and sliotar.
In exchange, he presented the Taoiseach with reproductions of a selection of manuscripts and papers available in the National Archives of India pertaining to two Irish officials, Thomas Oldham (1816-1878) and George Abraham Grierson (1851-1941), in recognition of their contributions in India.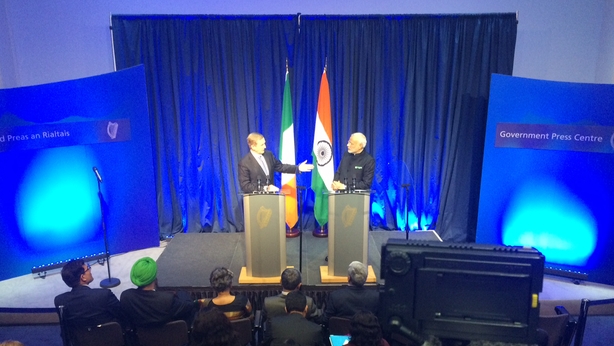 During their statements to the press afterwards, the two leaders spoke of trade, educational and tourism opportunities between the two countries.
Mr Modi attended a gathering of over 1,000 Indian people, in Ballsbridge, in Dublin this afternoon.
Mr Kenny also welcomed the announcement today by global Indian company NIIT of 110 jobs for Ireland.
A global company headquartered in Gurgaon in India, NIIT Limited employs 3,000 people in over 40 countries.
It produces customised learning software for companies to deliver and manage the training of their staff.
It is promising to create 110 jobs over five years through the development of a centre for delivering its services in Europe.
The roles include high-end engineers, digital media professionals and multilingual customer support personnel.
The company says it is choosing to locate the centre in Ireland because of the availability of suitable talent and the cluster of existing learning technology companies here.
The investment is being supported by the Department of Jobs, Enterprise and Innovation through IDA Ireland, and both have welcomed the announcement.
The IDA says it is currently targeting India as an important growth market.