Peter Robinson has rejected allegations that he was to benefit from a massive property deal in Northern Ireland, and has said he will go before a committee investigating the claims.
Jamie Bryson, a high profile loyalist blogger and flag protester, told a Stormont Inquiry today that Mr Robinson was among five people to receive a share of a "success fee" linked to the £1.2bn sale of assets owned by NAMA.
In a statement on his website this afternoon, Mr Robinson said: "I repeat, I neither received, expected to receive, sought, nor was I offered a single penny as a result of the NAMA sale.
"The allegations made today lack credibility and can have no evidential basis.
"The scripted performance was little short of pantomime. It is outrageous that such scurrilous and unfounded allegations can be made without providing one iota of evidence.
"I am happy to appear before the committee."
In evidence given to the finance committee at Parliament Buildings in Belfast this afternoon, Mr Bryson made a series of explosive allegations and said his sources included "whistleblowers".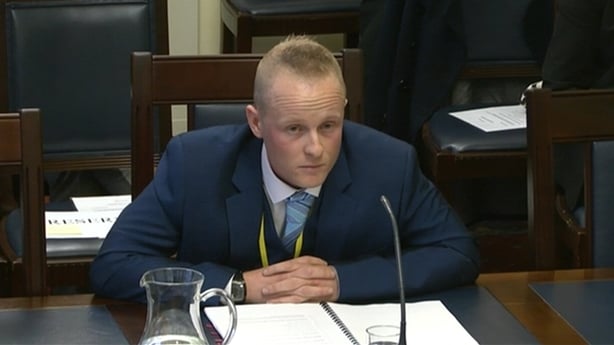 The fee was to be paid into an off-shore account controlled by Ian Coulter, a former managing partner of Belfast-based law firm Tughans, the committee heard.
He said: "This was a success fee that was to be paid in to a dormant Danske Bank account in the Donegal Square West branch [in Belfast] and from there it was transferred to an off-shore account.
"There were to be a number of beneficiaries to this fee and I will refer to them simply as person A, person B, person C, person D and person E.
"I can now tell this committee without fear of contradiction that person A is Mr Peter Robinson MLA, person B is [developer] Mr Andrew Creighton, person C is [accountant] Mr David Watters, person D is [former NAMA adviser] Mr Frank Cushnahan and person E is [solicitor] Ian Coulter."
Earlier the committee voted on whether Mr Bryson's evidence should be heard in public.
Members of Mr Robinson's Democratic Unionist Party opposed holding an open session.
Mr Robinson, who has always vehemently denied wrongdoing in relation to the deal, has temporarily stood aside as first minister to facilitate talks to resolve a political crisis at the devolved assembly.
Political watchdogs on both sides of the border are examining the sale of the huge Northern Ireland property portfolio of NAMA.
All parties involved in the transaction have vehemently denied acting unlawfully.
Mr Robinson has consistently denied that he, his party or anyone in his family was to benefit.
Throughout the hearing, DUP MLAs challenged the validity of Mr Bryson's evidence.
Protesting that it should have been heard behind closed doors and a transcript published at a later date, South Down MLA Jim Wells said: "Here we have no direct evidence from Mr Bryson.
"He has now moved on to make extremely serious allegations and all he has is hearsay and his opinion."
Mr Bryson hit back saying he stood over his allegations "110%".
"I believe I have demonstrated a clear web of individuals, including politicians, who have contrived and conspired together to get things done and increase their own bank balances by a nod and a wink schemes," he said.
The loyalist added he would rather go to jail than reveal his sources.
He said: "I am giving relevant information to this committee which sources, extremely close and involved in this nefarious deal, have provided to me as whistleblowers.
"I am not in a position to breach somebody's confidence before this committee."
Meanwhile, tensions between Mr Robinson and Deputy First Minister Martin McGuinness emerged this morning during the inquiry.
During his evidence Mr McGuinness claimed he had been excluded from an important meeting with the company that eventually bought the portfolio and an important Memo of Understanding document had been sent to the authorities in Dublin without his knowledge or approval.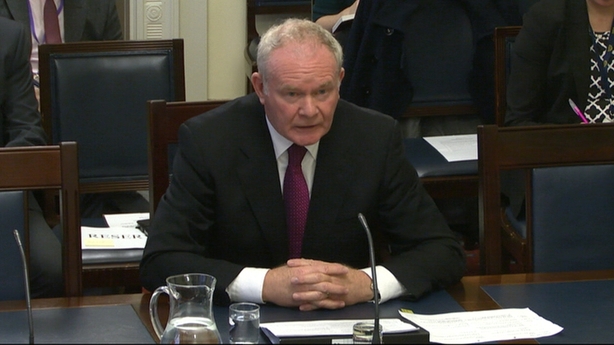 Interest in last year's sale of NAMA's Northern Ireland property portfolio to a US investment company, Cerberus, rocketed after independent TD Mick Wallace used Dáil privilege to make allegations of impropriety.
He claimed that over £7m had been discovered in an Isle of Man bank account and Northern Ireland politicians were in line for kickbacks.
A criminal investigation into the transaction is now under way in Northern Ireland and a Stormont Committee is also scrutinising what happened.
Mr Wallace today confirmed that he spoke to the UK's National Crime Agency last month about the allegations he made in the Dáil.
Mr Wallace had previously spoken to the gardaí about his claims.
NAMA officials have said the agency received all the proceeds from the sale and the money had nothing to do with it.
In early July, Mr Wallace told the Dáil that a construction company made two payments of €15,000 "in a bag" to the manager of the portfolio to exit the agency.
NAMA subsequently requested that gardai investigate the issue.
A NAMA spokesman had said the allegation, if not investigated as a matter of urgency, would cast a shadow over all NAMA officers.
---
Analysis: Northern Editor Tommie Gorman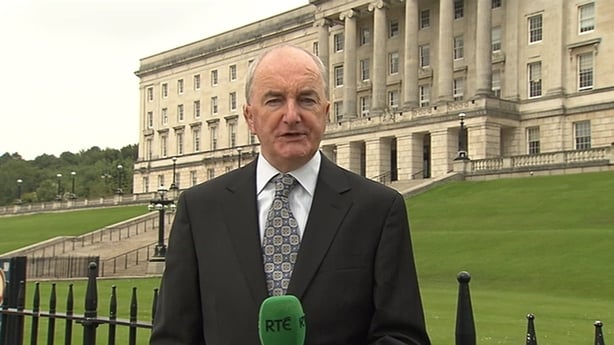 Sensational evidence from Jamie Bryson – the merits or otherwise will be established over the next few weeks and months, if not by this committee then through the courts.
Jamie Bryson was heavily involved in the loyalist flags protests and has been through the courts a number of times. He has been a blogger about the NAMA deal and other property deals for some time.
There was quite a debate about whether this evidence should be heard in public. The committee was split, mainly along party lines, with the Sinn Fein/SDLP side winning out and deciding the evidence should be heard today.
The source of Mr Bryson's evidence we do not know, but he said the sources were "close to the deal" and would go to prison rather than reveal them.
The real story is that his evidence is out there now. They are very serious allegations and we will be hearing a lot more about them. Once the committee decided they were going to hear the evidence, there was a certain inevitability about the sensational events that have taken place today.
---
The tension between Mr Robinson and Mr McGuinness over what role the office of first minister and deputy first minister had in the process was laid bare during today's hearing.
Mr McGuinness claimed a meeting took place in Stormont Castle several months before the deal completion between leading Cerberus figures, including former US vice president Dan Quayle, and Mr Robinson and Finance Minister Simon Hamilton and that he was not aware of the event and had not been invited to it.
He also said a Memo of Understanding about the deal, sent from the office of first and deputy first minister to the authorities in Dublin, was not worth the paper it was written on because he had not been made aware of it.
Meanwhile, during Leaders Questions in the Dáil, Taoiseach Enda Kenny said he had no recollection of a letter having been sent to his office in February 2014 from a bidder expressing concerns about the sale of NAMA's Northern Ireland loan book.
He was responding to Fianna Fáil leader Micheál Martin who asked if the letter, reported in the Irish News to be from Fortress Investment Group, was received and if it would be published.
According to the report the letter raised concerns about the business practices of third-arties leading up to the €1.2bn sale of the loan book.
Fortess was one of three final potential buyers alongside the US company, Pimco and Cerberus Capital Management.
Mr Martin asked the Taoiseach if he would not accept that there was an extraordinary contrast in how the US and UK authorities had responded and if he would accept that there was a light response by the Irish authorities to the sale.
Mr Kenny said he would check about the receipt of a letter by his office and come back to Mr Martin.