Greek left-wing leader Alexis Tsipras is headed for a comfortable re-election in today's general ballot, official results showed.
With over half of the votes counted, Mr Tsipras' Syriza party won 35.54% of the vote against 28.07% for conservative New Democracy and is likely to again form a coalition government with the nationalist Independent Greeks (ANEL) party.
ANEL leader Panos Kammenos said he would meet Mr Tsipras later today.
However, the Syriza-ANEL coalition is likely to have a narrower majority, with 155 members in the 300-seat parliament, compared to 163 after the January election.
Partial official results showed neo-Nazi party Golden Dawn again in third place with 7.09% of the vote, followed by the Pasok socialists who garnered 6.42%.
Centrist To Potami party is likely to finish with a mere 3.94% while the small anti-corruption Centrist Union party will probably exceed 3.0% and enter parliament for the first time.
Nearly 45% of Greeks sat out the election - the third vote for Greeks this year including a referendum on austerity -- a significant rise in the previous abstention rate of 36% in January.
Just under 10 million Greeks were eligible to vote in today's election. 
Earlier, Greek conservative leader Vangelis Meimarakis conceded defeat saying he wanted to congratulate Mr Tsipras. Speaking to reporters Mr Meimarakis said "It seems citizens did not change their mind."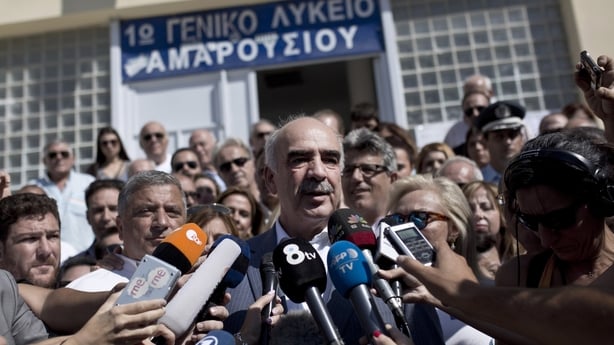 Speaking earlier Mr Tsipras said Greece's difficulties can be overcome.
The former prime minister made the comments as he cast his vote in the general election, the third since January.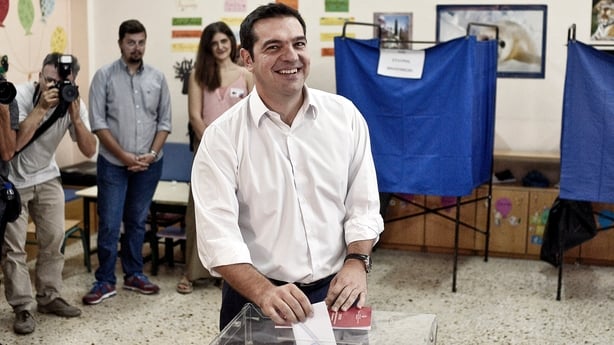 "I'm optimistic that tomorrow a new day dawns, a day we can win today. Difficulties will be overcome, with steady steps, aware of the road we must travel on.
"I'm optimistic that we can move forward, we have proved that we can open roads where there are none. When the people, the young generation are in the front-line then everything is possible."
The snap general election was called by the outgoing prime minister Alexis Tsipras after Syriza split in August over his decision to accept the terms of the country's third bailout.
Mr Tsipras also tweeted that Greeks were now deciding their future: "Today the Greek people will chose how they want to live".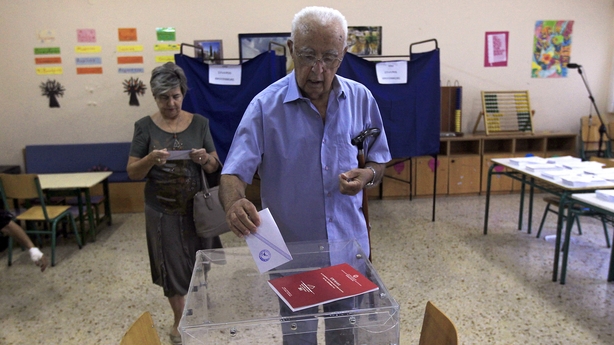 Mr Tsipras swept into office in January and as the first radical left government to take power since the financial crisis erupted.
He threw down a direct challenge to the eurozone that Greece would accept no more austerity.
But during six months of acrimonious negotiations, Mr Tsipras was effectively faced down by the weight of consensus from eurozone capitals.
They eventually offered him an €86bn bailout in return for tough reforms - he promptly stunned the outside world by putting it to a referendum, and then campaigned against it.
The country overwhelmingly rejected the bailout, but the eurozone refused to budge.  Greece was almost forced out of the euro, capital controls were introduced and long queues formed outside Greek banks.
Mr Tsipras then enacted a dramatic U-turn, signing up to an even tougher menu of reforms.  As such many of his supporters feel betrayed, and there are signs that turn out in today's election will be low.
The biggest beneficiary is the conservative New Democracy party, whose leader Vangelis Meimarakis has presented himself as a force for stability after what he calls the Syriza experiment.
But the big fear is that the neo-Nazi Golden Dawn party could reap the disillusionment dividend and become the third biggest party in the Greek parliament.
Voting under way in Athens: 10m eligible to vote, #Syriza and New Democracy neck & neck, neither likely to form maj. pic.twitter.com/6yZZElM7gb

— Tony Connelly (@tconnellyRTE) September 20, 2015